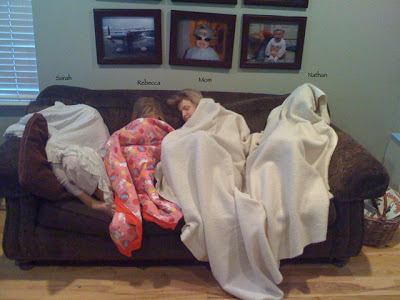 (An early morning scripture study photo back when. That's me in the middle.)
I do have a page that is about me and my contact info. But one day it didn't show up on my blog, and I keep forgetting to consult my tech support guy (aka my husband) about it. When I'm climbing into bed at night, it's just not the top priority. Usually, my top priority is to fall asleep as fast as possible. I really like to sleep. I don't manage to sleep very long, but I sure love sleeping.
So here's the scoop:
I'm Liz, mother of 7 amazing children. They are normal, too. Every child is amazing to me.
Here's what my family likes to do: go to family reunions, be read to, read, argue ("discuss"), be right, go on vacation, sing or play instruments (some of the time, but that doesn't necessarily include practicing), run/dance/ski/swim/go jetskiing/do gymnastics/play rugby/hike, write, watch general conference, eat gelato, watch movies, and play games. Most of the time you will find my children going to school (from pre-med at BYU through elementary school), serving a mission (our oldest son), developing their talents (at home or at lessons/practice), at church (or the temple), doing homework, working at jobs (home or paid), eating, reading, hanging with each other or hanging with friends.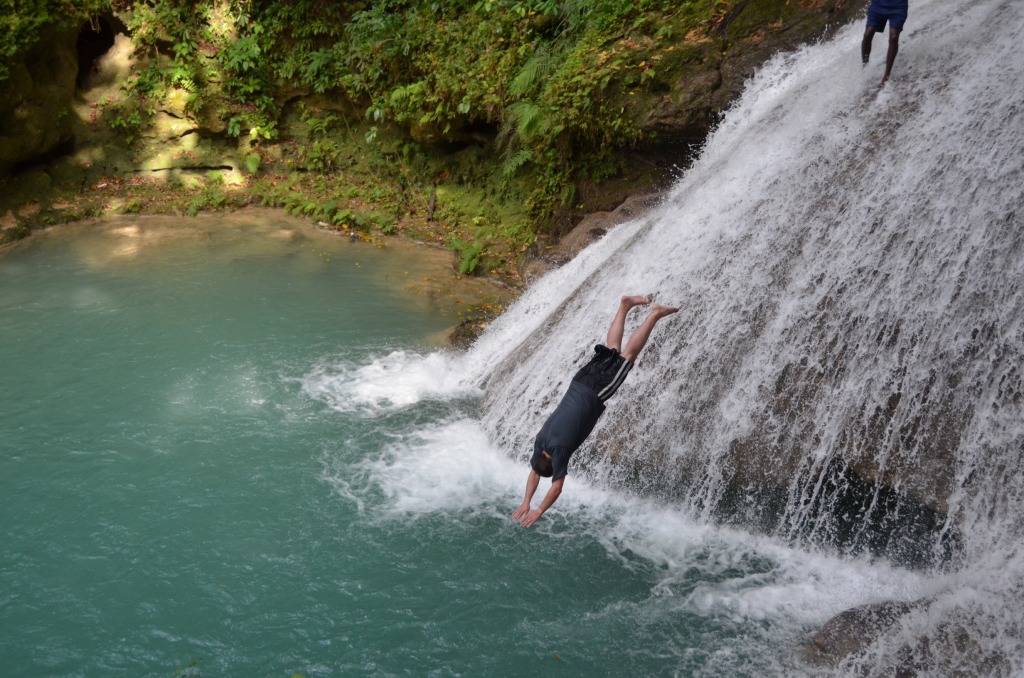 (My husband diving off of a waterfall in Jamaica. That was a trip to remember!)
I love God, family, my country, beautiful music, teaching, eating wholesome and delicious food (especially if I didn't have to prepare it and if it's on a date with my best friend, my husband), dancing in the kitchen, speaking/listening to French, attending the temple, writing, reading on the couch, folding laundry while I listen to a fascinating book (like the Book of Mormon), or organizing something. Once in a blue moon I sew, which is sweet. When I was younger (i.e., 12-19 years old), I thought I would be a children's clothing designer and boutique owner. You wouldn't know I was so interested in fashion from the way I dress today. Oh, how life changes!
I blog because I breathe. Writing seems to be something I want to do because I am alive.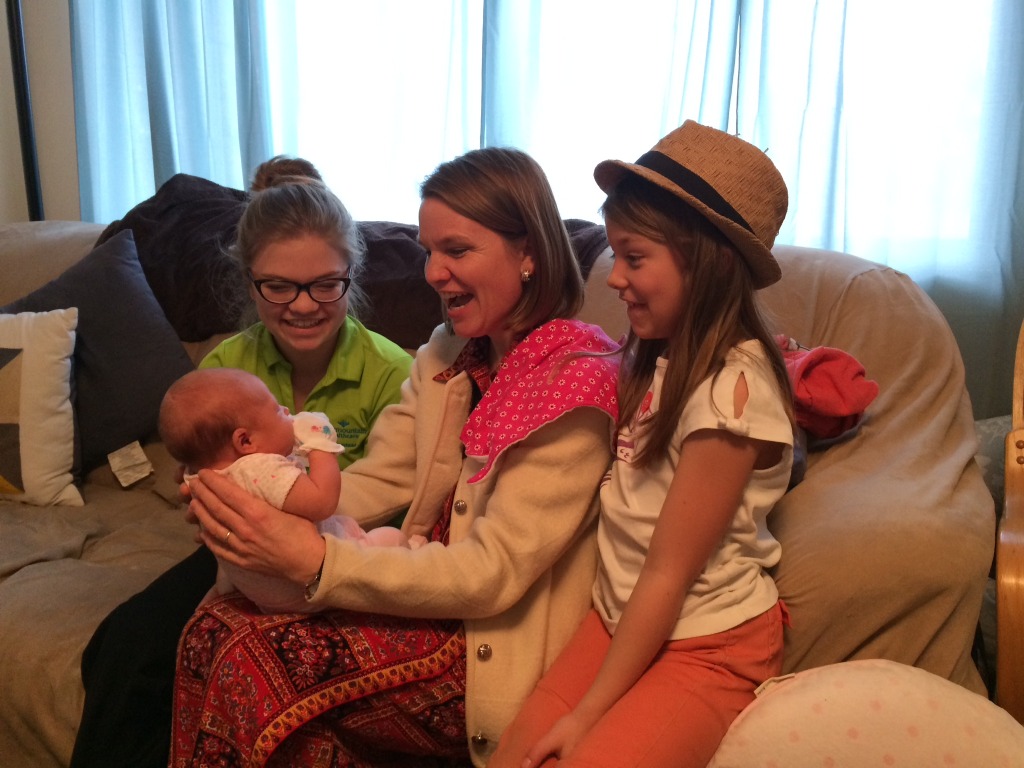 (Me with two of my daughters, loving our newest second cousin.)
I believe in the power of motherhood and the power of God to help us as mothers and nurturers: hence the other reason I write. I hope something I say will encourage another mother or teacher or nurturer of children and families. I hope nothing I write will discourage you. I also recognize that sometimes, I have no control over another's response. I realize I'm responsible for what I write. Please know that my goal is to strengthen and encourage and never diminish.
If you want to contact me, please email me!
Liz@raisingamazingchildren.com
If you have ideas for a post or questions, please send them to me!
If you want a free copy of the Book of Mormon, email me! If you'd like to know more about the Church of Jesus Christ of Latter-Day Saints, please visit Mormon.org or email me, and I will help you find some representatives with whom you can chat!
I always try to obtain permission for every image I post that is not my own photograph with the exception of books or products that I own, since it is free, positive advertising. I typically link an image from source that I got it.
I always moderate comments on my blog, just like I moderate my children's language. My blog is like my home: I try to keep it clean.
Thanks for visiting!