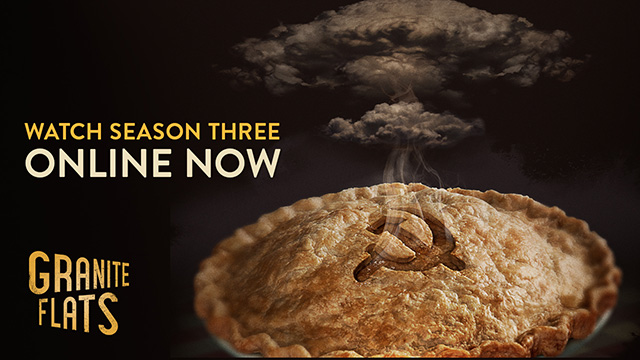 Today I was home with the stomach flu, or something of that variety. I spent the day in bed, finishing God's Singers (loved it), When You Reach Me (not so much), and starting an adventure/romance, Failsafe. After the first chapter of Failsafe, I took a long nap. Then I was ready for something other than reading, so I turned to my all-time favorite TV series, "Granite Flats."
I was only going to watch one episode, because we had been watching it as a family, but (here comes the justification) each episode is so intriguing, and I had nothing but time, nowhere to go, and no one to be with–not wanting to spread the flu–so I watched the next episode.
And the next, which was the last one.
I rationalized that since these episodes are so enjoyable to watch, I'll gladly watch them again with my family!
At the end of the final episode, just when the plot seams are being stitched up nicely, there is a final twist, and then that hilarious theme song comes on. Ha! Nothing like leaving you hanging for another 11 months.
So here is my question: Will there be another season?
One can hope!
Hats off to BYUTV for making a great family show that is so enjoyable to watch!
(FYI: Good review from the NY TImes here.)