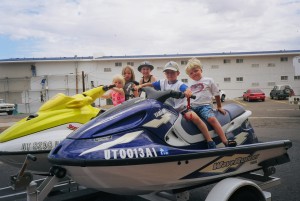 (Family reunions have become the most looked-forward to event in our children's lives. They love being with their cousins, aunts, uncles, and grandparents more than any other group of people on earth!)
Family ties build a foundation for children. If those ties extend beyond one or two generations, that foundation is even stronger, just like a tree with roots that reach deep into the earth. We get strength knowing that Great-Grandma lived in a mud home with several children and that and Great-Grandpa herded sheep before they ever went on to live in a brick-and-mortar home and own their own company. They survived the Great Depression! Or that Grandma survived divorce and death of loved ones, and that Grandpa endured many health problems. Or that not only Mom and Dad worked hard to get good grades in college, but also both sets of grandparents.
Involving our children in recording their own personal histories, reading those of their forebears, planning reunions, or doing family history research can help build that foundation and a fortress against the difficulties in life. Digging for our past can turn out to discovering a gold mine of endearment to those who have come before us.
We love to share stories in our home, and family stories add strength. I am gathering and adding the stories from our missions to our blog as a family history resource for my family. To learn about Lane's mission to Finland, go here. To read about mine, click here. To see what Nate's mission was like, go here. (To find out more about Lane's life in England as a child when his parents served a mission, go here.)
Here is a list of some of my posts related to connecting families. (You can search in the sidebar search box under "family history" or "family reunions" or "extended family" or "cousins" for more posts):
Psst! Deaths by a buffalo stampede and Indian arrows didn't kill their faith (Info about Mary Ann Cato Dana, Lucinda Box Barney, and Melissa Veresta Barney Blain)