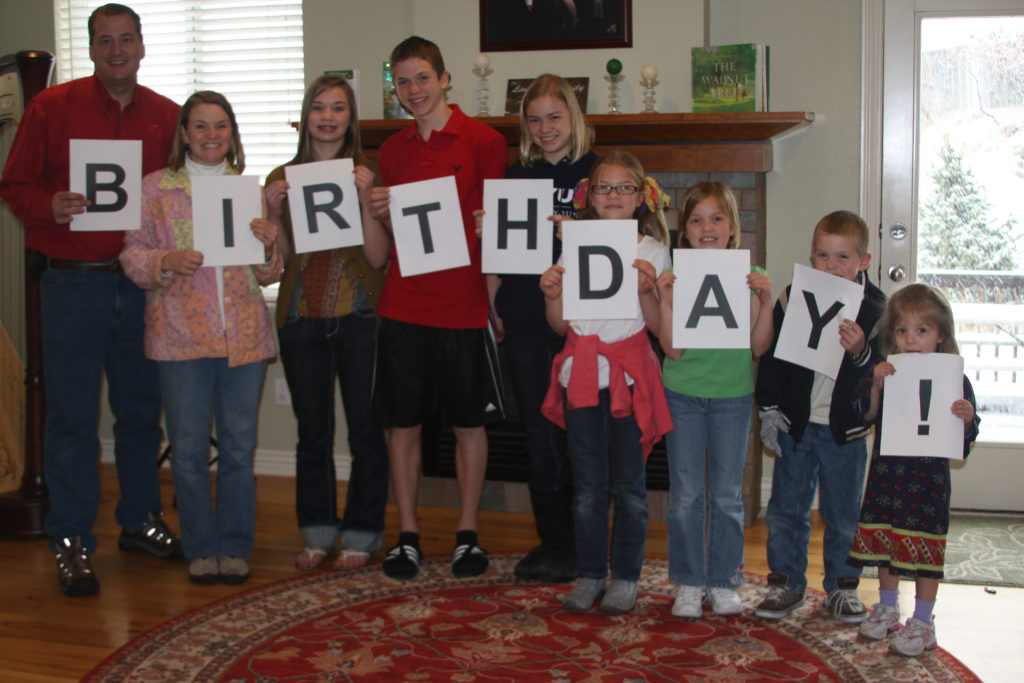 We love to celebrate each family member on their special day in a BIG way.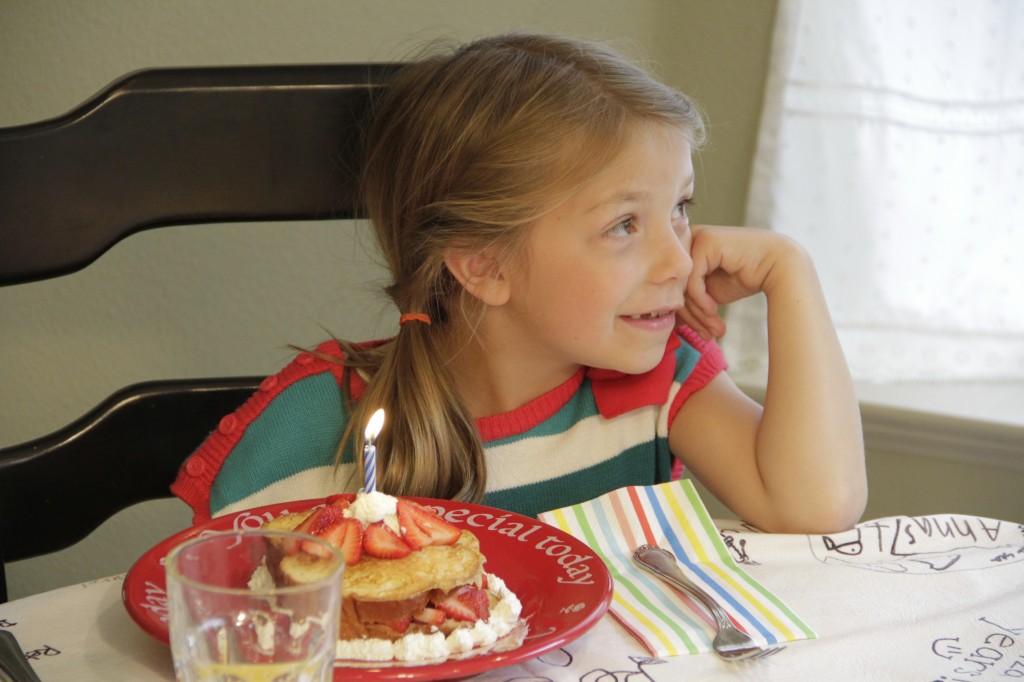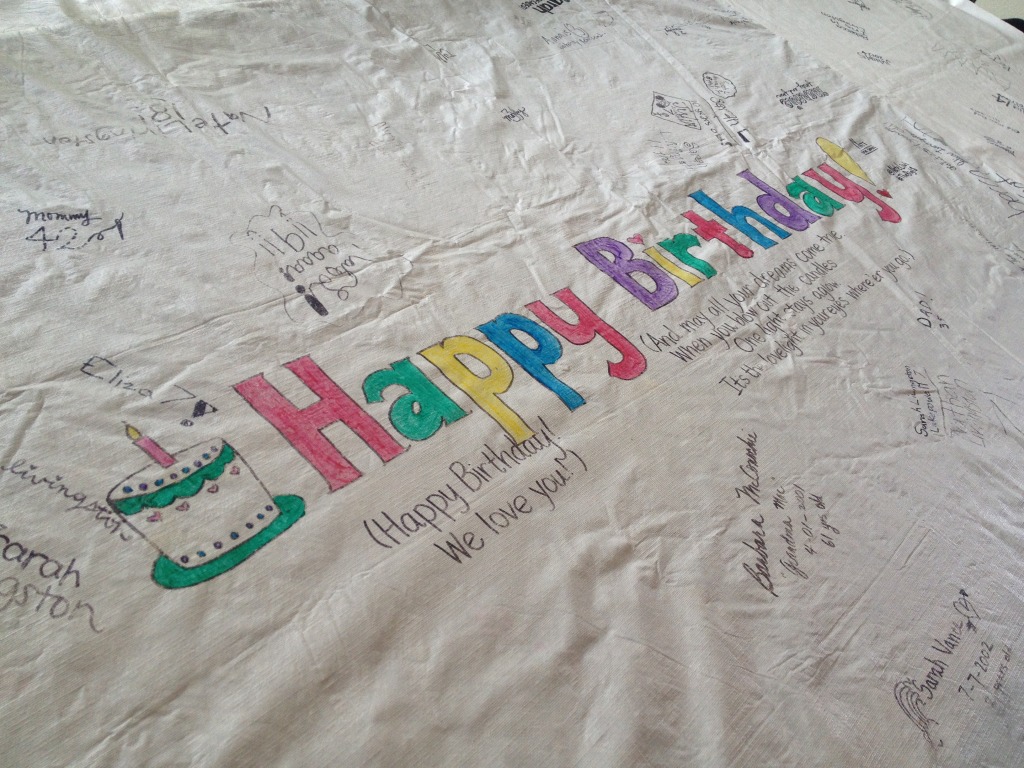 We begin the day with a birthday breakfast of their choice. We serve it on our "You are special today" red plate, with a candle and a special song (Tom Chapin's "Happy Birthday" song) on our birthday tablecloth which they sign.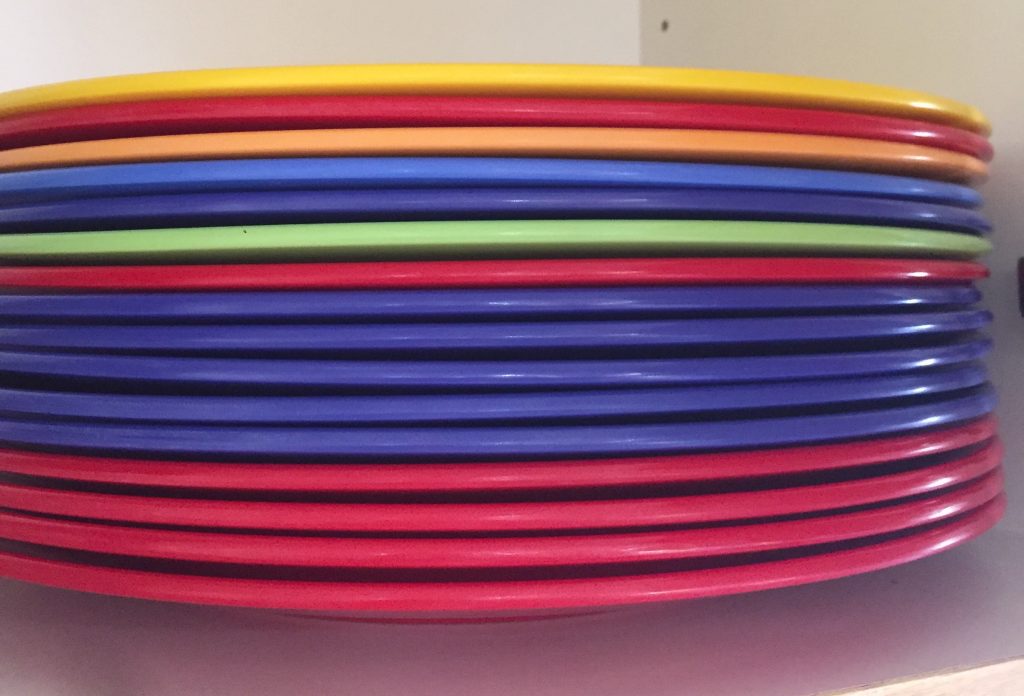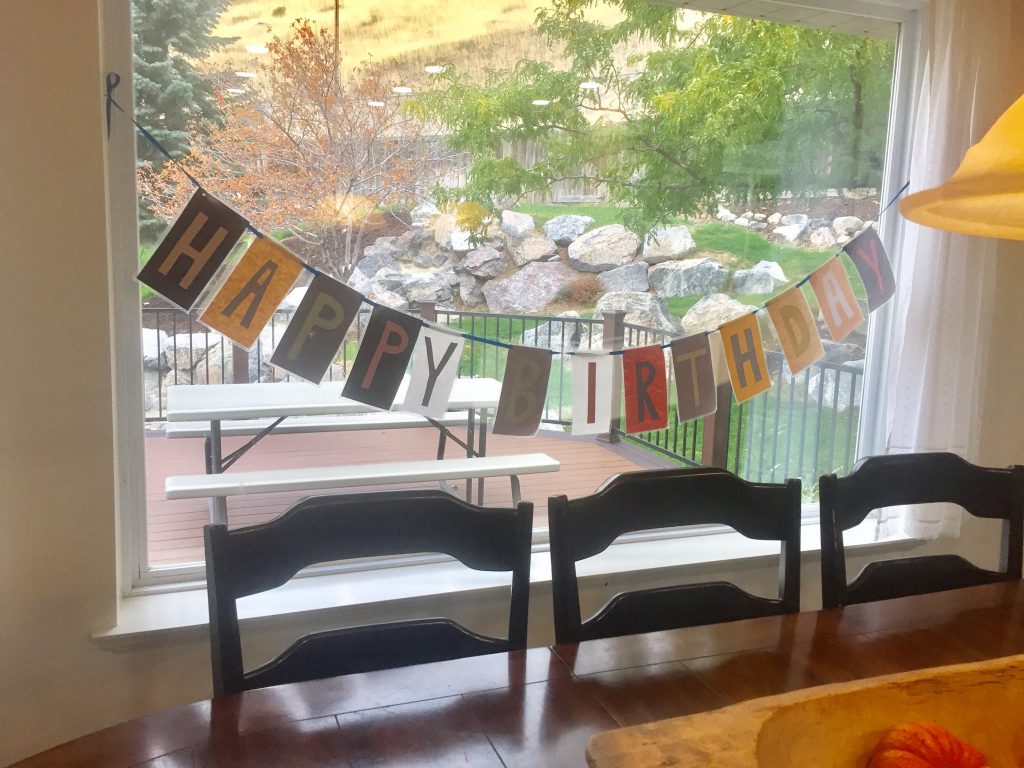 We even have bright plastic plates that we got when we first got married that we use. (Wish I had known they weren't dishwasher safe when we bought them….) And, of course, we hang up our birthday sign in front of the window.
When we can, we have that child come home for lunch or maybe take them out.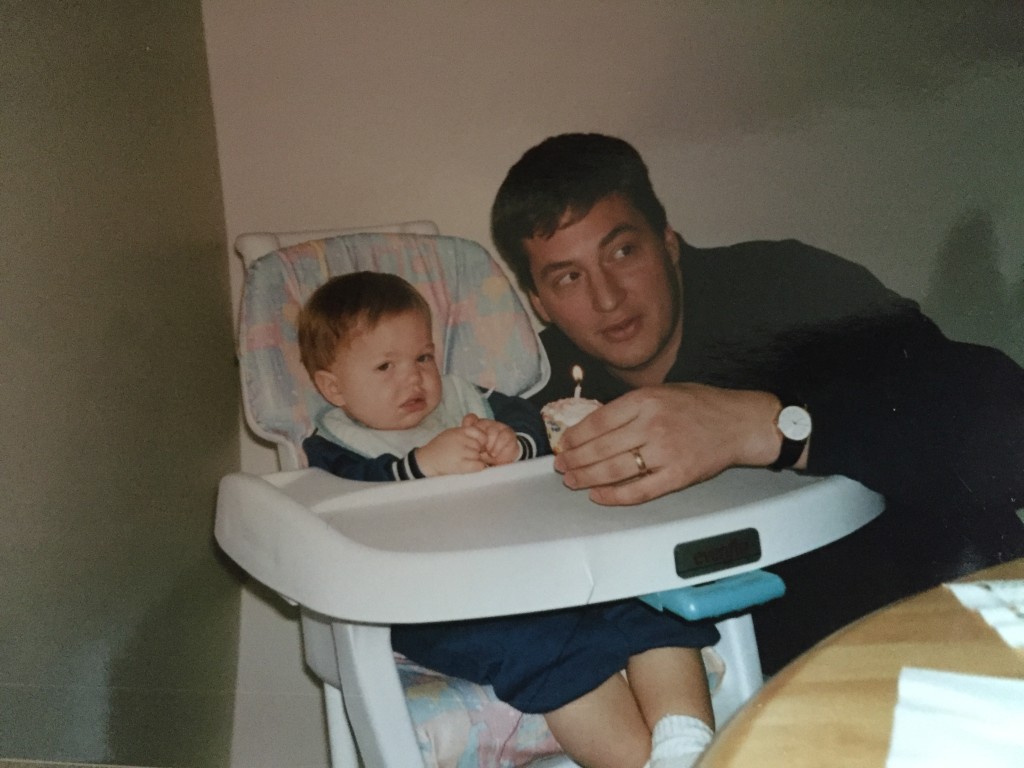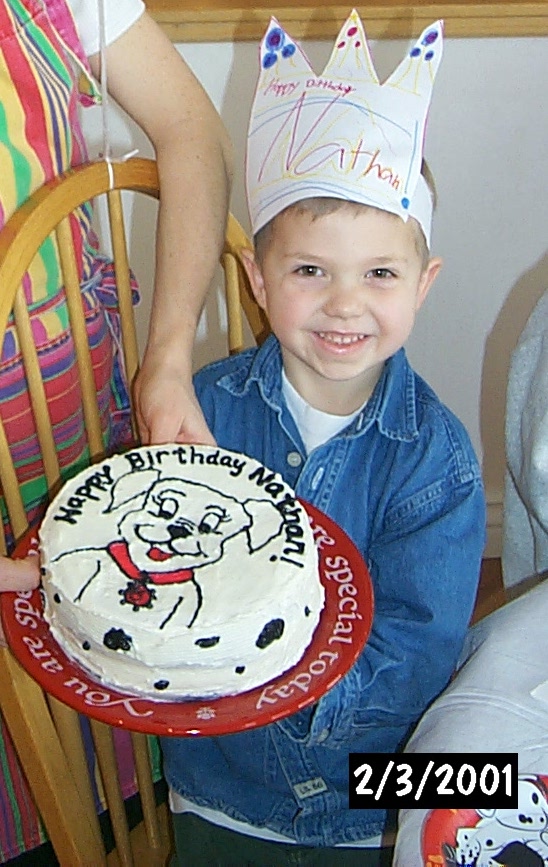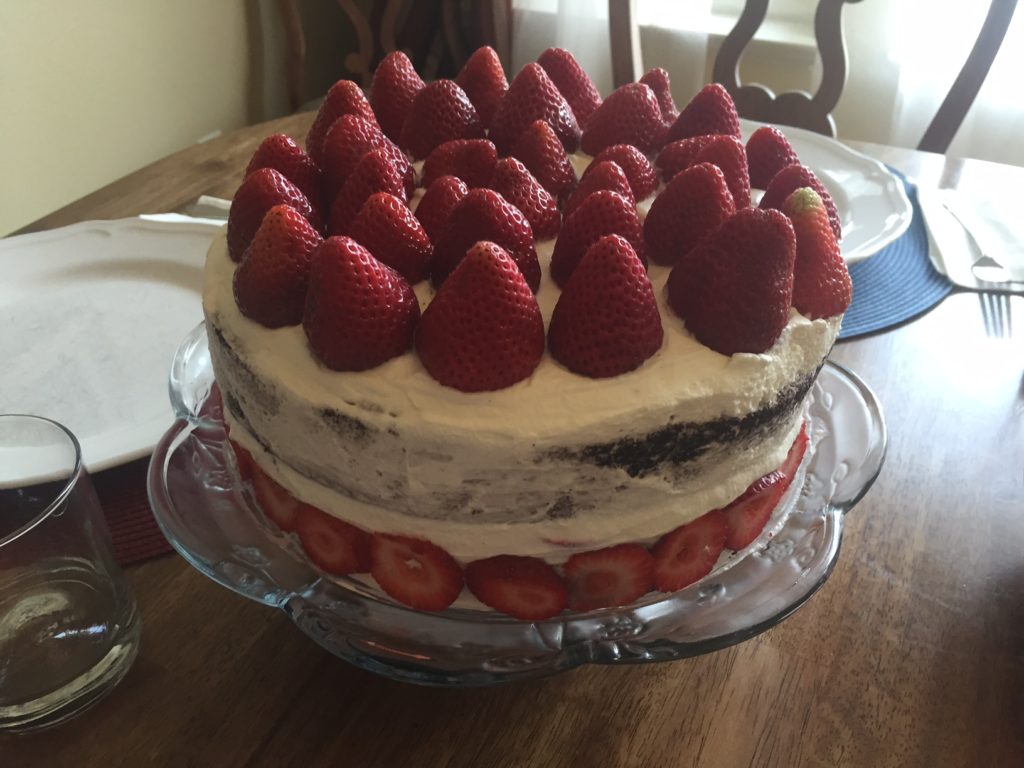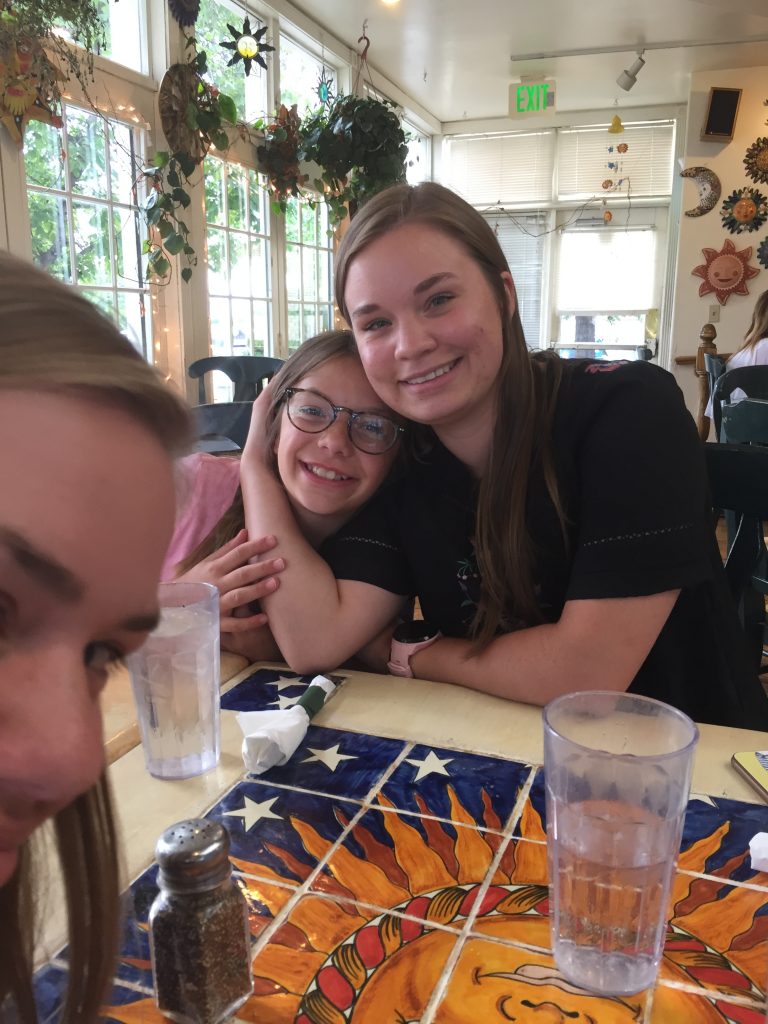 We also serve a dinner of their choice–nearly always homemade. We ask them what they want for their birthday meals in the family council the week (or so) before their big day. We also serve a special dessert of choice, and we sing the birthday song my mom wrote ("You've Had a Birthday").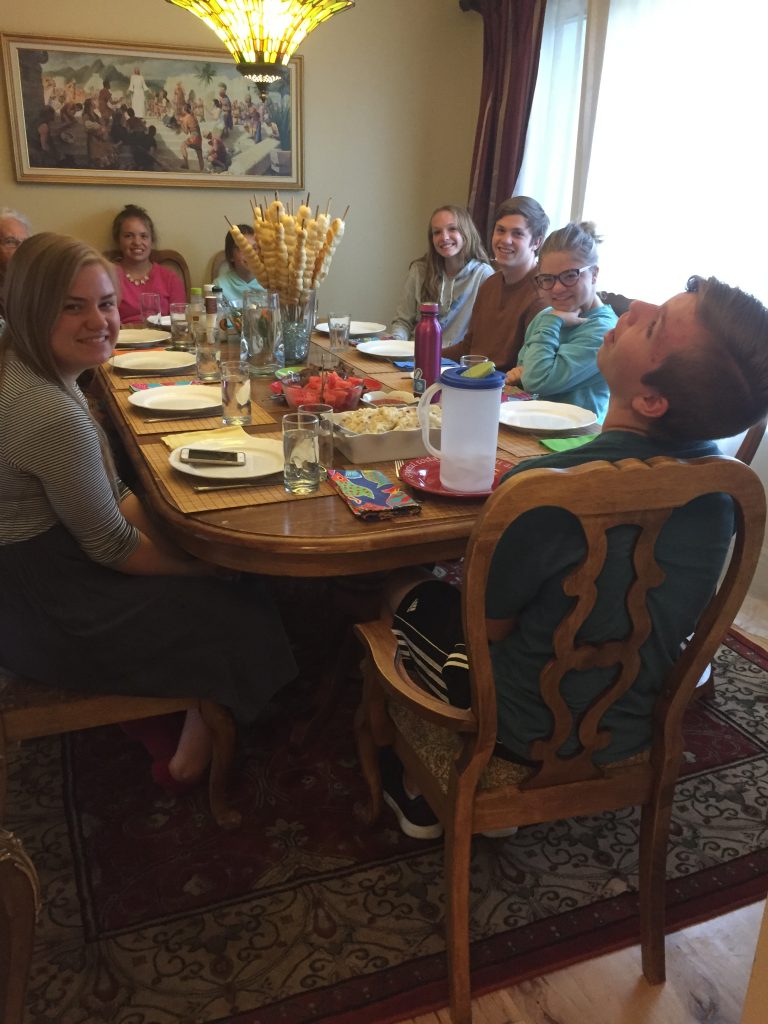 We give them gifts at the end, wrapped in our reusuable fabric gift bags, after dessert. When we give the gift, we recite a saying while holding each gift (one at a time) over the head of the birthday person:
Heavy, heavy hangover thy poor head
What do you wish with a bonk on the head?
We gently bump the gift on their head and then put it down in front of them. The birthday person then wishes the giver of the gift a special wish (out loud) before they open the present.
As a final touch, we go around the table and each person says what they love about the birthday person–"TL's" or "tender loves." "I love Peter because…." TL's are one of the sweetest moments in the entire day. We realize how much we truly love this person!
We also have special traditions for milestone birthdays.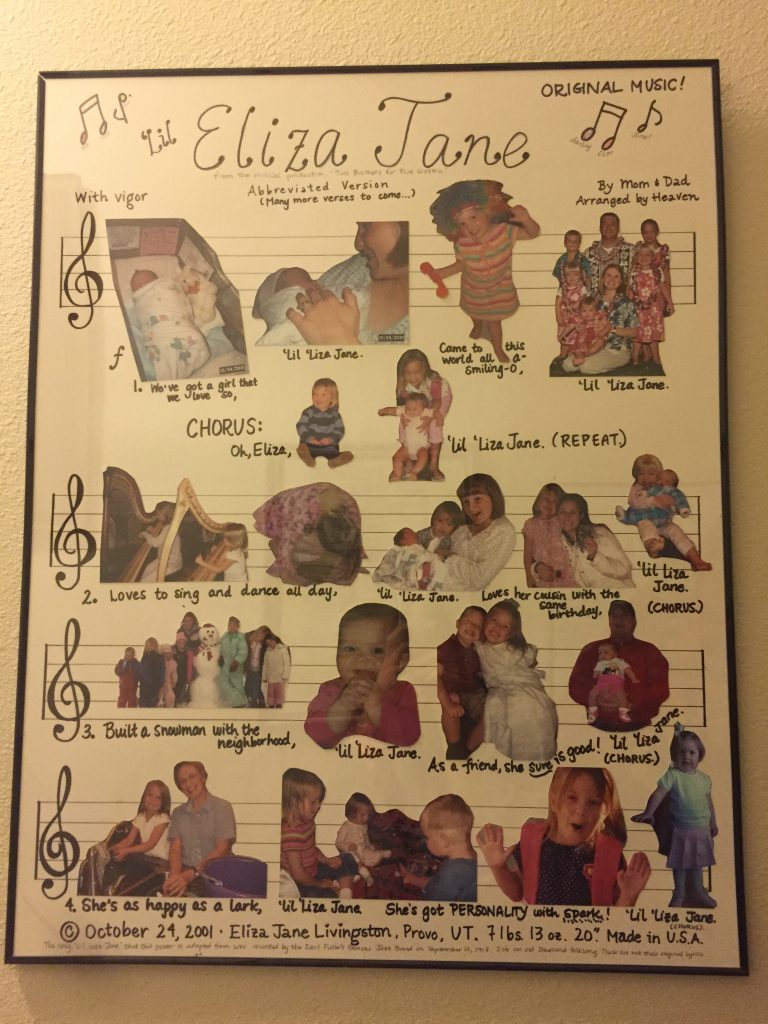 When each child turned 5, they had to have a "star" poster for kindergarten. So I would make a special framed poster for them. It started with Sarah, and because I had put so much work into it, Lane suggested we frame it. Thus began the tradition. It was worth all the hours and thought I put into them. Each child's poster has a theme to it that echoed their personality traits at the time. These posters are a treasure to me! They hang all together in our home.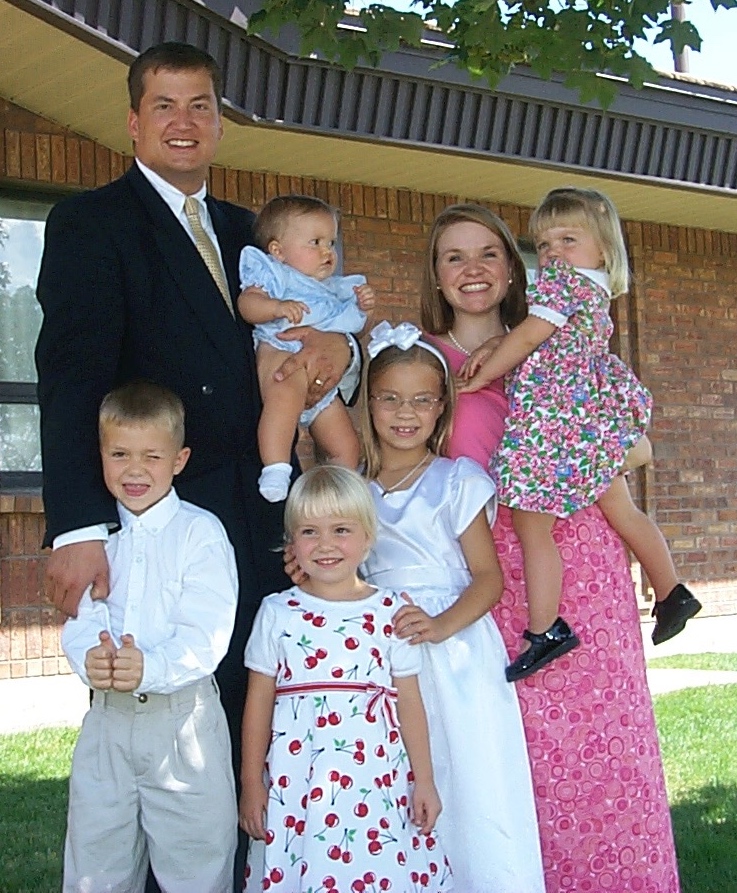 When each child turned 8, we gave them gifts that related to their baptism. We gave them each their first set of paperback scriptures, some kind of scripture tote bag, a scripture-sized Children's Songbook and scripture-marking crayons or pencils. For the girls, we usually gave them a new (white) Sunday dress and for the boys, I believe a new Sunday outfit as well (slacks, shirt, tie).
On their twelth birthday, we gave them a leather-bound set of scriptures and a pocket-sized hymn book. We also gave the girls a little clutch for hairbrush, chapstick, etc., to take with them when they went to the temple to do baptisms for the first time. We also gave the girls a lovely illustrated copy of Little Women. (I could have looked for a copy of Little Men for the boys, but I chose other books I thought they might be more interested in!)
On their 14th birthday, we gave our daughters a special ring. My dad gave me a ring on my 14th birthday, and I wanted to carry that tradition on.
For their 16th birthday we often gave a key ring. For their 18th birthday, a passport. Neither gift had a car of their own or a trip attached. They each have had use of a family car to drive with stipulations! The passport prepared them for being able to go on a mission or study/travel abroad as the opporunity arose.
As far as I can remember, we always gave at least one new book for their personal library and often a new outfit or item of clothing. LEGOs were always popular gifts for the boys! We also gave items that helped them in their talent development, hobbies, sports, musical pursuits, and wish lists.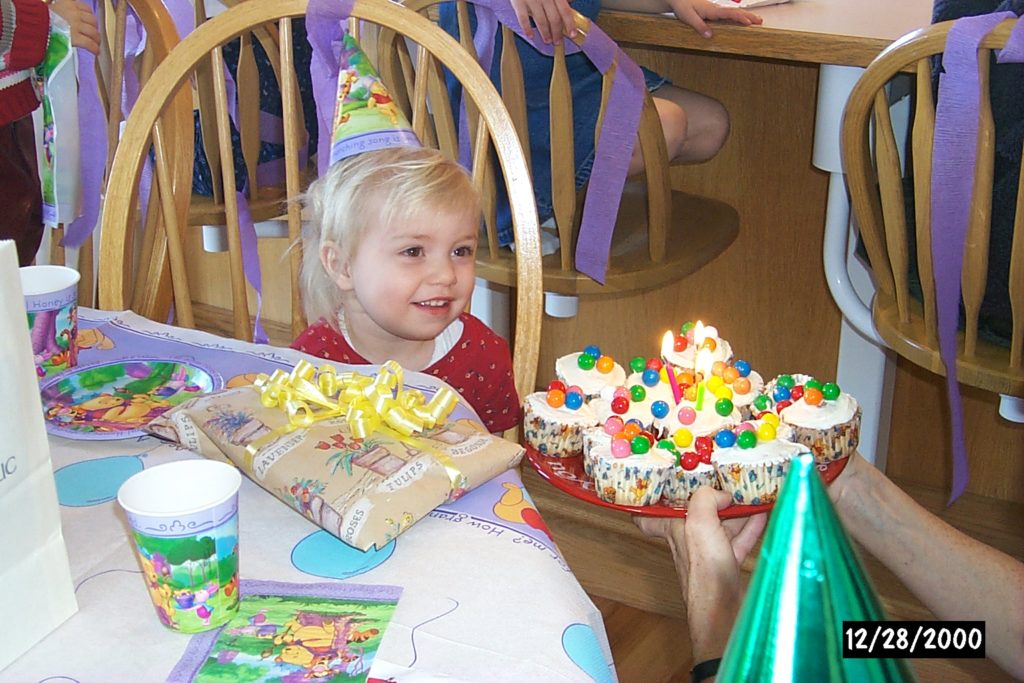 We did not do birthday parties with friends every birthday because honestly, it was too much work for me to do! Our family birthday celebrations are a big deal! So we typically did every other year, with rotations, so not all the birthday parties landed in the same year. I also didn't do friend birthdays until a child was three or four years old.
We make a big deal out of birthdays because each child IS a big deal. Everyone, in our view, deserves to feel celebrated, particularly on the day that they blessed the world with their arrival! We hope that by celebrating in this way will teach our children that each person in the world is special and worth celebrating.
Surely there are simpler ways to celebrate people! These are just the ways that we established and have enjoyed as our family traditions.
What are the ways you love celebrating others on their birthday?
Here are more posts about birthdays, both our family's and others:
Learning not to complain, part 2 (3 words)