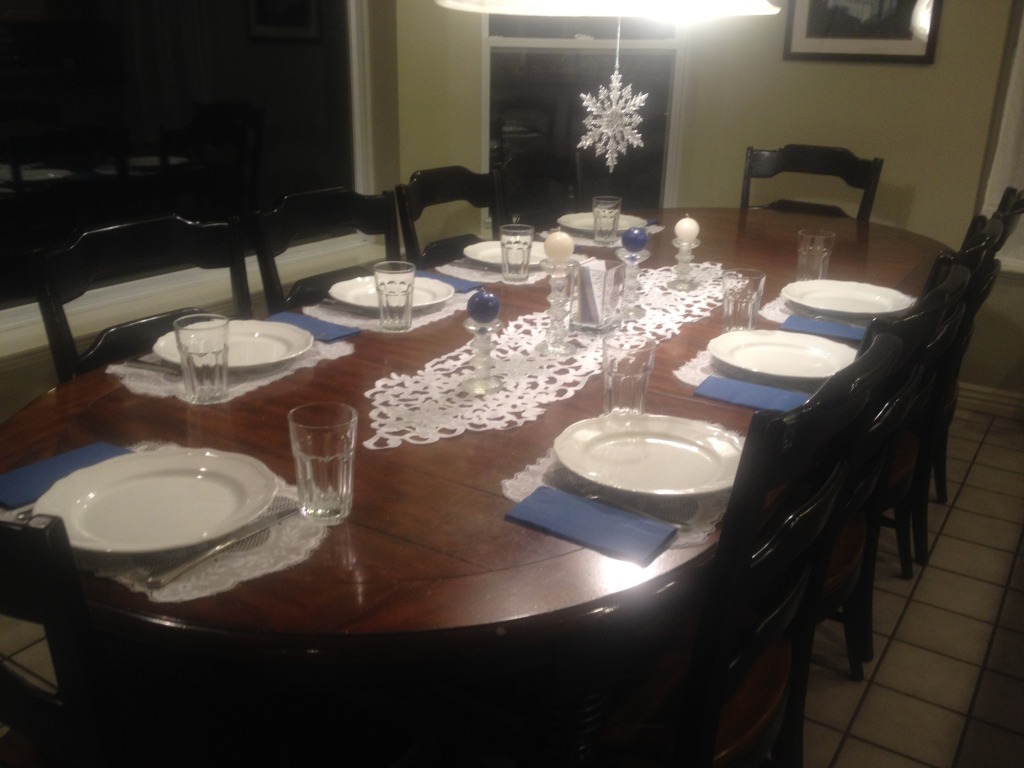 Every month has something to celebrate, and not just holidays! Celebrating life with our families brings us so much happiness and good memories.
The key is to keep things simple and within your means, financially, physically, mentally, and emotionally.
I know. Easier said than done.
Making traditions that you can repeat year after year, pulling out the same decorations, etc., can either simply or complicate life, depending on how you do it. I have found that keeping decorations down to one box (per season or per holiday, depending, and not including Christmas) helps a lot, both in time and money spent on decorating and effort/emotional energy. I also re-use the same decorative items in multiple months. The lace place mats in our "Welcome January!" dinner pictured above were a gift from my mother-in-law. I love them because they are polyester, so they can get tossed into the wash and not have to be ironed afterwards! The Finnish candlesticks that my husband brought home from his mission to Finland have other color ball candles that we trade out for other months. Some decorations are just for that particular month, like the plastic snowflake and the snowflake runner. I rarely have bought everything to celebrate a holiday or month in that month. Didn't have the budget for it! Each month, I used a little bit of my grocery budget to buy something new, such as fabric for napkins or colored candles or the place mats or a new dish towel. Gradually, I built up a store of decorations that we enjoy. And of course, some of the decorations we make just for  that month and then throw away, like the snowflakes we make and cut up and tape onto the windows in January.
Here are some posts about ways we enjoy celebrating the holidays in our home, month by month:
May
June
July
August
September
October
November 
December
One thing I have done over the years is made/purchased/collected colored fabric napkins, placemats, and dish towels/cloths. Then we are set to go for any kind of "Welcome Month" or birthday or holiday dinner. The dish towels and cloths stay out all month. Doing this was one way that I was able to change my decor when I couldn't afford to redecorate my kitchen to look how I wanted. I have loved this! It gives me something to look forward to on the first of every month! (The colors we used for each month are shown in the links above.)