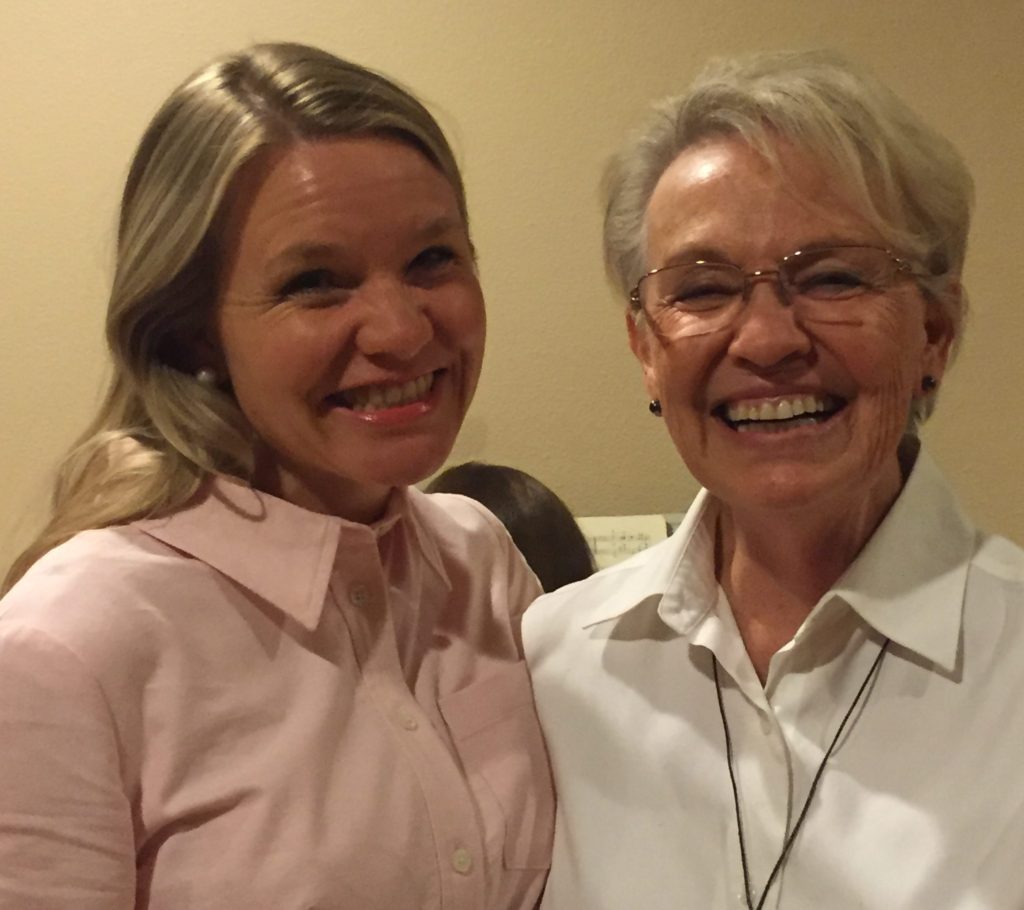 May! Mother May I? May is a month for celebrating motherhood and the women to whom we owe so much, both individually and collectively. It is for acknowledging the "highest and noblest" of all opportunities for nurturing souls on earth. It is also for celebrating graduates and gardens and golden sunshine! And it is the time for finishing up (or beginning 🙃) the family summer schedule and for riding the rollercoaster wave of end-of-the-school-year May madness.
Yikes! So much crammed into one month! It can be both TRIUMPHANT and exhausting.
OK, breathe deeply with me. Let's both remember: We can do this one day, one hour at a time, and if we miss something, things will have a way of working out.
Chin up! There is so much to enjoy along the way in May. Here are some ways we celebrate this month: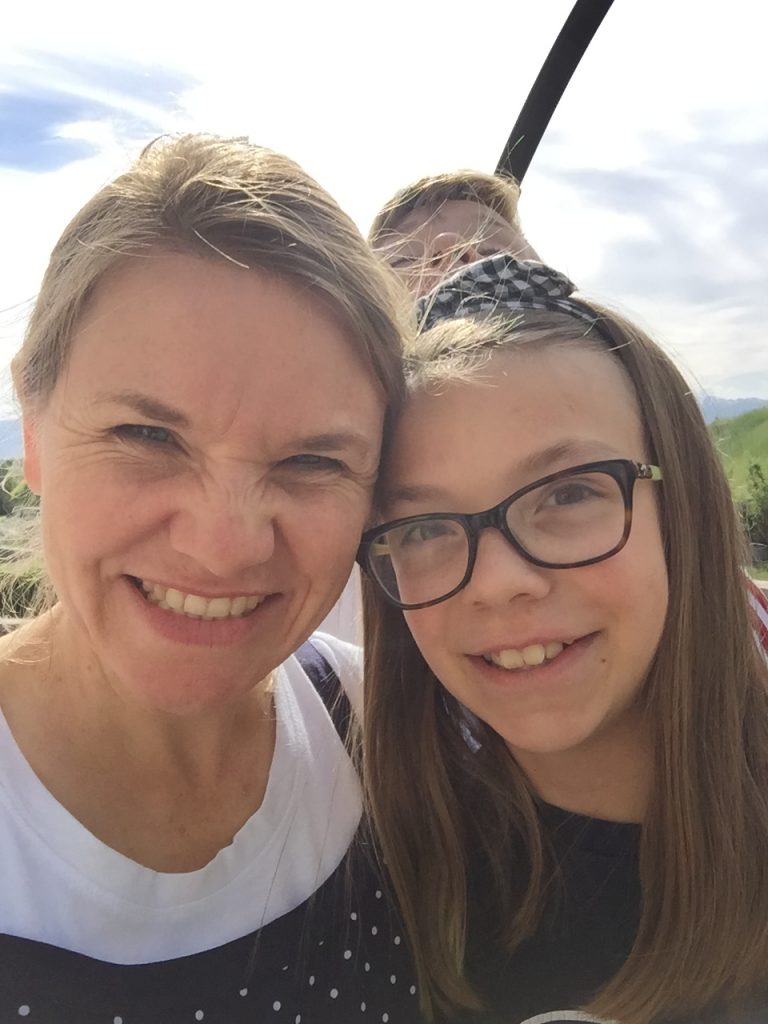 Mother's Day
I typically forget to buy a Mother's Day card in time to get it mailed to my mother-in-law. Ugh. Still working on that! For someone who tries to be so organized…I still have my pitfalls. So I typically try to do something online or via Amazon to express my love. Thank heavens for Amazon Prime, right? And a phone call is always a nice way to say "I love you." I do love my mother in law! She is simply amazing!
Thankfully, my own mom lives close, so we get to include her in our festivities. (Phew! 😉)
My husband and children prepare breakfast for me on Mother's Day. As with other birthdays and celebrations, we plan the menu a week or so before when we calendar during family council (Sunday evening, usually). He asks me what I want to have and I reply; he typcially asks me if I'm sure I want oatmeal. I like "healthy" breakfasts, and it's taken some persuading for my family to make me what I want! LOL (To hear our favorite song about Mother's Day breakfasts, go here.)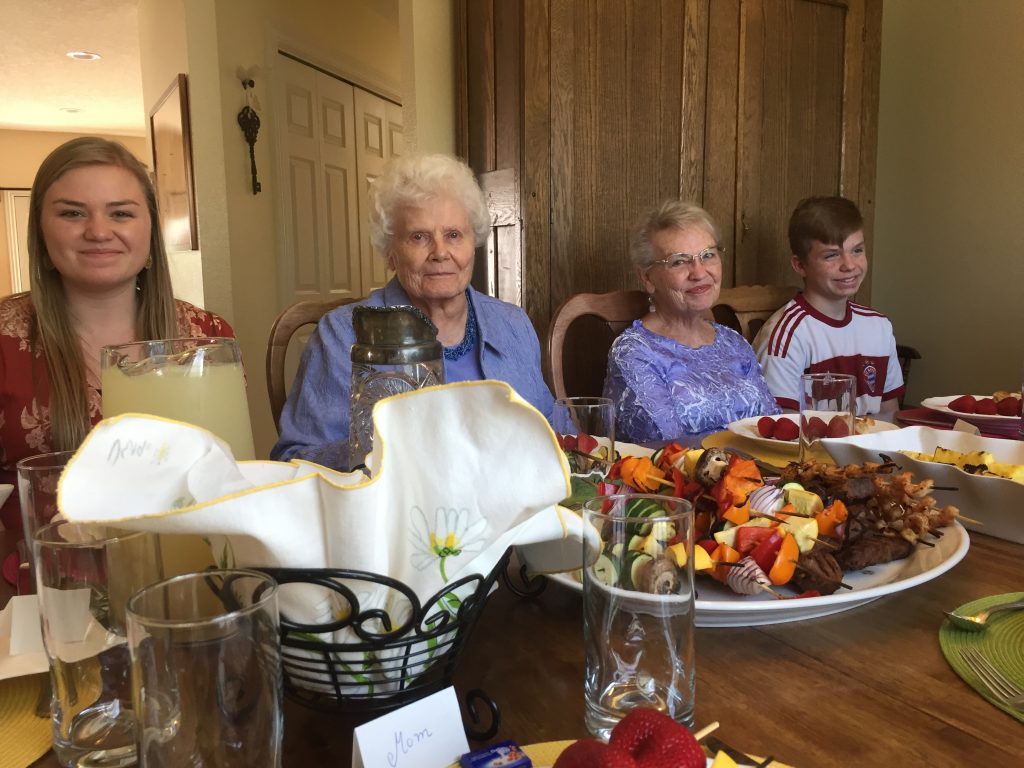 Later my family make a special lunch or dinner for me (and my mom, if she is in town, and any other honored guests). During breakfast or dinner they give me all the homemade cards that they have made in school or church or at home. I love these! My husband often gives me flowers and a gift. Our first Mother's Day he gave me a corsage. We chuckle about it now, because I felt that corsages were for grandmothers on Mother's Day, so he gives me flowers now instead.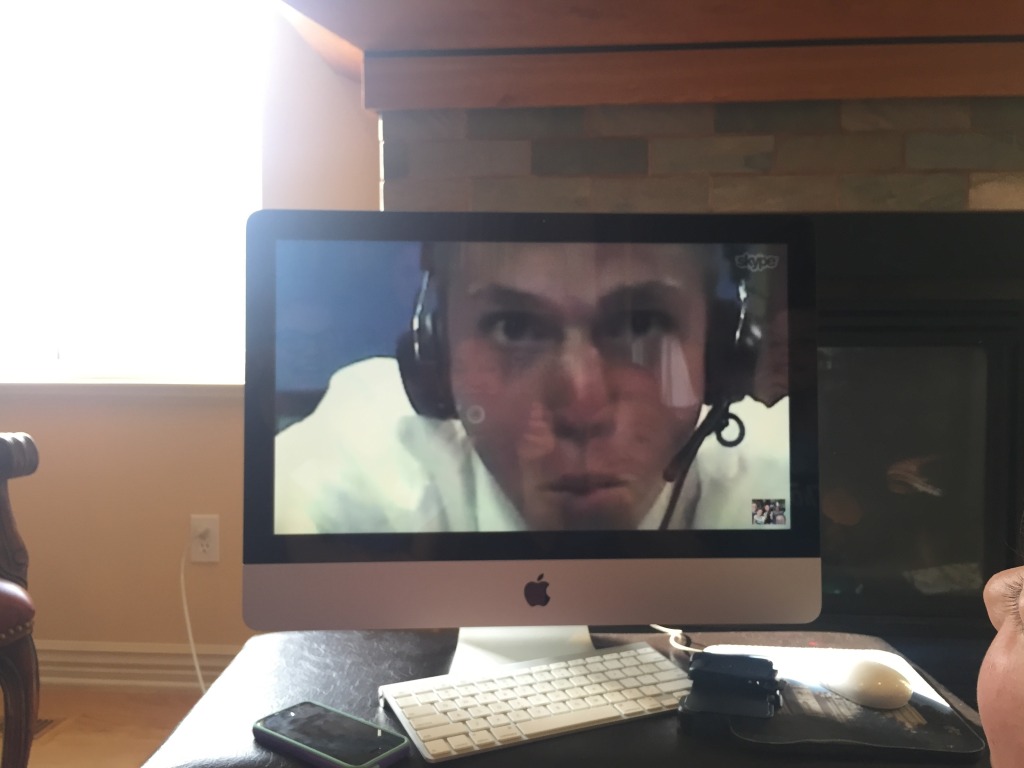 Missionary Skype phone calls!! These are the best!! These are what we older Mormon moms live for on Mother's Day! Young missionaries only get to call home to their families on Mother's Day and Christmas, so you can imagine how precious this hour video call is to families! It is the best gift I could ever get on this celebratory day.
Lane used to be exhausted by the time Mother's Day was over. I was glad to get back to my job as mom just so that everyone wouldn't be so stressed out! As the years have gone by, he and the children have gotten better and better at rallying together to make it such a special day. Thank goodness!
Books about mothers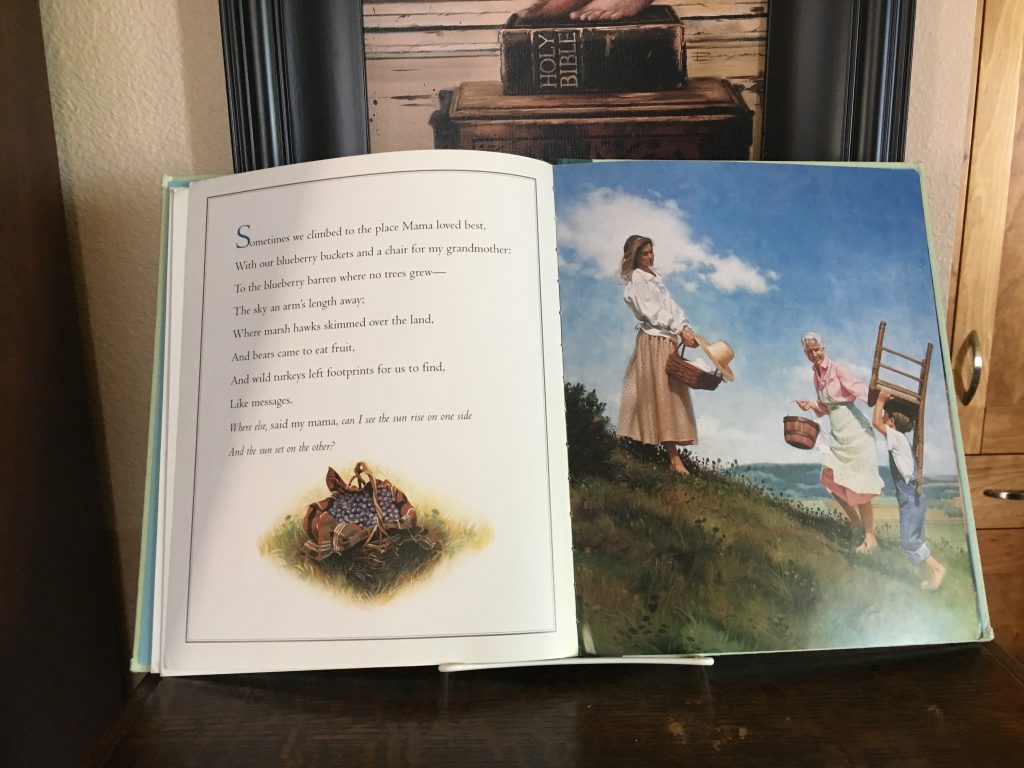 I love putting out our books that celebrate mothers and motherhood. I have many, as this has been a focus on mine for decades now. Here is a list of some of the books we have read and loved about mothers and babies. Here is another list! (Or click on the image above.)
May Art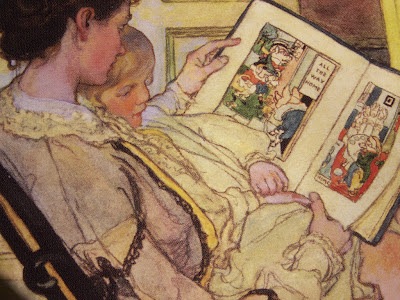 Jessie Wilcox Smith, who painted this mother and child reading together, is one of my favorite artists who paints mothers and children. As a young teenage babysitter, I saved money to buy several prints for my bedroom. I still have one of those prints in my home today.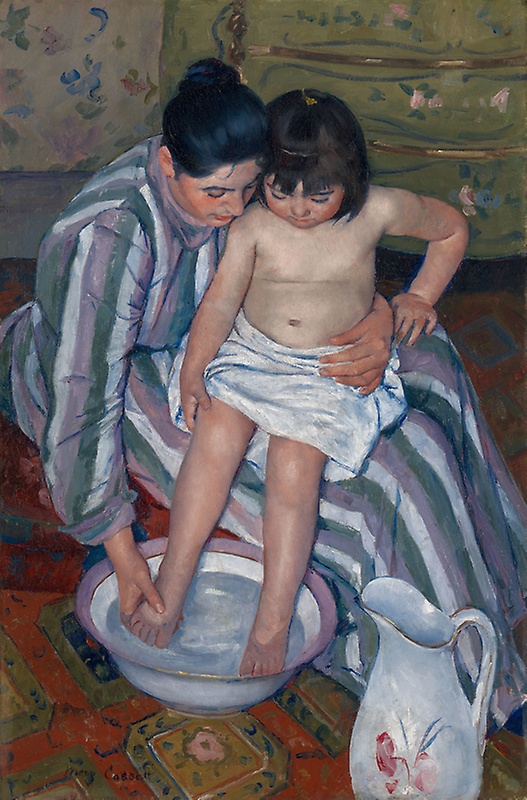 I loved art as a child, having been taught and exposed to beatiful art at school and by my parents. "The Child's Bath" by Mary Cassatt was one of my favorite artists, and this print from my childhood hangs in our home as well.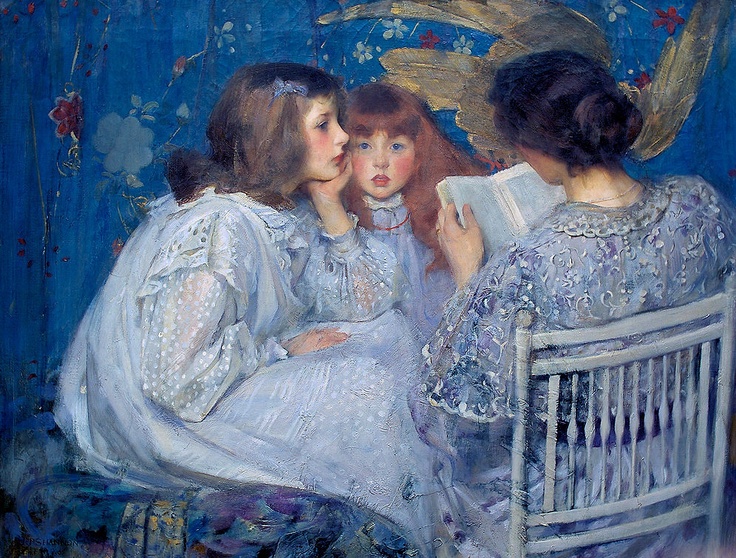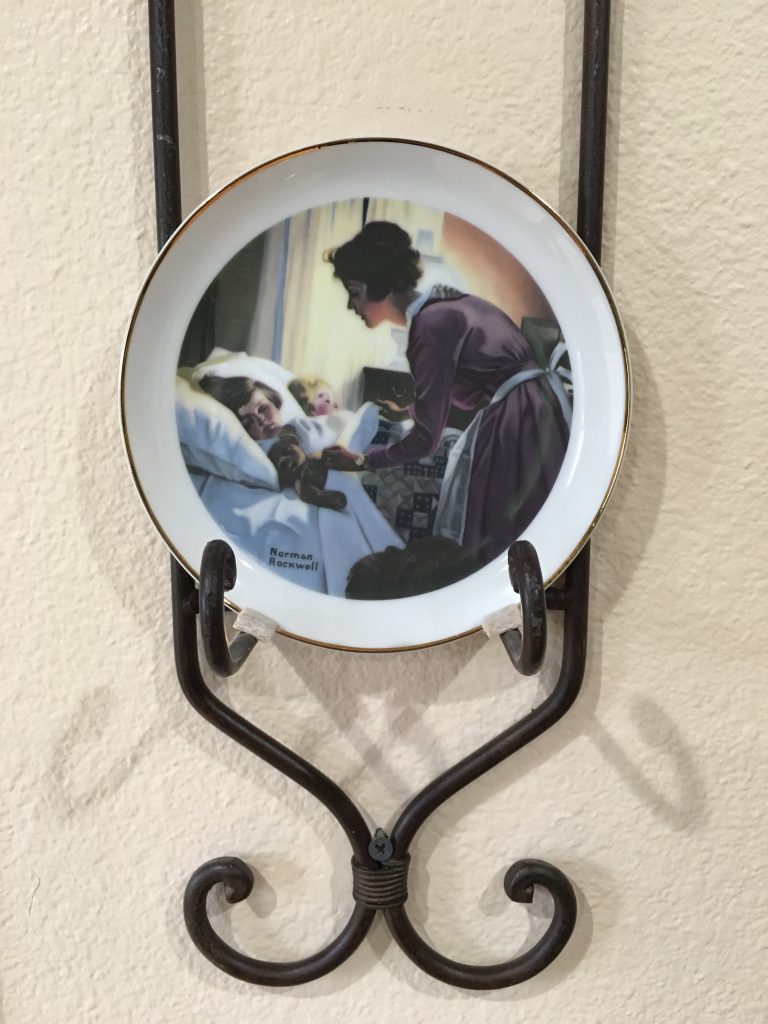 I love this painting by Norman Rockwell, "Her Tender Touch" from a series called "A Mother's Love." Rockwell had a magnificent way of capturing the essence of everyday, loving family life.
May Poetry
Some poems I think of around Mother's Day are "The Reading Mother" and "Which Loved Best?" (For more favorite poetry, go here.) Do you have a favorite Mother's Day or May poem you could share with me?
May Music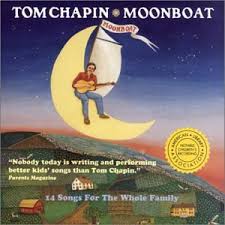 "Mother's Day" by Tom Chapin, on his album "Moonboat," is hilarious! We love this–and most of his others–album.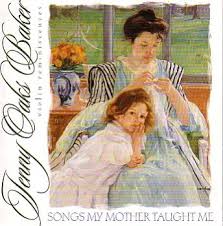 We also love the album "Songs My Mother Taught Me" by Jenny Oaks Baker. She is a world-class violinist whose mother died when she was young. These songs are particularly beautiful and meaningful knowing that.
May quotes
"Honor the special sisters in your lives, brethren. Express your love to your wife, to your mother, and to the sisters. Praise them for their forbearance with you even when you are not at your best. Thank the Lord for these sisters who—like our Heavenly Father—love us not only for what we are but for what we may become. Humbly I thank God for my mother, my sisters, my daughters, granddaughters, and for my special sweetheart, companion, and friend—my wife!" (Elder Russell M. Nelson, "Our Sacred Duty to Honor Women," April 1999 general conference)
Graduation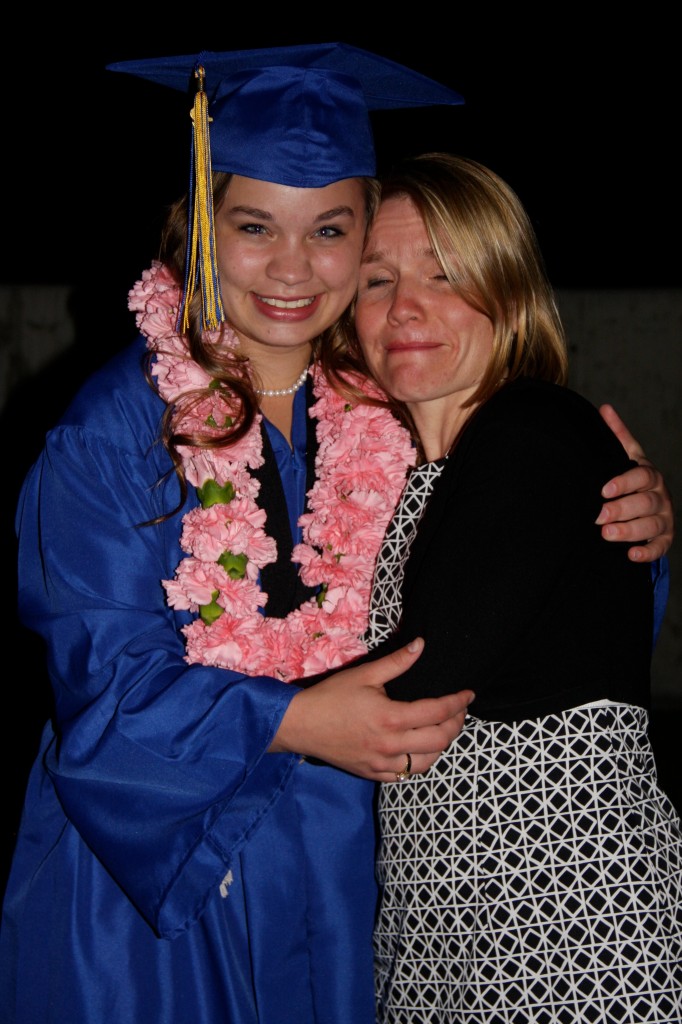 For graduation–before the crying begins!–we make a special dinner for the graduate and give them a special dress or new shirt and tie or something special that they would like to wear. We have given our children a floral lei to wear; I made Sarah's lei from carnations but opted not to do that for the rest of them! Nate graduated from high school in January, so his day was a little different from the other children's.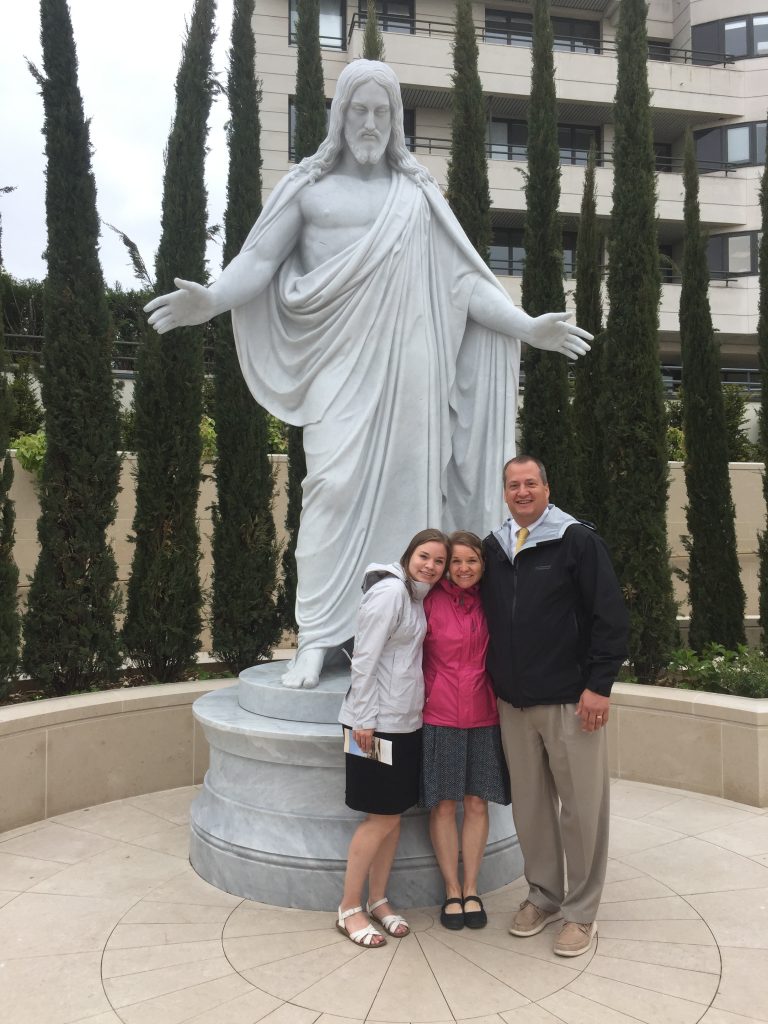 For Sarah's college graduation, we had the special opportunity to go on a trip just with her and me and Lane, which was heavenly. I hope we will get to do that with each college graduate from our family, but we will take things one year at a time!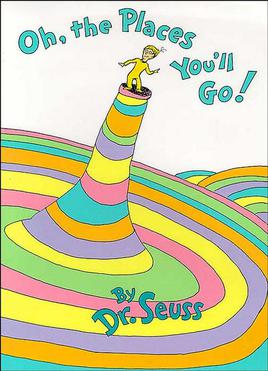 I love to give the book Oh, The Places You'll Go by Dr. Seuss for graduation. Our elementary school principal read it when our oldest children graduated from sixth grade, and I think it's a great memory book to mark this wonderful ending/beginning moment.
Summer scheduling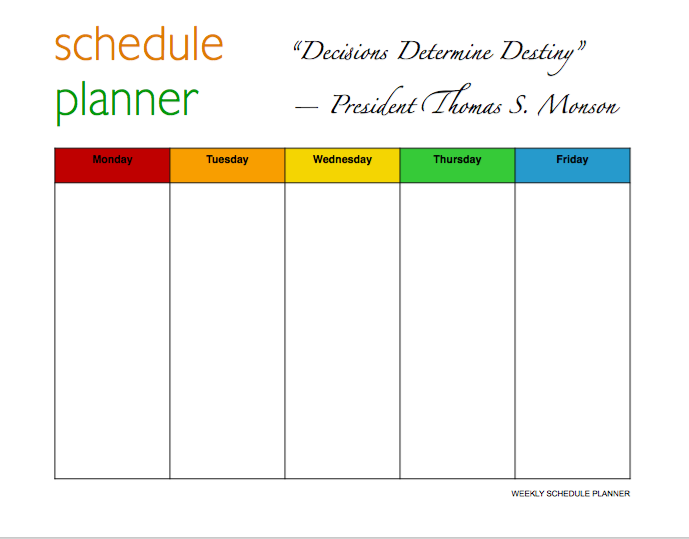 I like to start scheduling for summer at the end of April and beginning of May, as it makes life go more smoothly to have more time to prepare for the transition. Of course, life rarely goes as planned. Still it helps to "begin early and be steady." I often pull out my laminated summer schedule planning page and write it all down just so I can get a picture of what's happening in my head. I keep it up for a while in June as I learn the new schedule. Lane and I counsel together (and we continue our discussions in family council) about summer activities, a summer theme, our family vacation, and summer house and yard jobs.
Gardening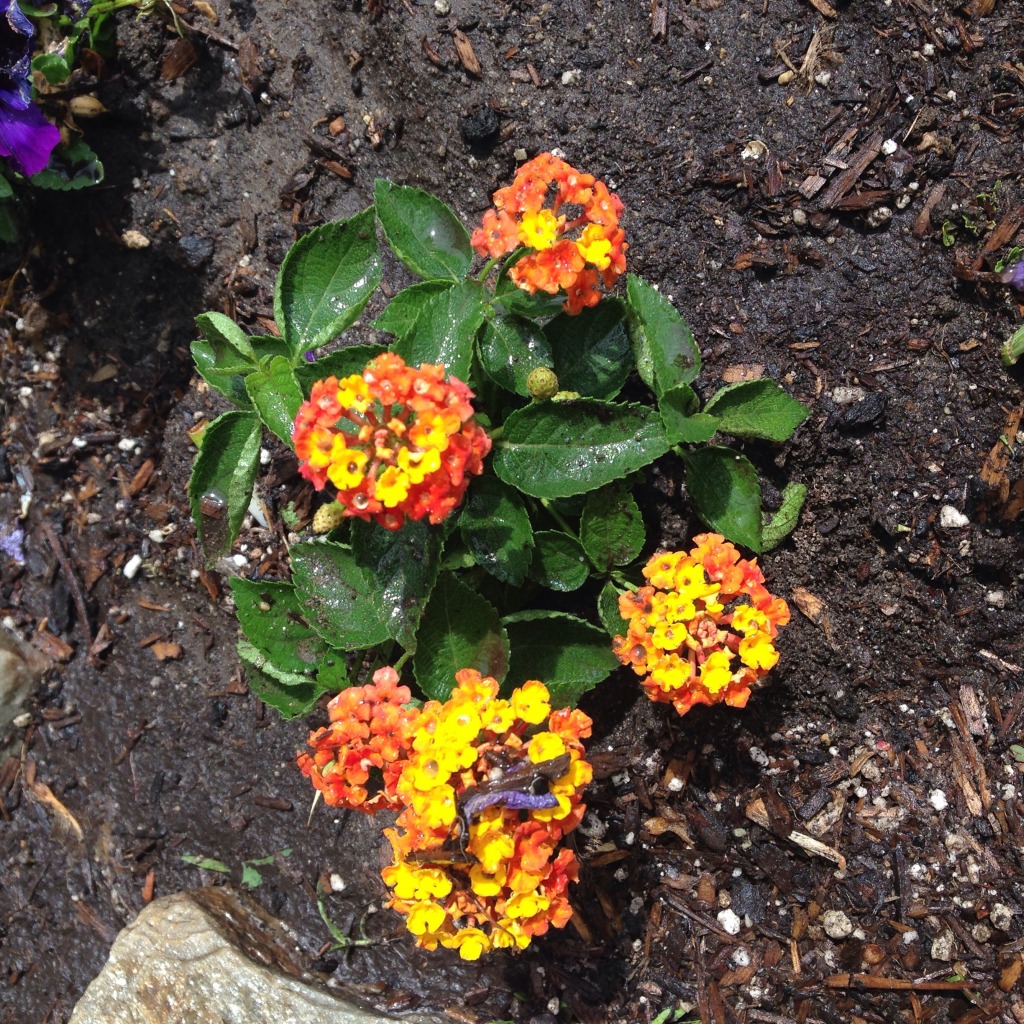 Mother's Day is when it is safe to plant everything in Utah. But you can plant before then, depending on the weather and the plant. So May is when we get to get back to our gardens, to planning what we want to plant in our vegetable and flower gardens. This is an exciting time–except when we say it's time for weeding to begin regularly…
Memorial Day
For us, Memorial Day comes before graduation. (We wish school ended before the holiday!) Like so many Americans, we love a good BBQ on Memorial Day! This year (2019), it was so rainy, but we still marched ahead. The BBQ needed repairing, so Lane did that while we prepared food inside.
What do we serve? We usually see what we've got and fill in from there. Depending on who is joining us and what they are bringing, we decided what to make. Homemade lemonade is usually at the top of the request list, red potato salad, hamburgers, quinoa salad, chips, deviled eggs, watermelon, baked beans, maybe a fun dessert like s'mores bars or lemon bars. You know: all the good stuff!
We haven't been great at the patriotic side of the celebration: we put up our flag, decorate our table with red, white and blue, and put on patriotic music. We usually discuss something at scripture study related to the sacrifices others have made on our behalf for our freedom, and we might watch a movie or video clip related to that. We might share stories at the dinner table about soldiers or family or friends who served in wars. We have sometimes gone to the cemetary to put flowers on loved one's graves, but we could do better at that for sure!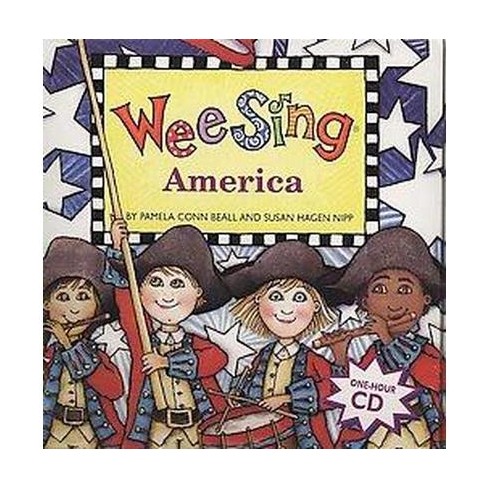 Patriotic Music
We listened to this album a lot when our children were young: it helped us all learn patriotic songs. I loved getting familiar with some fun songs that the soldiers sang as well as the ones I learned growing up, like "Yankee Doodle" or "This Land is Your Land." They also have the Declaration of Independence on this album, which was helpful for later memorization in school!
The end of school!
How do you celebrate that last day of school? With a nap? My friend throws a waffle party and invites the whole neighborhood! The children go over after school ends and mothers gather, bringing sliced up strawberries, whipping cream, orange juice, or whatever else they think of.
Sometimes we have had parties for a child, typically one who is in junior high. They imitate it, and we end up with water balloons or water guns and popsicles or hot dogs.
Mostly, I just think the end of school is a celebration in and of itself! Let the summer fun begin!