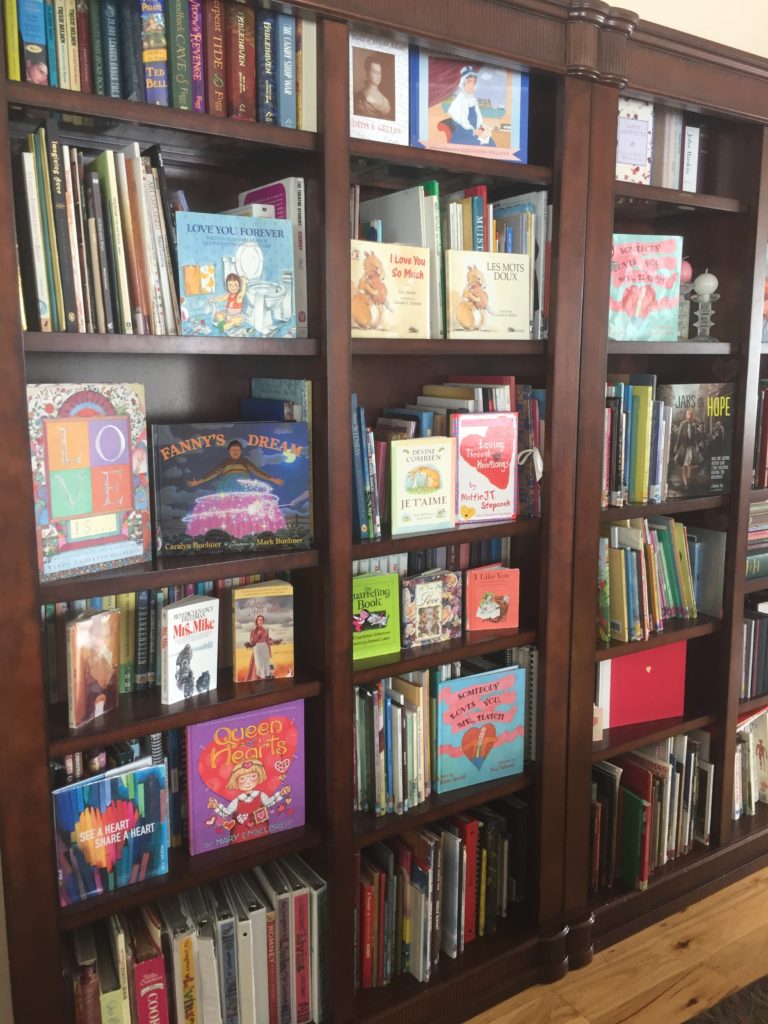 Valentine's Day is my favorite holiday next to Christmas. I feel like my whole personality is in bloom on this day! So when February 1 arrives, I am eager to pull out the red and white Valentine's Day decor: all things red and pink and white and hearts.
As I reflect on how much I love Valentine's Day and how I celebrate it, I am reminded of how others' examples have influenced what I do now: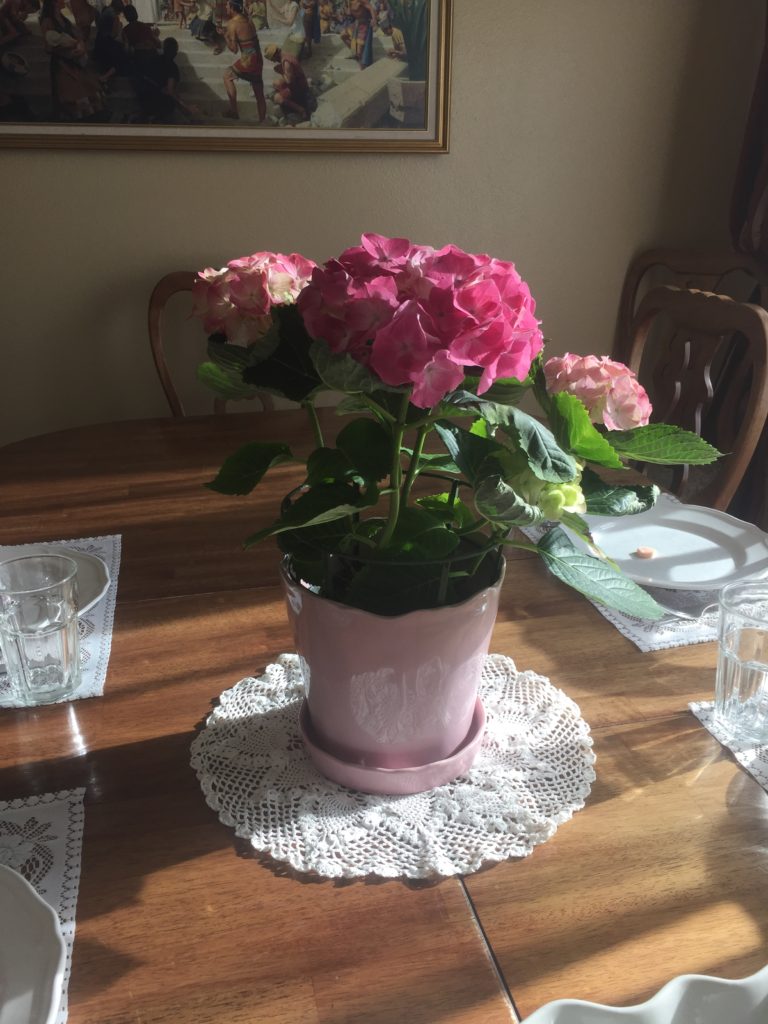 I head to the neighborhood nursery to find some cheery red or pink potted flowers that can brighten our dining room and kitchen tables. I love hydrangeas! They remind me of my childhood town and the hydrangeas that my friend's mom used to keep inside and outside their home. They also remind me of my husband's childhood home and the beautiful dried hydrangea wreaths my mother-in-law used to make from her hydrangea bushes.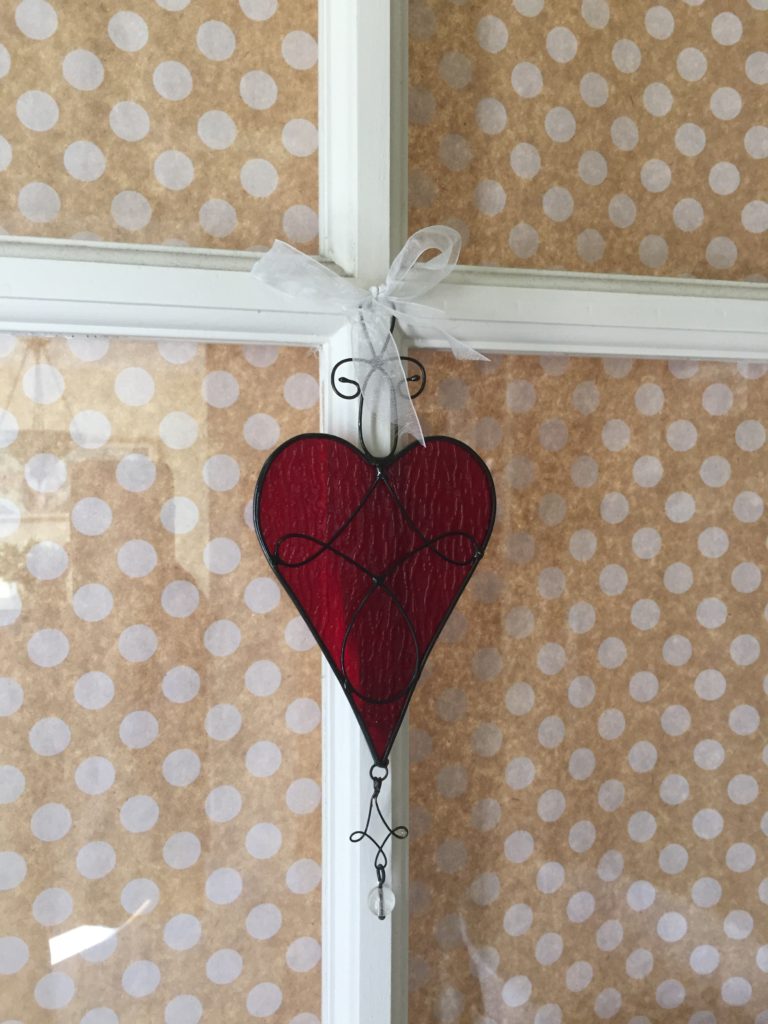 I hang hearts up on the office doors and on bedroom door handles. I have always loved hearts!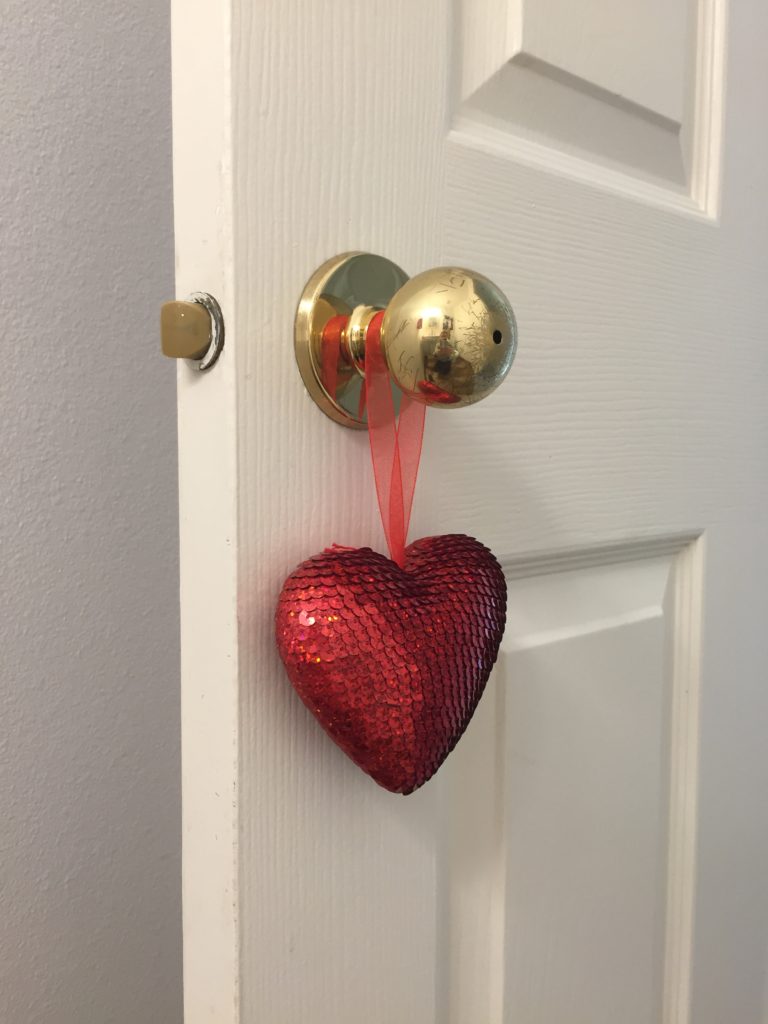 When I saw a package of sequined hearts one year, I had to buy it. My friend's mom hung sequined hearts all over their home. I loved that! So I am continuing that in my own home. Have you ever considered how your home decor and garden influences others?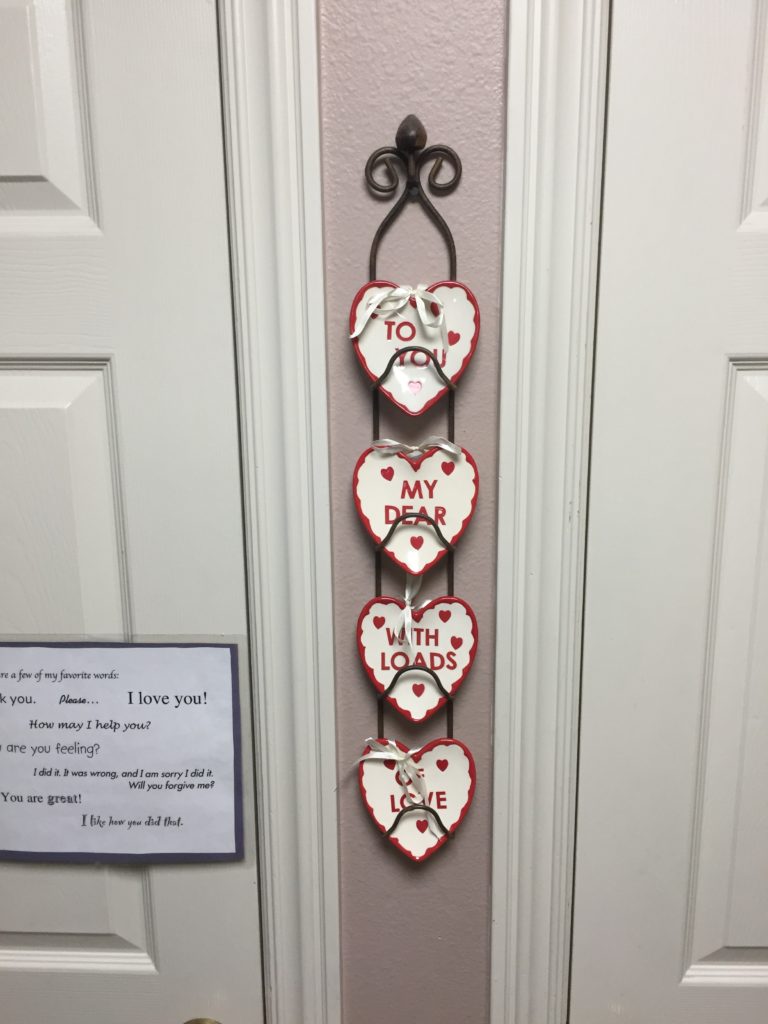 The "loads of love" plates hang in the laundry room in February. 😉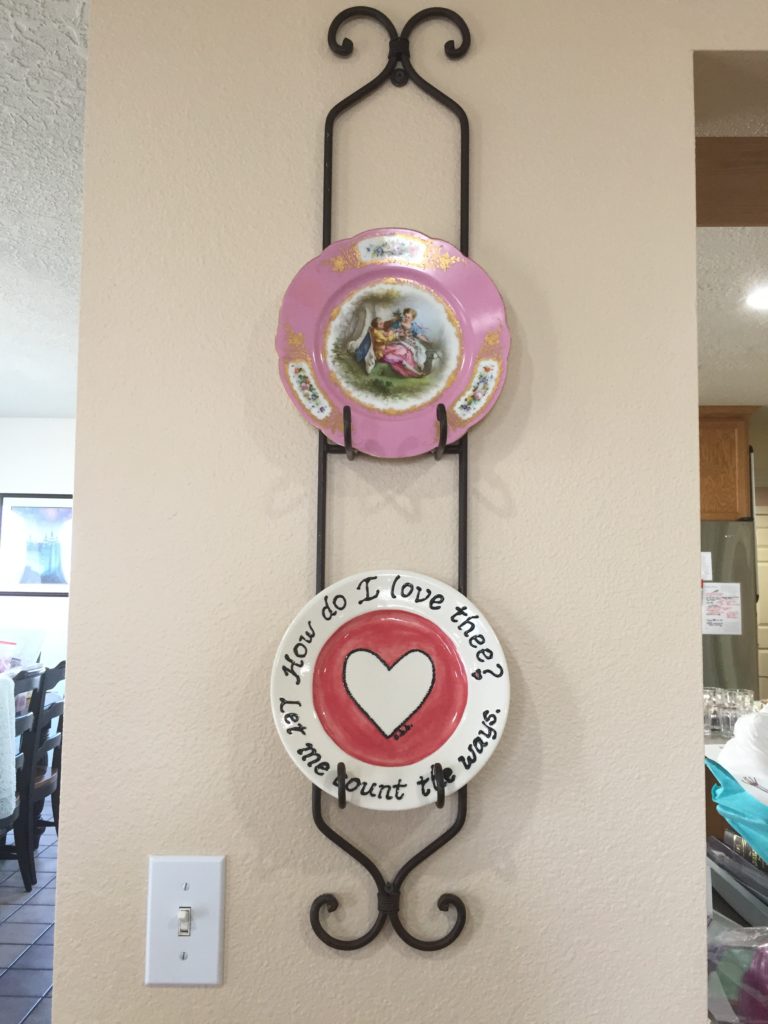 The pink plate came from Lane's grandmother after she passed away. I painted this plate one year for Lane ("How do I love thee?") with a promise that I would make this special cheesecake that I made for him early in our marriage. Um, I haven't kept that promise (😳I always forget!) BUT we never lack for delicious desserts this time of year, right, hon?
The decorations have taken years to make and acquire, which makes it all the more fun to pull them out each year and remember: by small and simple things.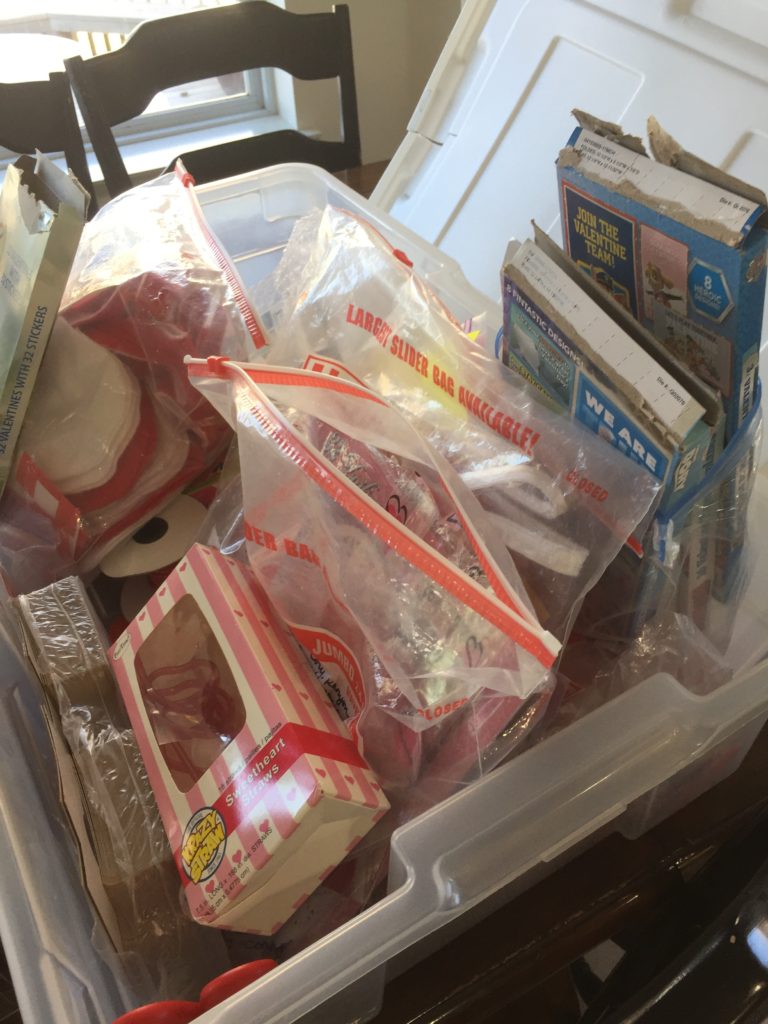 We have a Family Home Evening during which we write Valentine's Day cards to our cousins and ship them off in the mail–hopefully to arrive on time! We do this because of the kind and generous examples of two women we love: Lane's mother and his brother's wife, Suzanna. Lane's mom sent us a care package every year with homemade cookies and treats for every person, child and adult. It was such a delight to get this in the mail! Then Suzanna started having her family make Valentines with treats to give to us. We loved this and wanted to follow suit.
I have a plastic storage tub in which I keep all the February decor and paper goods for making the Valentines. (I'm sure this tradition of creative supplies comes from my mom. She was so nice to keep paper, doilies, etc., on hand for me to create with.) I just pull these supplies out (and keep the box out for about a week…hence a messy kitchen table…) until we have finished. We usually only get some Valentines to some of the families. Just too much going on to get all of them mailed to everyone. #goodintentions #thisisreallife #thinkingofyou #evenifthereisnoevidence
We love to watch a romantic movie sometime during the month, if we can, or read a good romance novel.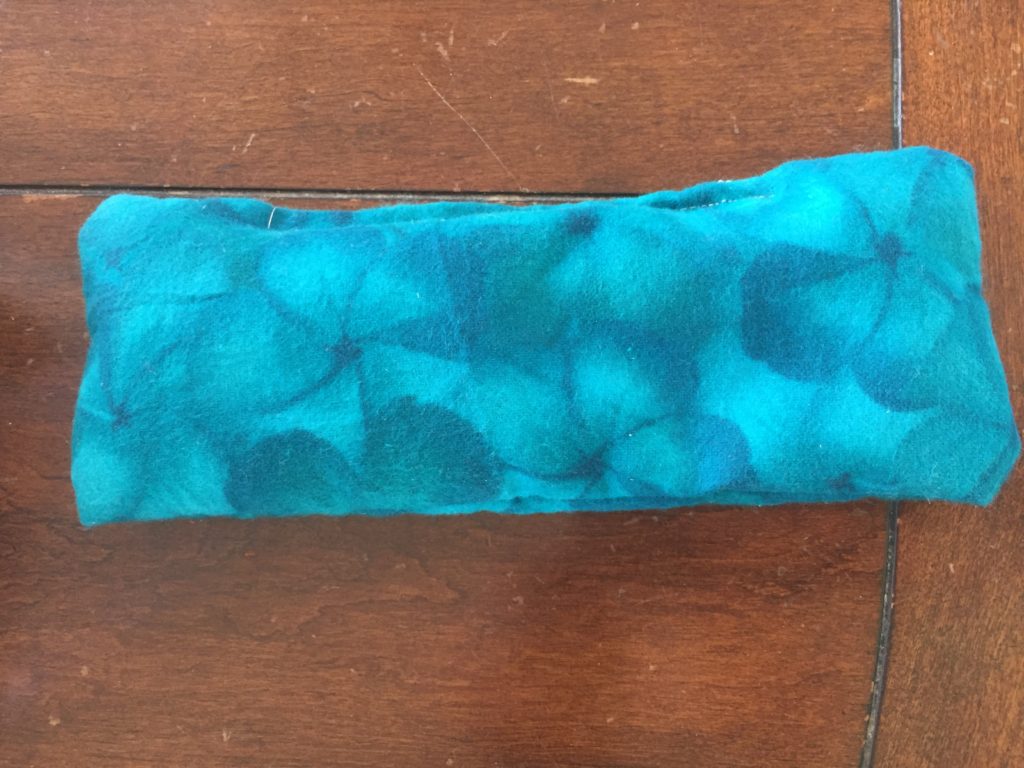 I love to take flowers or do something for a single mom at this time of year. I remember once when someone put a vase of tulips on my mom's porch. I don't know that it was Valentine's Day. It just touched me. I loved that someone was thinking of her and cared. As a child, I really appreciated that someone was looking out for my mom. I knew she deserved all the love people might show. This year, I and another mom helped some girls in our neighborhood (for activity days) make some "eye pillows" for some single women. My step-sister and her daughter are incredible examples of service. They are the ones who told me about the eye pillows they made and gave to some grandmas. I wanted to follow that example. (Eye pillows are simply a rectangular eye mask filled with something–in our case, buckwheat kernels and lavendar blossoms–that can be used for relaxation.) We had a great time making and delivering cupcakes and eye pillows yesterday (2017)!
But the best day of all is Valentine's Day itself. We have had fun breakfasts with heart-shaped foods. In 2017 we had yogurt and granola: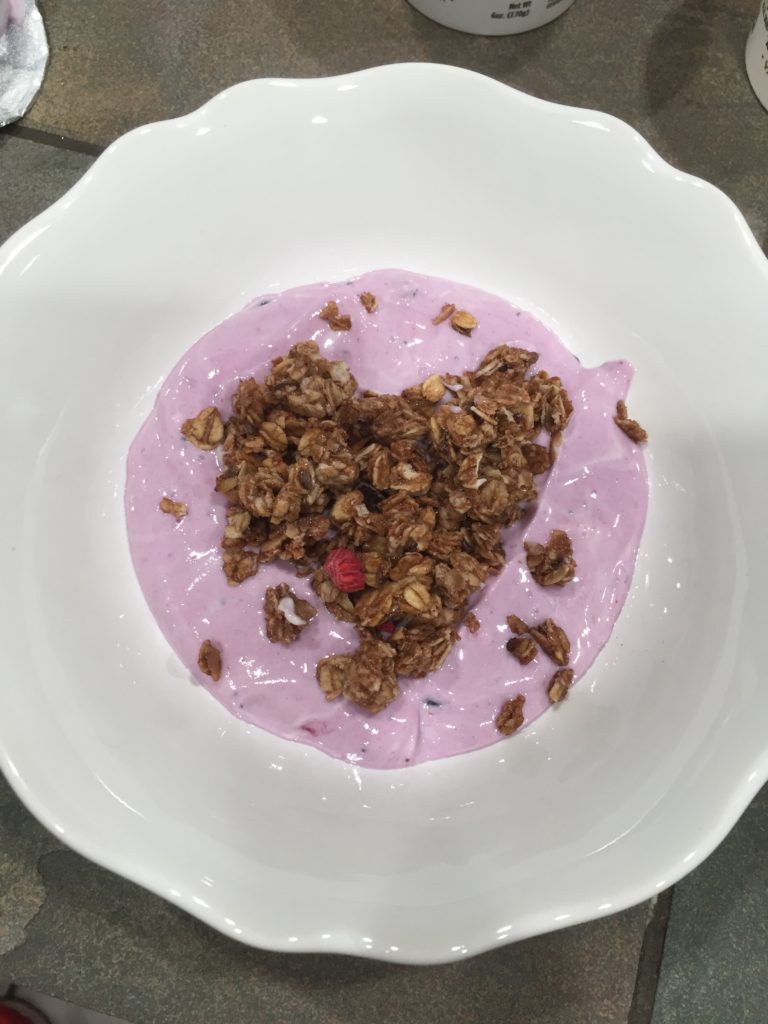 First try. (Mine.)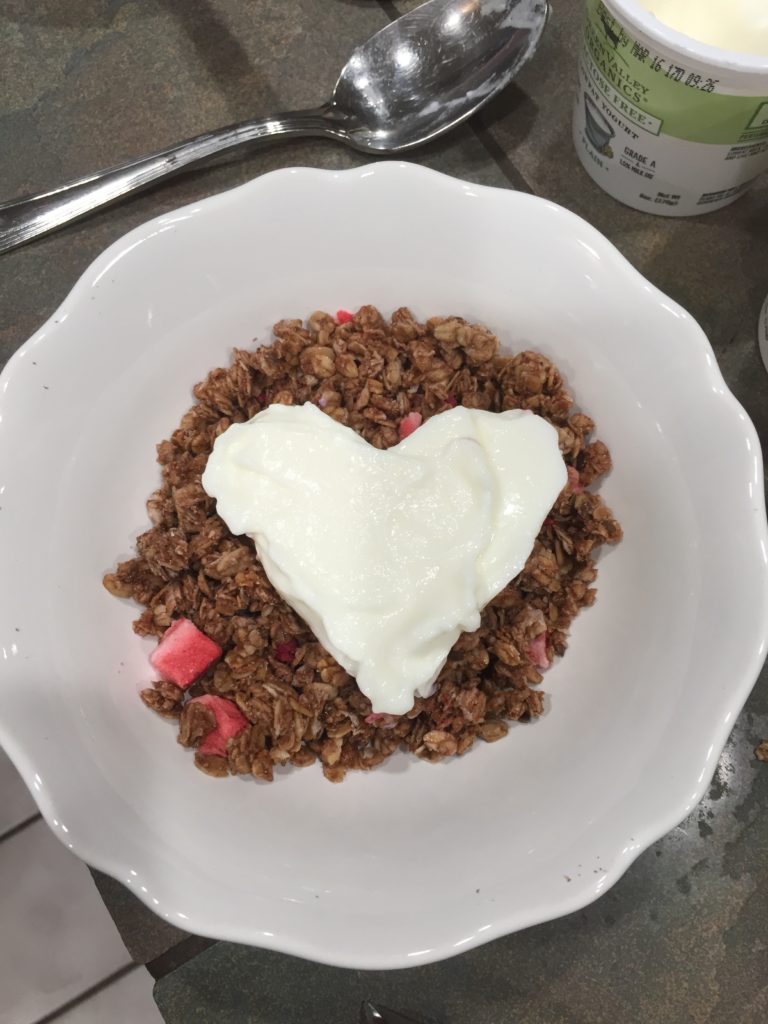 Eliza's try with the yogurt on top, spooned into a heart cookie cutter.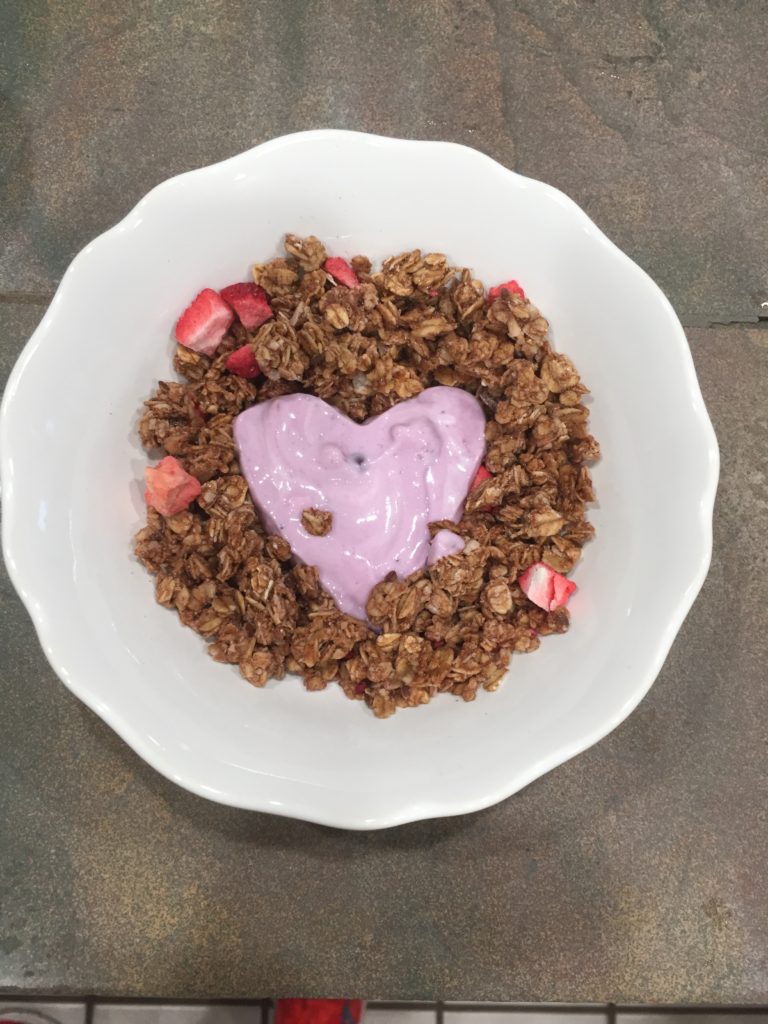 Third try wins the prize! Here's the tip: Put the yogurt in first and then stick the cookie cutter in the middle. Pour the granola around the cookie cutter. Ah ha!
Above all else–even elementary school class parties–the best part of Valentine's Day is our family fondue dinner.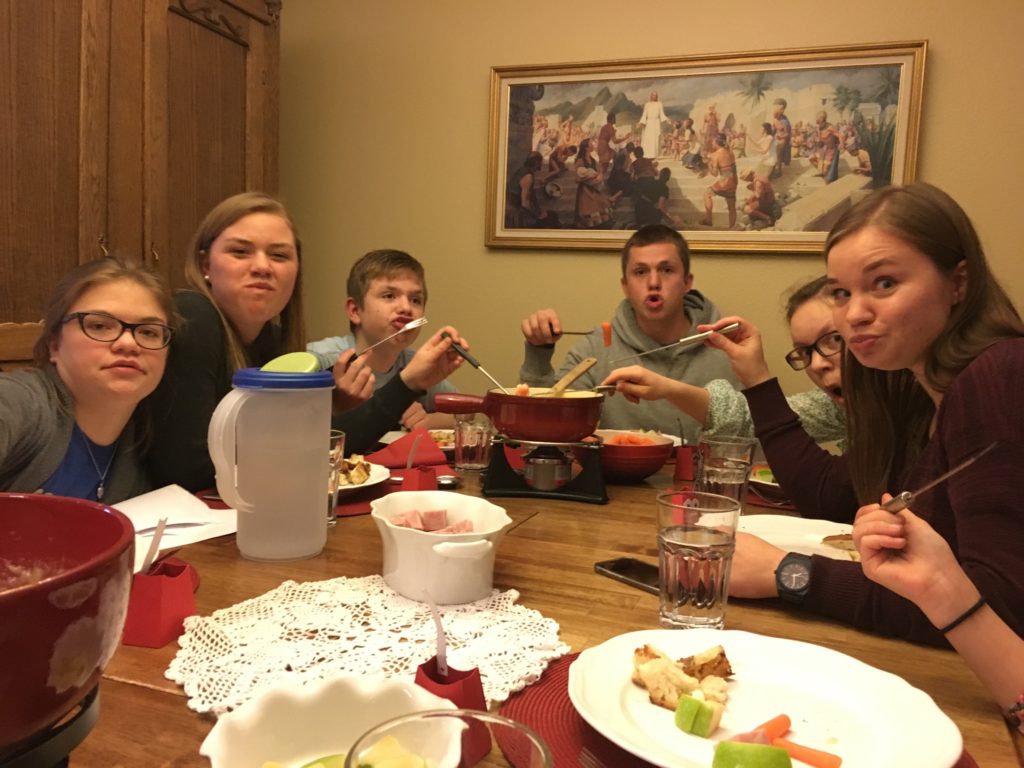 Such cheesy faces.
Pun intended.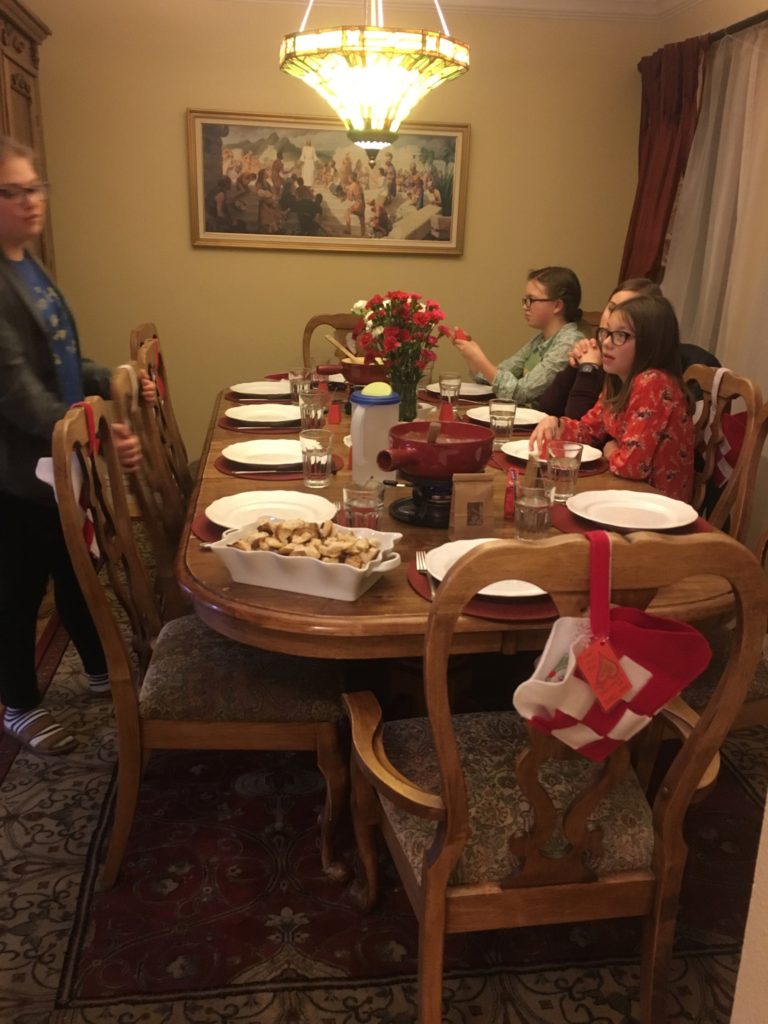 To make Swiss cheese fondue, here are my tips:
Set the table and prep all the ingredients beforehand. Have water in the glasses. Have the ham, apples, carrots, and bread all cut up and in bowls on the table before you start cooking the fondue. (Cover the bowls with whatever to keep stuff fresh. Of course, don't cut up the apples until right before you start the fondue so that they won't be brown.)
Have the cheese grated, the white grape juice measured out, and the white pepper, cornstarch, and Worcestershire sauce on the counter ready with measuring spoons (or pre-measured if you really want to feel like a cooking show).
Then start the cheese fondue about 30 minutes before you want to eat. You will want everything ready so that when the fondue is done, you can literally sit down to eat. They key to making fondue is to stir slowly. (See the cheesy video on instagram.)
Then it's time to open our heart bags.
We hang Swedish heart mailbags made from felt on the backs of our dining room chairs when we set the table, and each person puts their cards in the mailbags right before dinner–usually seconds before we kneel to pray! And sometimes after dinner has begun! (We open them after we have eaten. No one wants to wait to dip into the fondue.)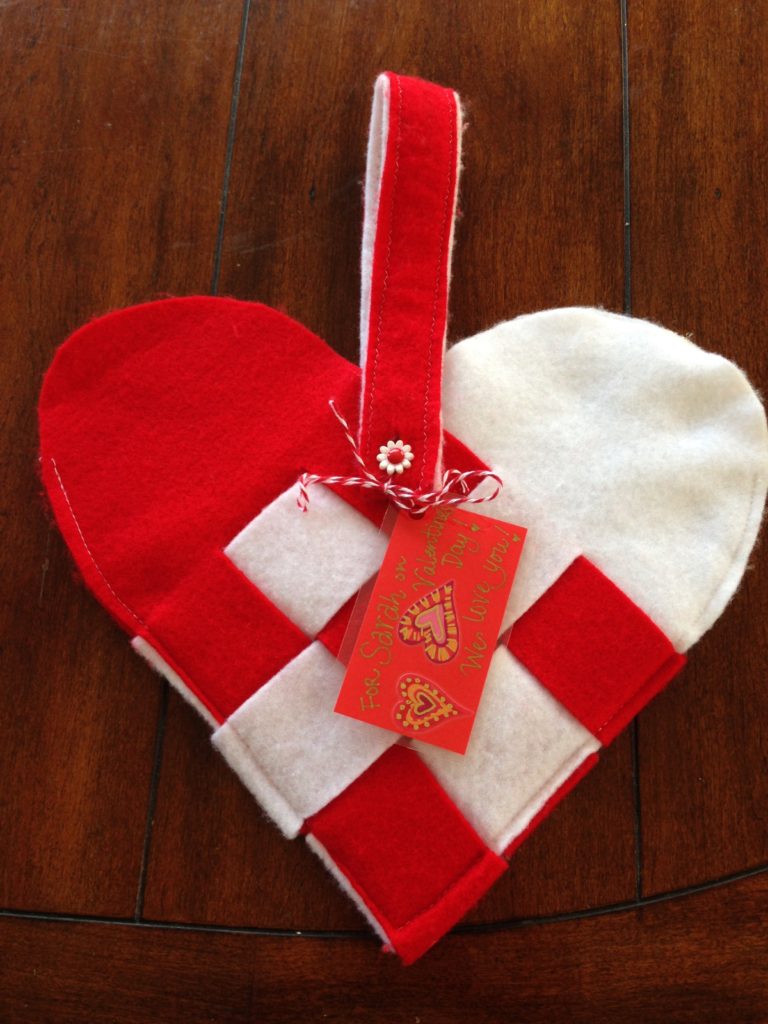 We love seeing what each person dreamed up or threw together: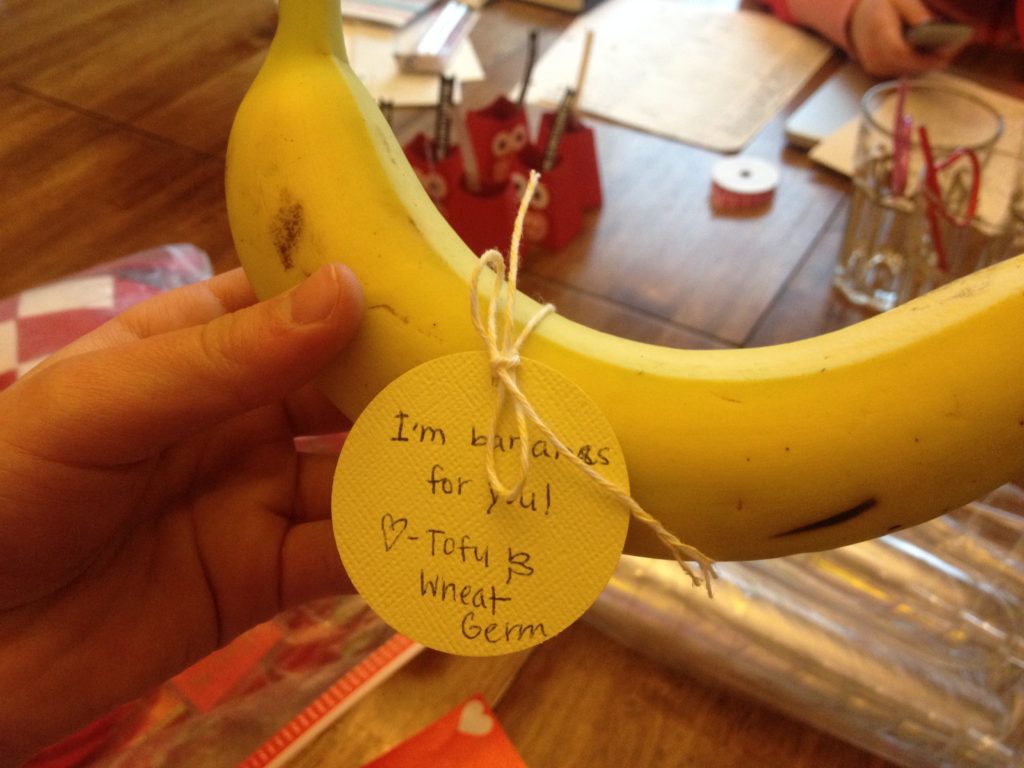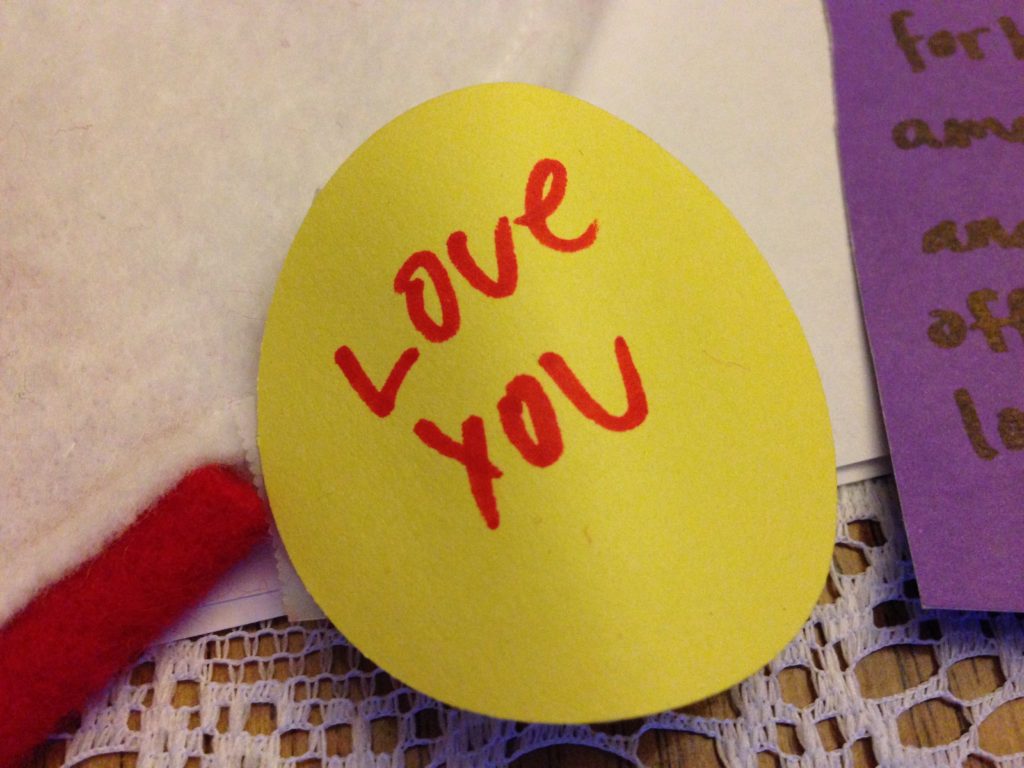 Sometimes we go all out. Sometimes we are sincere. Sometimes we are sappilly sentimental. And still other times, desperate: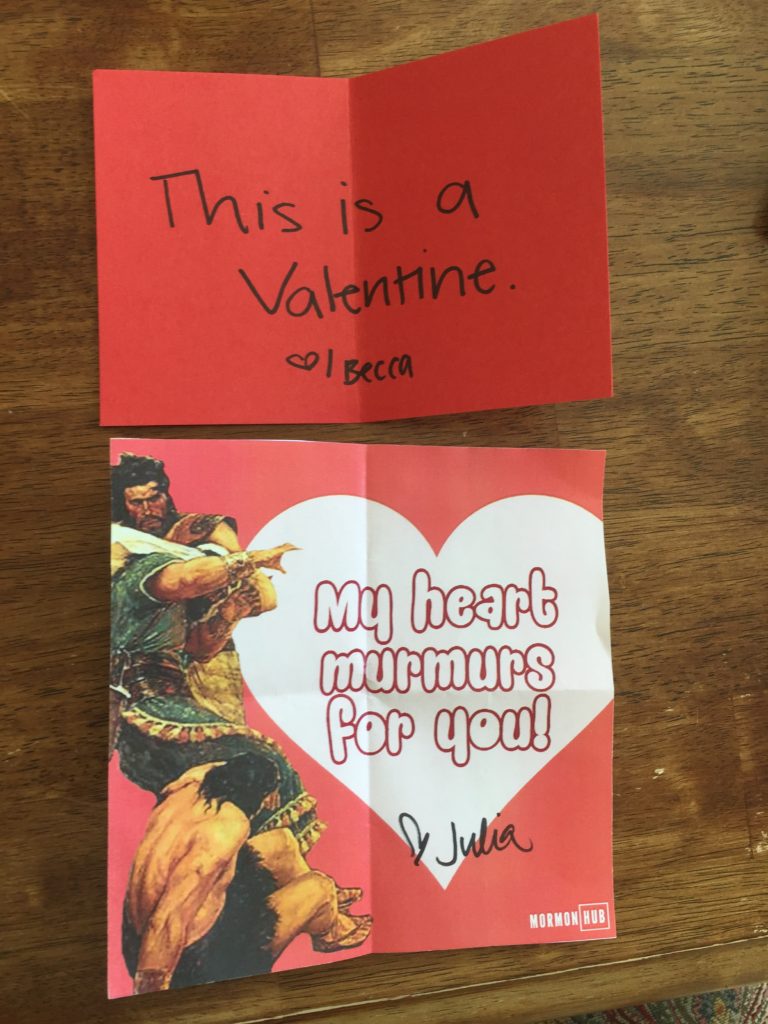 LOL. Love the Mormon meme ones.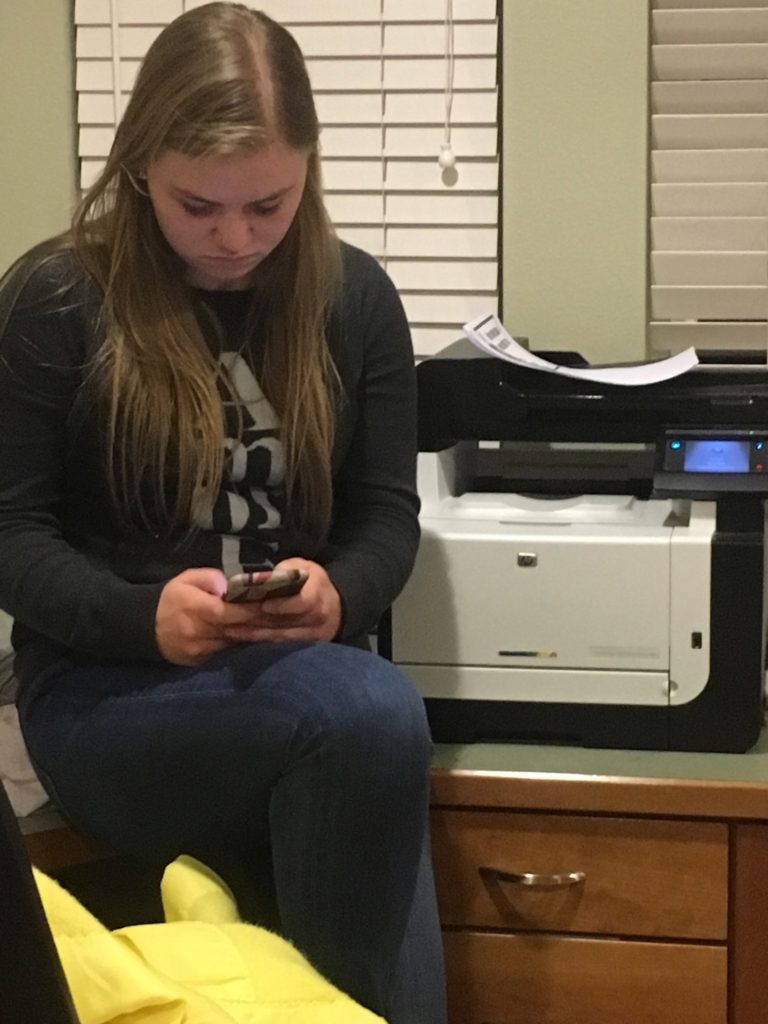 We create original Valentine's cards for each other–usually at the very last second before dinner. Now that there are so many funny memes and printable cards online, the printer is in hot demand as we are calling people "A table tout le monde!" (=Come to the table, everyone!)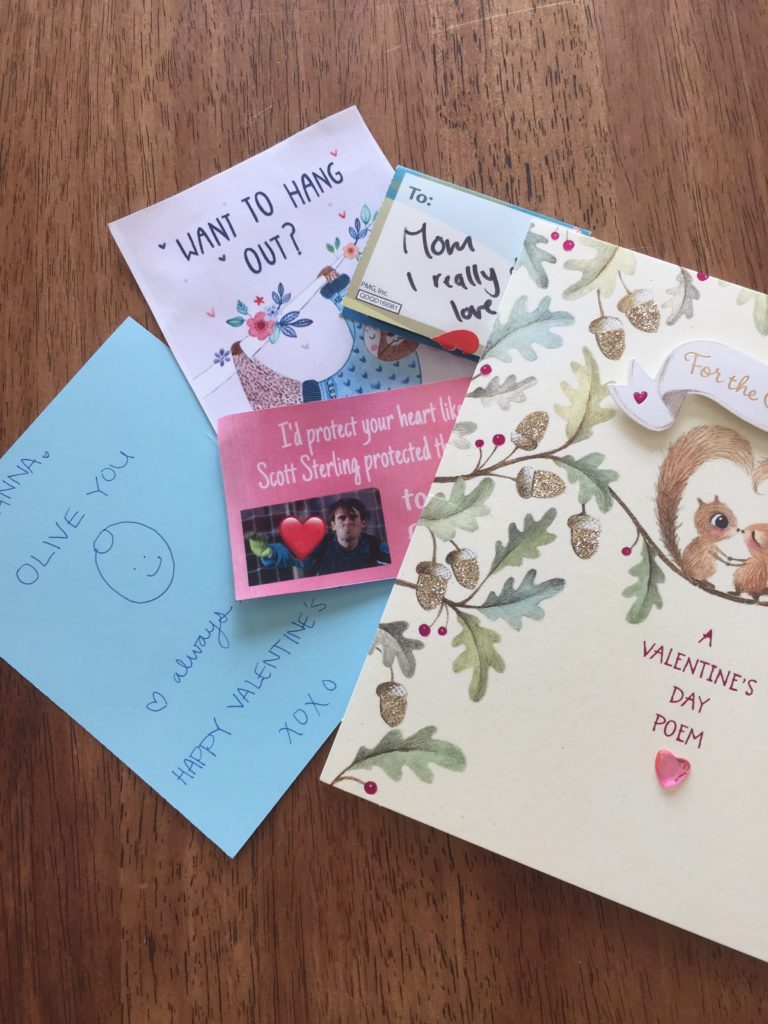 Sometimes the cards are actually a homemade gift that completely surprises you, such as the year when Eliza made some little shoes for Anna's American Girl doll: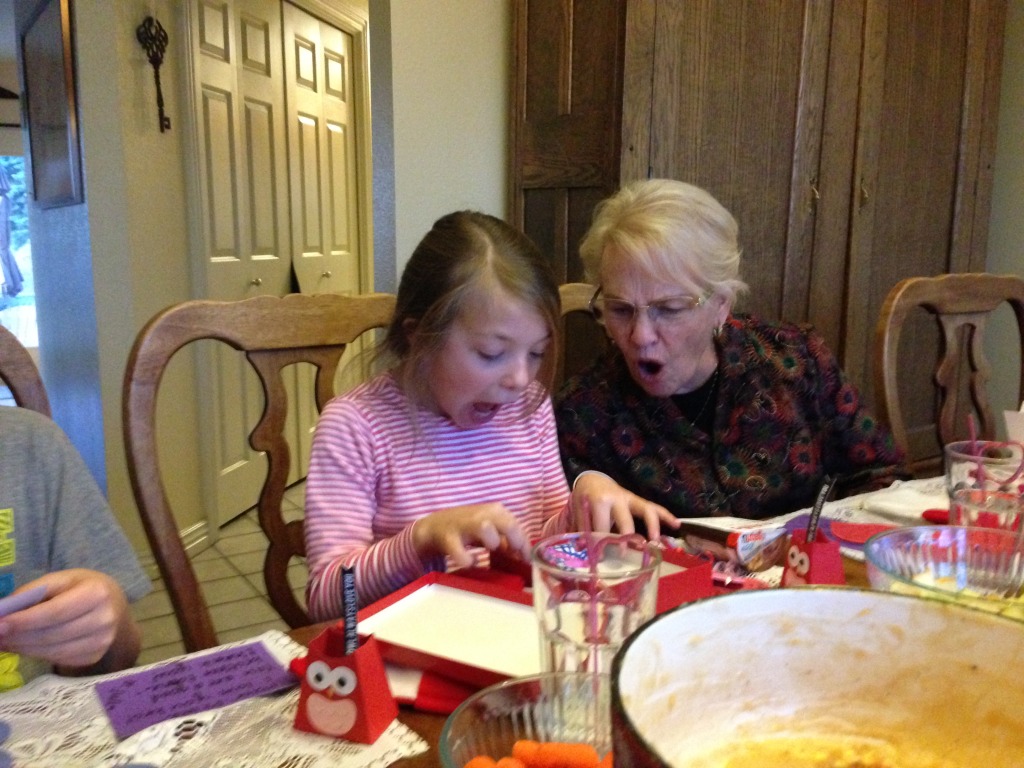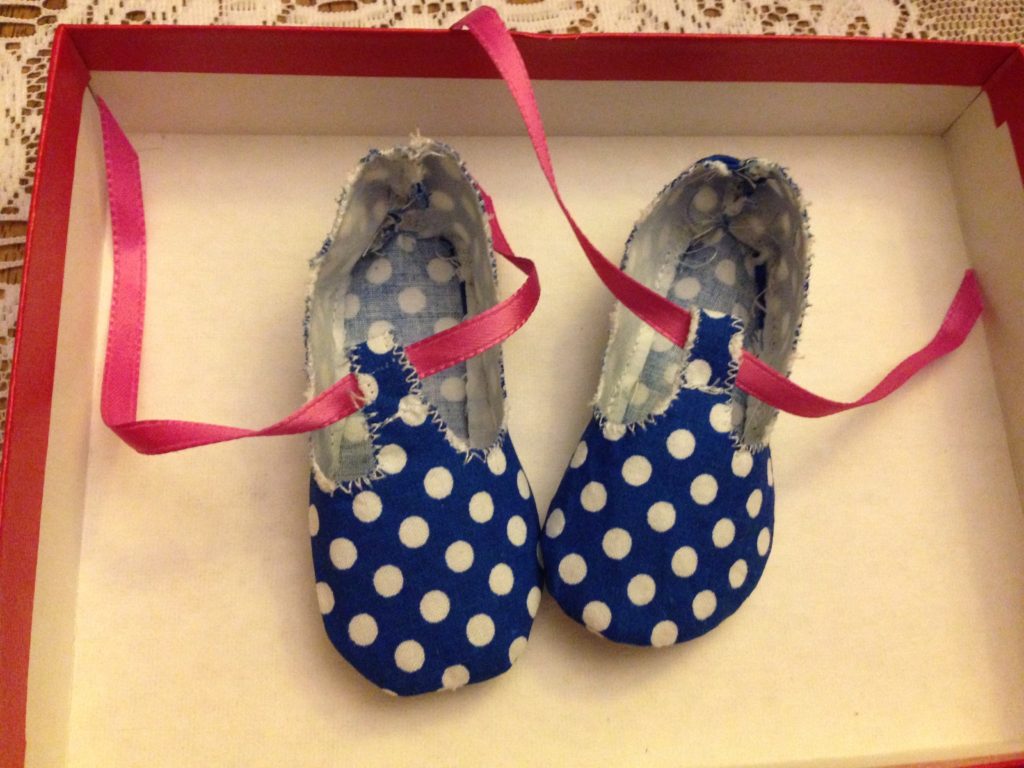 After the cards come the gifts: one for each person. Lane is in charge of getting a gift for me, of course! He always does an excellent job.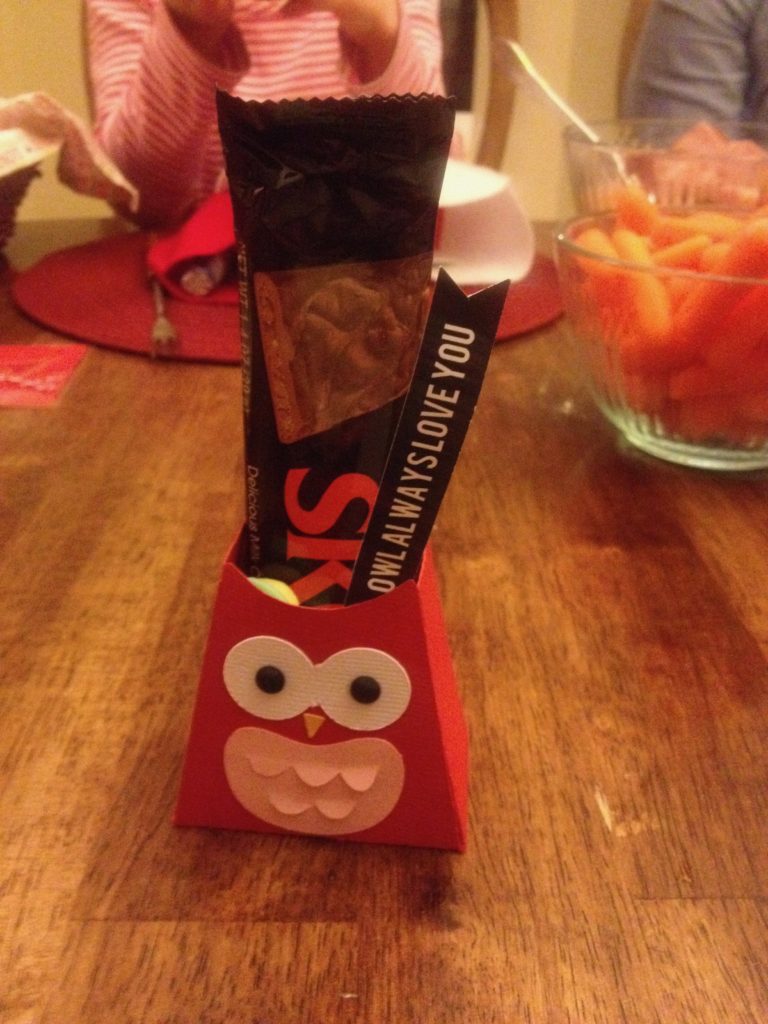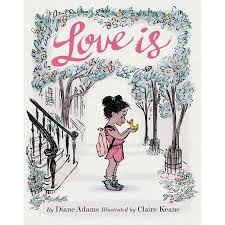 My Valentine for each person is a little gift for each child. I'm following my mom's example here. She would give us beautiful Valentine's cards and often a gift at Valentine's Day. I am sure that is where my biggest love of the holiday comes from! Historically I have given books, swimsuits (to get excited about spring break), yoga pants, journals, a flat iron for all the girls to share, jewelry, mini copies of the Book of Mormon, favorite candy, etc. I gave Sarah this darling book called Love Is this year (2017).
We eat and laugh and read our Valentines and have such a fun time. It is an evening not to be missed. This year (2017) we held our dinner on Feb.13 because of college children's work and exam schedules. Even a dead car battery didn't stop Nate from being there, since his sister wanted to drive to pick him up. No one wants to be gone for our fun dinner!
Lane and I celebrate our love together on other occasions: we get away together at least once during the year and go out for a fancy dinner during February. We go on dates every weekend, whenever possible. We eat lunch together during the week. He sends me flowers. On Valentine's Day at our dinner, he gives me beautiful gifts, flowers, cards, and chocolate. I feel very treasured and loved. But I love that he loves our family tradition on this special night, because one day all the children will be gone, and it will be just us on Valentine's–and we will have twenty plus years of sweet memories of our fondue dinners as a family.
Here are some posts I've written about past Valentine's Days:
February:lot of cards, cookies, a few books on love…and cinnamon lips
What is love? Children's book reviews for February 12017
Valentine's Day dinner (Swiss cheese fondue)
Making Valentine's for extended family and classmates (FHE idea)