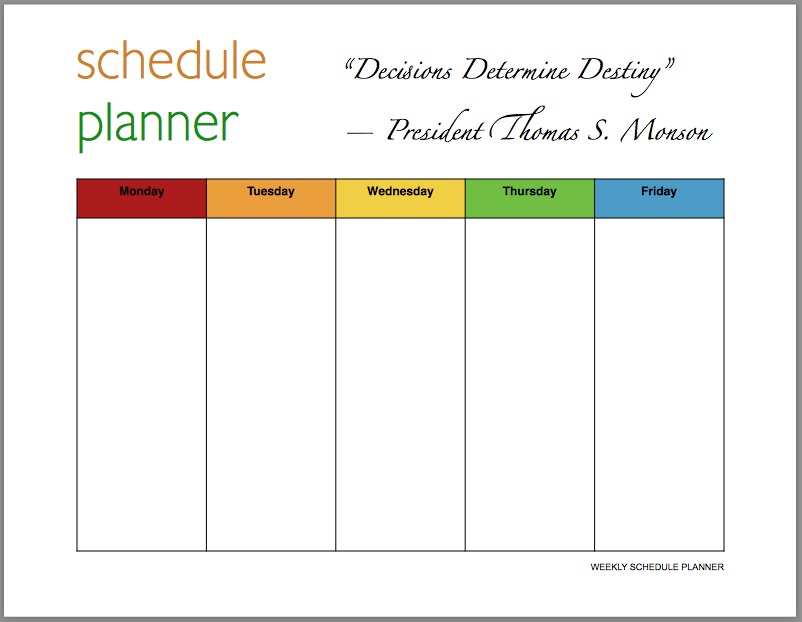 Click on this image to go to a printable PDF of this planning page.
Fall means another fresh start! Don't you love fresh starts?
Generally speaking, fresh starts go best when you can plan ahead. I start planning for fall around the beginning of August, because our school year begins near the end of August.
As with every change of season, I pull out my laminated schedule planning page (shown above) and start penciling in what activities are going to happen when. I write on it with a wet or dry erase marker or little sticky notes that can be erased or moved as things change, which they often do. Then I post this in my kitchen on my information board until we have the schedule in our heads–usually a month or two into the next school year.
Once my schedule is established, I change it on my daily planning pages as well.
Prayer, discussion with my husband and children–both one-on-one and in family councils or informal chats, and pondering are the spiritual preparation that accompanies this physical planning. I think it is critical to each person's balance to only do activities that are inspired and to be wise in how many activiies each person has to do. We try to balance the extracurricular activiites so that each person can maintain good health, contribute to the family in family prayer, scripture study, daily meals together, and housecleaning responsibilities, and serve others besides their family.
This means, in particular, that there aren't so many activities that Mom can't stay healthy and happy! "If Momma ain't happy, ain't nobody happy." I am continuing to work on getting to bed early so I can sleep as long as possible (my goal is 7 hours) and get up early.
Here's to another wonderful fresh start!
Other posts about organization for fall: