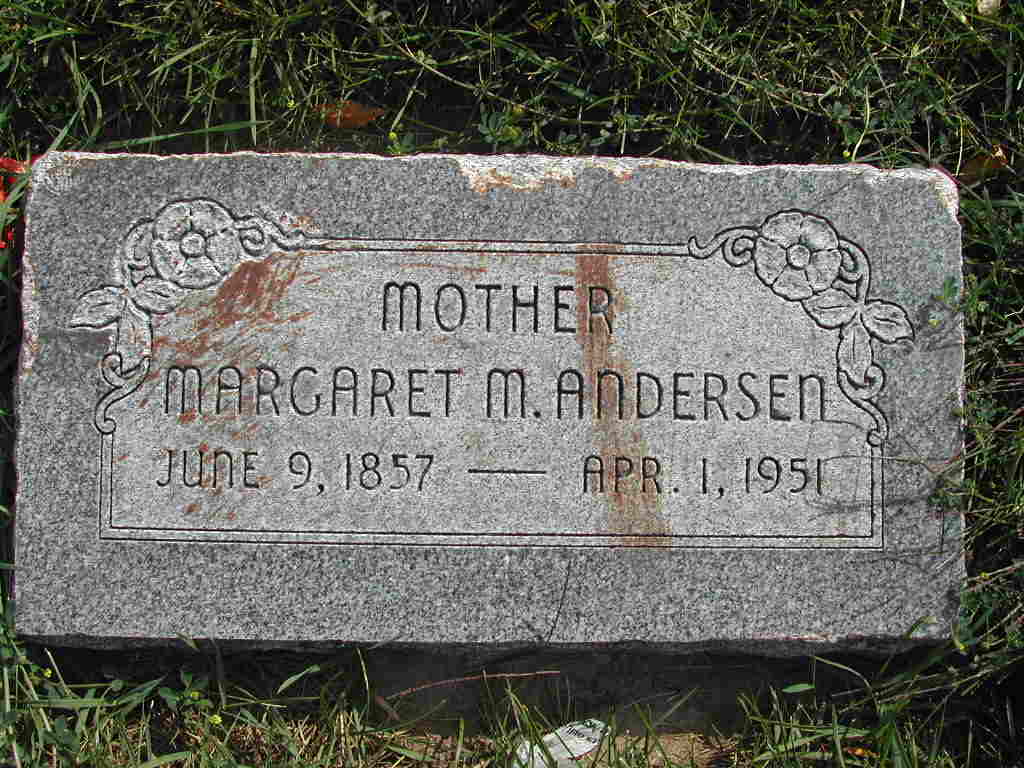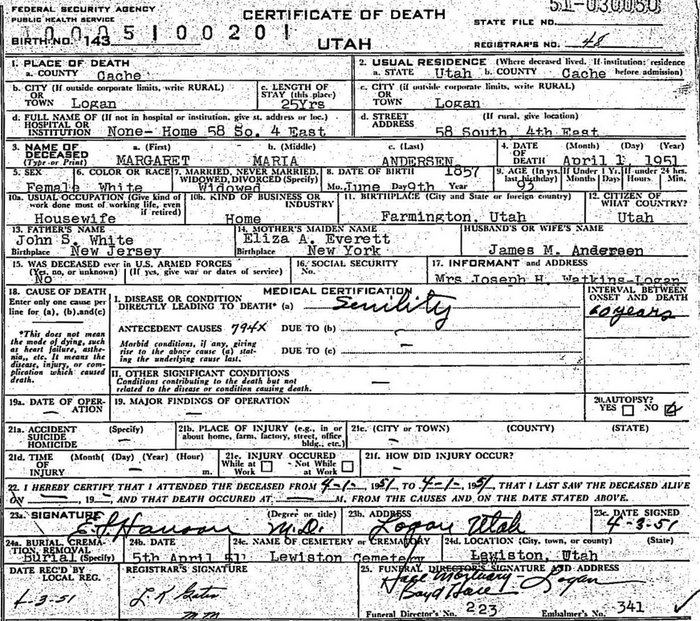 Photos: Redriver, http://www.findagrave.com/cgi-bin/fg.cgi?page=pv&GRid=34688854
(This is a page from Margaret Maria White Andersen's personal history as typed up by my mom when she was a young woman. I will add more when I get more pages.)
We had water to raise garden and potatoes but they didn't dare turn much water in the ditch they were afraid it would break way again. So we didn't have enough water to water grain. One year I dried a seamless sack full of sweet corn keys and chickens. On year we raised one year 700 bushels of potatoes. My two little girls Laura and Effie picked them up and sorted them; I sacked them and sewed the sacks. By that time we were just beginning to live a little better.
In 1887 my husband married Susan E. [Eliza] Stephensen for his second wife and,although I was willing of course, it was a trial to me. But he was always careful not to do anything in my presence to hurt my feelings and that is the reason with the help of he Lord I lived to do my part. I will say it takes all the parties concerned to live it and stand the test. Aunt Sue, as they all called her, is a good woman, of course we all have our weaknesses to contend with but we got along all right and the Lord heard and answered our prayers and we spent many happy days together.
One day I got down hearted and knelt down to pray. These thoughts came to me and I got up and wrote these verses:
Father willst thou hear and answer
My petition unto thee
Wilst thou list [lift?] the load of sorrow
That is weighing on my breast?
Wilst thou teach me not to murmur
For I feel thy will be done,
But when life seems dark and dreary,
Will thou cheer me on my way?
Bless me with thy holy spirit
And with strength to overcome
All my sins and sorrows knowing
That the Lord is ever near
In as much as thou has called me
To obey a higher law
Will thou hear, I do beseech thee,
And give an answer to my prayer.
Jan.18, 1889, my husband was called on a mission to Southern States. I sold butter and eggs and run the farm to keep him there. The children, all five of them, took croup and I wrote telling my husband. He became worried and one night his spirit left his body and he came back and saw me putting the baby in bed; they were all better. He wrote back and told me about it. He told me what I did and what Aunt Sude and I said to each other. The conversation was correct to the exact word. In James Patriarchal blessing he was told that while on his mission mobs would try to kill him, but that they would not be able to. Several times while on his mission the mobs did try to take his life but without success.
My two oldest boys and I had 25 acres of grain that the sunflowers were so bad in it they said it wouldn't be worth cutting. We got up at daylight for 10 days and worked all day to get the sunflowers out of the grain. Our reward was 400 bushels of grain.
While on his mission James was at the home of Mr. Cash and a cyclone came. It headed straight for the house. When it got to the house it split and went both sides of the house and left the building standing.
After James came home we sent John to the Brigham Young College. After he taught school in Fielding, Utah. James came home from his mission on March 18, […end of the page. I'll add more when I get the other pages!]