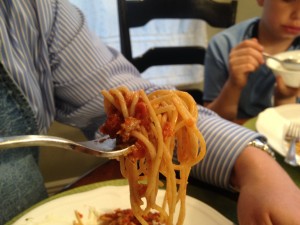 Christ told his disciples, "Feed my sheep. Feed my lambs" (John 21:17) after he had prepared and fed them a hot meal. This seems to be a pattern for us to feed one another nourishing meals as well as nurturing one another in other ways.
Feeding children in a family setting is a great gift to them, to you, and to society at large. Years ago I read The Surprising Power of Family Meals by Miriam Weinstein. Confirmed to me was how many of the societal problems we see today could be abated somewhat simply by having families eat together at home!
I admit: cooking for my family hasn't been my passion. But what I lack in enthusiasm, I try to make up for in commitment. I still want to do it well, and I want to have my children to learn how to feed themselves and others in a way that will help them sustain life, serve the community, and celebrate one another.
One way I focused on doing this was by beginning to collect recipes and put them into a family cookbook. I continue to do this, and it is fun to find a recipe that works for our busy family and that (most) everyone loves!
Starting a family cookbook is simple, and this part of the blog will show how we are doing that.
Happy Feeding,
Liz 🙂