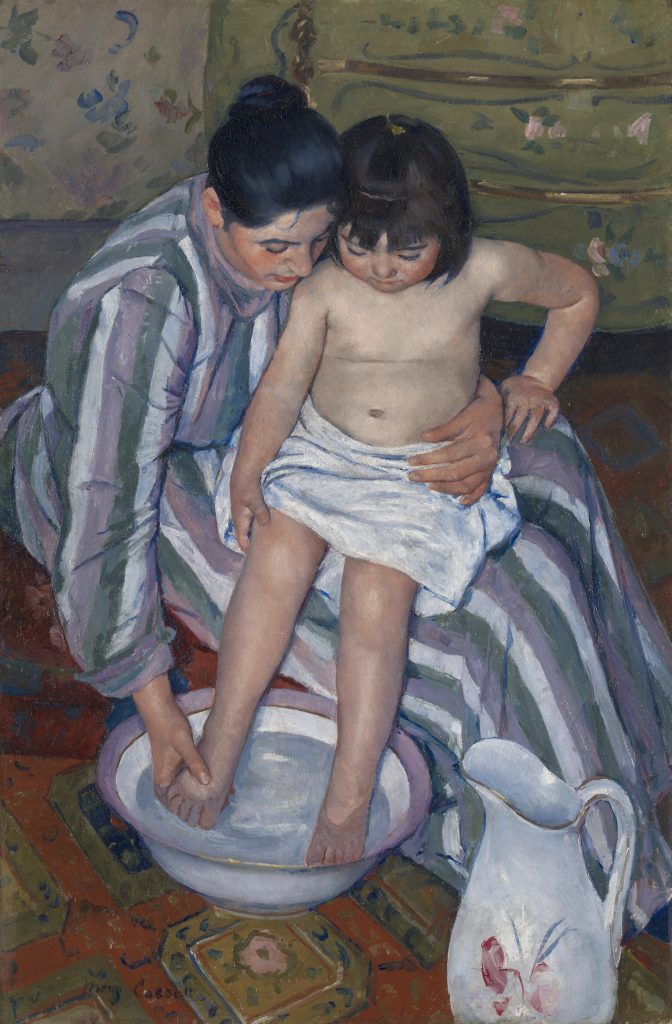 Did you know that Mary Cassatt, who is so famous for her tender paintings of mothers and children, never married or had children of her own? She was an American who came with her family to live in Paris in 1851, when she was 7 years old. She studied art in France and remained there throughout her life. I savored learning about her this summer as I read and listened to David McCullough's The Greater Journey. This painting, "The Child's Bath," (painted in 1893, when Mary was 49) hung in my home when I was growing up, and I was fortunate to get to take it from my bedroom to my own home, where my own children could begin to love Mary Cassatt's work as well.
I wonder what questions Mary may have had about what it is like to be a mother. I know I had so many questions about how to be a mother–a good mother–and I looked to others and to heaven for answers. I have had some of those questions answered for my circumstances, and the journey has brought me more peace than when I started about what motherhood requires and what help is available.
Someday I would like to write a book about motherhood, and I'd like this book to be helpful. So I have decided to invite mothers and other caregivers to share questions they've had with me so that I can use those questions to guide my research, writing, and sharing. I will not include the names of those who submit questions to me, but I will keep a list of those questions here. It might be 4 years before I begin–when our youngest graduates from high school. Perhaps I will know just enough to begin. I just don't know. But if I begin gathering questions now, I will have the questions ready when I am ready to begin.