(Taken from his personal history that my mom typed up for her "Treasures of Truth" book when she was a young woman. I will try to add in the scanned pages when I get them scanned! I have not made grammatical/capitalization/spelling changes. I do not have the preceding pages, so the story begins at the top of the unnumbered, yellow page in my possession today–before I give it back to my mom.)
Being 12 years old, I came to Farmington, 15 miles north of Salt Lake lived with Jonathan Holmes. I had lived here 2 years when mother arrived from the Old Country with the first train of immigrants [sic], that came through on the railroad.
I continued to live with Johnathan Holmes until 1871 when I went to live with one by the name of William R. Smith in the town of Centerville, 12 miles north of Salt Lake.
In the spring of 1872, I went to work for John S. White in Farmington, Davis County, and in the fall hired out to haul freight from the railroad terminus at Corine, Utah to various parts in Idaho and Montana. The next spring (1873) I went to work teaming and freighting at different mining camps in Utah, such as Cottonwood, Bingham, East and Dry Canyon. The following spring I went freighting on the Montana Road again. In 1874 I married Maria White whom I became acquainted with while working on her Father's farm.
In January  1875, I came to Cache Valley to Lewiston, Utah, but then known as Povery Flat, and lay hold of +1/4 section of University land, all Government land being taken or claimed at that time. Having left my wife at Farminton, I went to work in Cherry Creek Canyon cutting and sliding logs preparatory for building a house. I boarded part of the time at Warren Kent's, who lived near my claim, and part time at George H. Stoddard's in Richmond.
In the spring of 1875, I commenced the building of a log house, having hired Geo. H. Stoddard to do the work with my assistance, but Stoddard having the misfortune to cut his foot badly in the start, I employed one John Telford to the work. The house being completed after a fashion sufficient  to shelter us from the inclemency of the weather. I went down to Farminton to move my wife and what few things we had. I had traded a wagon in Brigham City for some little furniture. With what we could gather up, we had quite a wagon load with a box of chickens tied on the back of the wagon. Thus we started out on the voyage of married life. For 12 years we made a total failure of crops, having to contend with destroying elements such as wind frost, hail, drought, and grasshoppers. I had to work in the mountains and at saw mills for a living. About this time a change began to come over the country as we were getting some water from the Cub River Canal.
In the year 1887, I married Susan E. Stephensen, and in the year of 1889 I was called on a mission to the Southern States. At this time there were 5 children living, one having died in 1884. I left Salt Lake on Jan. 15, 1889, and was assigned to labor in the state of Georgia. This was a time when there was much opposition against the Mormons and a very bitter feeling existed against the Elders in that country.
I remained in Georgia a little over a year. I made many friends but received very much persecution and was hunted and driven from county to county. I was hunted by mobs and several times was taken out by them and our lives threatened, but escaped each time without injury.
While in Georgia, I was mobbed four different times; the first time, the mob came to the door of our friend's place where we were staying. They demanded that he deliver me and my companion, John Reed of Salt Lake, to them. The man of the house said,
"If you get them you will have to walk over my dead body." The mob left but after a short time they came again, some were on horses and some on foot. The man who was head of the mob came to the door and said,
"These men out here are your friends if you do as we way [sic] and leave the country." I replied,
"If they are my friends, I will go out and shake hands with them." The mob didn't know what to think. One of them had an article from a newspaper stating that we were trying to get all the young girls to go to Utah so we could marry them. He tried to read the article to me but his hand trembled so he couldn't. I said,
"Let me read it" land I read it out lowd [sic] and told them it was all a lie. They had guns and hickory sticks with which to whip us and said they meant business. We had until morning to leave. They said if they caught us there in the morning they wouldn't be responsible for what would happen to us. We had been counciled to leave when the mob became so strong aginst us, so when it became dark we left and went into another county.
There we baptized many people. A Mr. Roads who was a member of the Church became very ill and sent for us to administer to him. His wife was not a member and was very bitter toward the Elders. When we arrived at his home we found him nearly dead. Brother Reed and I administered to him but he died. His wife swore out an affadavit against us saying we had killed her husband. She said she would have us arrested but his father was there so they left us alone. We knew that the Lord was with us.
In this county we made lots of friends and had a lot of investigators. We were staying at the home of a man named Logue. The mob thought we were at the home of a near neighbor so they went there for us. Mr. Logue and a woman followed them and talked with them. The woman shook her first [fist] in the mob leaders faoe and said he looked like a dog with a lot of sick pups following him. They decided they would not take us out but told us we would have to leave the county. So again we moved, this time to Hardin county.
In Hardin County we stayed with a Mr. Henderson. We made lots of friends and baptized several people. However, we hadn't been there long when the mob came after us again. They came one day about noon. A lot of men, some in buggies and all carrying some kind of weapons. They marched us through eight miles of woods; we became tired and thirsty. They told us that this time we needn't think we could get out of it. They called a halt and we leaned against a large tree facing them while they decided what to do. One little fellow jumped up on the side of one of the buggies and said,  "Look here, I didn't come out here to do them harm, I just want them to leave the country." One of his mob said .."All of the men in favor of killing them step down the trail. Two more stayed then went down the trail. One of the mob then said, "1 would like to put my brand on them anyway." The mob took the traces out of the buggies and got their whips ready when the same little fellow said, "I didn't come with you to harm these men, let's call a vote." A vote was called and one more man was in our favor than for the mob. They sent some of the worst men, some of whom we[re] drunk to take us through the rest of the woods, about 6 miles to […?? This is the end of this page].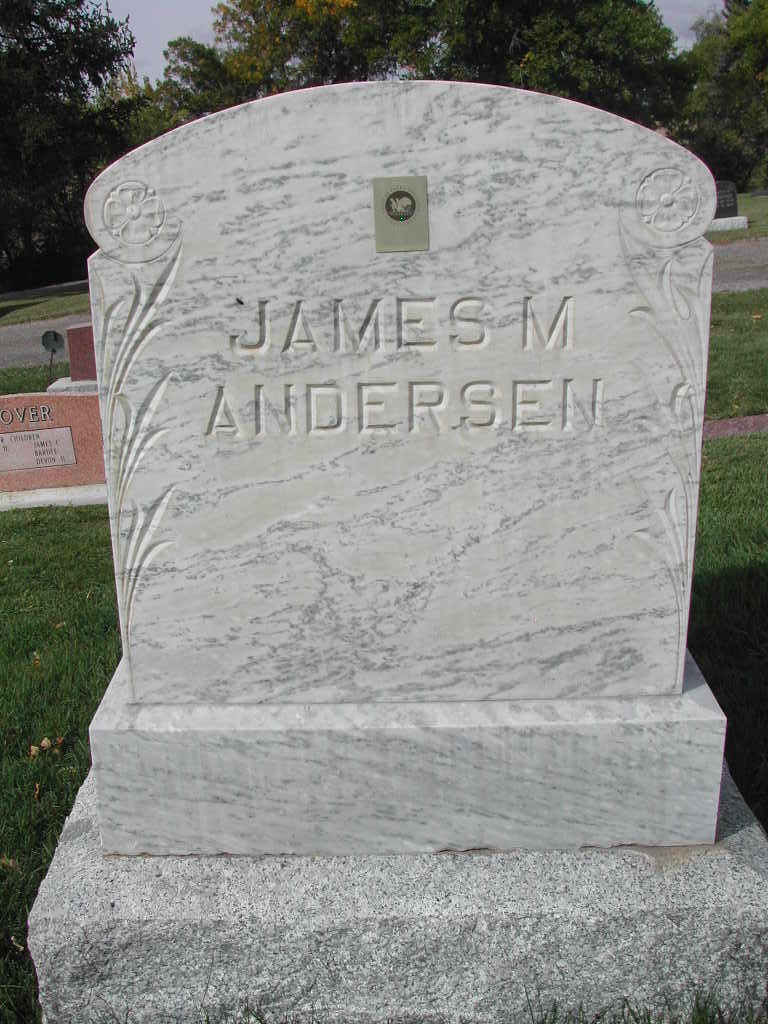 Graver marker in the Lewiston City Cemetery in Lewiston, Cache County, Utah.
Photos source: Bill Doman, http://www.findagrave.com/cgi-bin/fg.cgi?page=gr&GRid=34688773
Here are links I have found to date about James Michael Anderson: