LOL: More pressing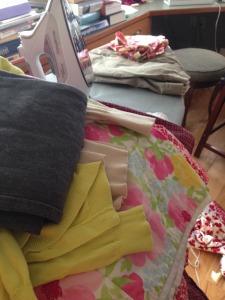 Julia was helping me with laundry when she asked me what to do with some pillowcases*.
"Put them on the ironing board," I answered her. "I have other things I need to iron as well. I never have time for ironing!" I told her, and then I corrected myself. "Actually, I never take time to iron because I always have things to do that seem more pressing."
I didn't even catch the pun, but Julia did. We love puns in our family.
Very punny.
*I know some of you might be saying, "Why do you iron your pillowcases?" My answer: to teach my children to iron, and because it's one of those simple pleasures in life to lay down on a fresh, crisp pillowcase. Everything else might be a mess, but a pressed pillowcase makes life feel a little more special.
---
---