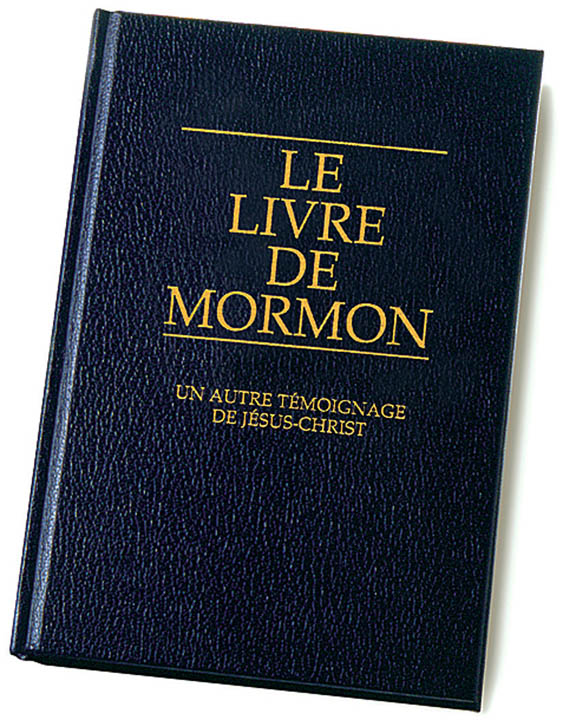 (Image grace au site eglisemormone.net. Pour apprendre ce que c'est le Livre de Mormon, aller ici. Pour commander votre propre copie du livre gratuitement, cliquer sur l'image.)
Voici (en dessous) sont des fichiers audios du Livre de Mormon. Ce n'est pas un enregristrement officier de L'Eglise de Jésus-Christ des Saints des Dernier Jours. C'est simplement mon effort à partager ce livre merveilleux avec ma postérité et aucun autre personne qui s'intéresse. Ce livre est mon livre préféré du monde parce que j'ai trouvé tellement de l'aide et des réponses aux difficultés dans ma vie. Je ne suis pas francophone native ni ai-je fait cet enregistrement parfaitement. Je vous demande le pardon de mes fautes, et si vous le voulez, je vous invite à m'écrire pour noter des fautes de prononciation, liaisons, etc. Au dessus de tout, j'espère qu'aucun écouteur ressentira plus proche à notre Seigneur, Jésus-Christ, après avoir écouté à ces enregistrements à cause des paroles inspirées qui viennent de ce livre et de Dieu.
Below are the audio files that I have made (and will make) while reading Le Livre de Mormon in French in 2017. I am not a native speaker, so I apologize for any errors in pronunciation, inflection, liaisons, or misreading, etc. I welcome any corrections to pronunciation. If you hear any mistakes, please message me on social media (see top right sidebar of my blog).  I may or may not be able to correct these mistakes, as this is not a professional effort and is simply a gift particularly for my posterity. (I will do my best to correct whichever mistakes I can!) I hope the recordings will help listeners to feel closer to our Savior, Jesus Christ.
Click on the links below each recording to view the text. (Cliquer sur le lien sous chaque enregistrement pour voir le texte écrit.)
This recording is solely my responsibility and is not in any way produced in connection with the Church of Jesus Christ of Latter-Day Saints. 
Introduction (début, sauf les témoignages)
Témoignage du Prophète Joseph Smith
Brêve explication concernant le Livre de Mormon
1 Néphi (Cliquer sur chaque lien au-dessus pour aller au page avec tous les chapitres)
2 Néphi
Jacob
Enos
Jarom
Omni
Paroles de Mormon
Mosiah
Alma
Helaman
3 Néphi
4 Néphi
Mormon
Ether
Moroni
Autres écritures (versets) lues en français: