10 things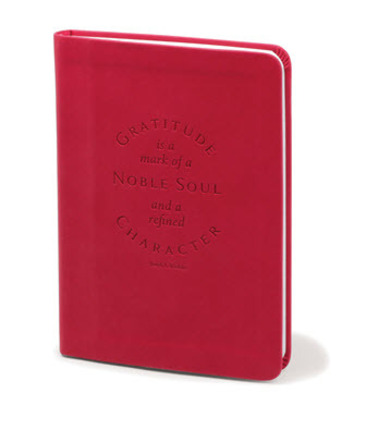 I wrote earlier this week how I went for a walk with a dear friend, and how that walk was part of a very rejuvenating day in which I felt the strength of the Lord renewing me. During that walk, my friend shared how she has been writing down 10 good things each night in her journal that happened during that day as well as 3 hopes for the next day.
Writing in my journal at night the good things that happened is certainly not a new idea, but it's something I've wanted to do for a while after getting out of the habit of it. I decided it was a great day to start. That night in my journal I wrote down 10 things that were good that happened that day. It was a simple task–I simply recorded what happened in my day– and how easy it was to find more than 10 things! I could see the Lord's hand in my day so easily. I also wrote down my three hopes for the next day.
The next morning when I was planning my day, I wrote down my three hopes for the day. How much easier it is to accomplish something when the list is only 3 items long as opposed to 30. I literally feel like I could make a list that long everyday of what I need or want to accomplish. But reducing it to 3 of that I hope to accomplish the most seems to allow me more flexibility to stay more focused on the Savior and open to what Heavenly Father may have in mind that I can't foresee. At the same time, I feel so grateful when I am able to get the three things done, in the midst of all the other to-do's of the day.
I made my list Tuesday and Wednesday nights. Thursday night was so late and I was so tired that I wrote in my journal the next morning. The same thing happened on Friday night. And Saturday. I have been physically very tired lately, but I observed that while it is harder to take the time to write in the morning when there is so much to get going on, I still reaped the emotional benefits of seeing all the good that the Lord is helping me to accomplish each day. It really improves my mood! I feel nurtured by the Lord as I see His help in my life each day. I see that I accomplished more of the items that have been on my list for weeks in the short period of 5 days. So that is exciting!
I'm grateful to my friend for helping me take steps towards a goal I wanted to do but was having a hard time getting done. Because of her recommendation, I got the needed desire to make it happen. I'm praying that I can continue this habit for today and another week. I need the Lord's help more than ever right now, and I am grateful to see on paper and know in my heart that I am not alone and that He is there to "walk beside me" every day.
(Go to the Meet the Mormons link and click on the Free Song Download photo to download this song to your iTunes for free.)
P.S. Christmas is coming: a journal is a great gift for nurturing so many great healthy skills children!
---
---