3T: A little spice (and balm) in your life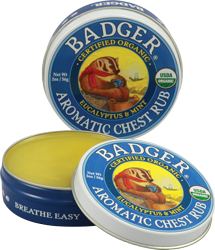 (It's double duty on "Tuesday's Terrific Tip" today!) When someone in our family has some respiratory something going on, we use three things: Badger brand Aromatic Chest Rub with some Breathe and some On Guard blend of essential oils mixed in. We rub it on their neck and upper chest and on the soles of their feet. It does seem to help. Right now I have this cough that won't stop. I just wish that all this balmy spicey-ness would make it all go AWAY! Like now, thank you very much!
The Badger balm lasts forever. The doTerra oils don't, and they are pricey. There's another company as well that sells essential oils for less: Butterfly Express. I think that their blend "Deliverance" is similar to OnGuard. I have ordered through them for some other oils.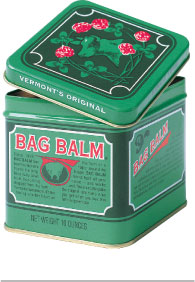 Which reminds me of another all-purpose balm that we purchased years ago and still use: Bag Balm.
This is some seriously good stuff, and it lasts FOREVER. I'm talking diaper rashes and sore bottoms for seven children. In looking at the Bag Balm website, it's not only good for softening cow udders (it's original purpose when it was created in Vermont in 1899), but it helps with scrapes, runners/bikers/rock climbers/volleyball hands/feet, pets' paws, cuticles…yowza! The list goes on.
Well, that's nearly the extent of our medical cabinet.
(OK, there are a few more items.)
But this is some pretty good stuff.
Happy Soothing Coughs, Sore Bottoms, Hands, Knees, Egos,
Liz 🙂
---
---