Committed to simplifying this Christmas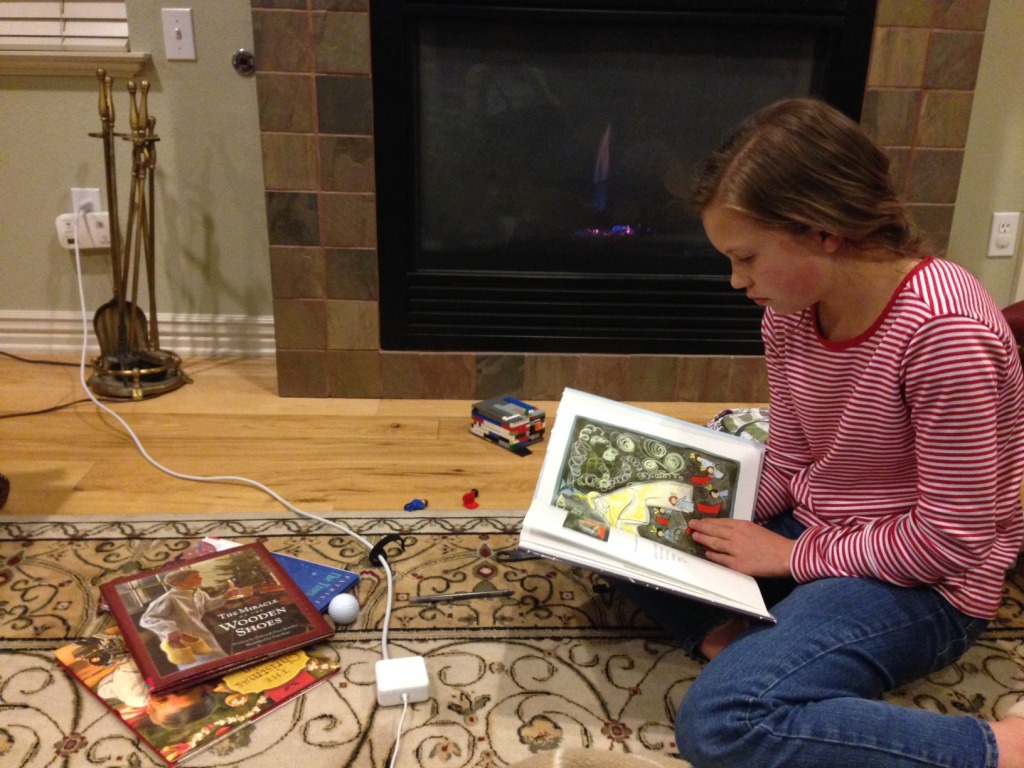 Sometimes I get overwhelmed easily.
With a multitude of details ever-present in my mind, I tend to get bogged down in what I'm not accomplishing and what seems to loom ahead endlessly.
Which means that November and December, on the tail end of back-to-school (August/September), birthday season (September-December), holidays (Labor Day, Fall break, Halloween), and regular-crazy-big-family life–all of that in a marathon string of events can be a recipe for a nervous breakdown.
Been there, done that. (Christmas 2006.)
And so each year I avoid a repeat performance and try to simplify a little more.
It's challenging! It's so tempting to get caught up in over-celebrating and over-complicating!
Christ gets lost amidst the shopping lists and calendar count-downs.
So I'm prioritizing and beginning early, chipping away at what feels most important.
Then when December comes, I'm going to try to not over do. Focus on enjoying the moments that arise, planned and unplanned, with family and friends. And whatever doesn't happen, that's OK.
I got Elder Livi's Christmas package mailed last week. That was a good feeling. One child taken care of. Check!
I ordered some Christmas cards tonight.  I adore Christmas cards! I feel like it's a chance I have to personally send a hug to people we love so well! It took me about 4 hours to deliberate, experiment, and figure out what I wanted and how much I wanted to spend. I knew I didn't want to spend a lot. So I ordered a lot less than last year. As in 150 cards less. I decided to only send cards to those living far way or who aren't big internet users. It's not as fun to not order enough to give to almost everyone I want to, but it will be better. I'll just pray that I can extend our love in another way, and that others will feel that like they would a card. I should get the cards in enough time to send a card to Elder Livi and have him get it before Christmas. That's my priority.
I'm almost always late getting Christmas cards out, simply because I don't have enough chunks of time to get them addressed and mailed out–even if I order them at the beginning of November. I carry them in a bag with me to music lessons, dance class, and doctor's appointments, but still not to complete success. I would have done Valentine's cards again like I did last year, but I knew Elder Livi would like a card for Christmas. So now at least I can get his mailed right away, as soon as they arrive. Check!
We talked about doing something for others this year instead of spending so much on our own family. We never spend a lot on our family (all things being relative), but we could focus more on others and focus less on getting. We talked about it Sunday and asked what the children thought. There was a lot of discussion, I will say that much! Everyone had ideas and opinions to share. ("All chiefs and no indians.") We didn't come to a complete conclusion. We know we want to do stockings as usual, and a gift from parents. But the rest is undecided. We did, however, decide on two things we want to do to improve our focus. Check!
I mentioned that I wanted to give one homemade gift to each child instead of multiple gifts. I'm excited about that. It isn't going to be a gift that takes a lot of time, because that's something I don't have a lot of, and it won't cost a lot, since I don't have a lot of that either, but it will be fun. I just got the idea today. Now I just need to do it…. Check!
I would really love someday to just forget almost all gift-giving one year and give everyone 1 special gift. Then just focus on doing things each day that help me feel closer to Christ. And then for Christmas just go on a trip as a family to a cabin. Or do a humanitarian project or trip. Or just go skiing all together. Or? It will happen. One day. One year at a time. Baby steps.
Years ago I went through our decorations and gave away a lot. I found that it was much more fun if we could get "Christmas up" in one family night (2 hours) with Amahl playing and treats at the end. And then it needed to be able to be put away in about the same amount of time. That has been a great thing! I'm also trying not to collect more decorations. If someone gives us something, I try to give away something else. I want to "stay lean" because there is only so much space to store it all, and it can be exhausting to have to get it put away if it takes a week or two, as regular life and obligations kick into gear.
My favorite part of Christmas is sitting by the fire at night and reading Christmas stories. Yesterday it was only November 10, but we decided for family night to start! We sat on the couch and in chairs and on the floor in front of the fire, and Lane told stories. I fell asleep on his shoulder. It was heavenly.
Simple.
Wonderful.
Simply wonderful!
Happy Simplifying the Holidays,
Liz 🙂
---
---