3T: Dry cleaning record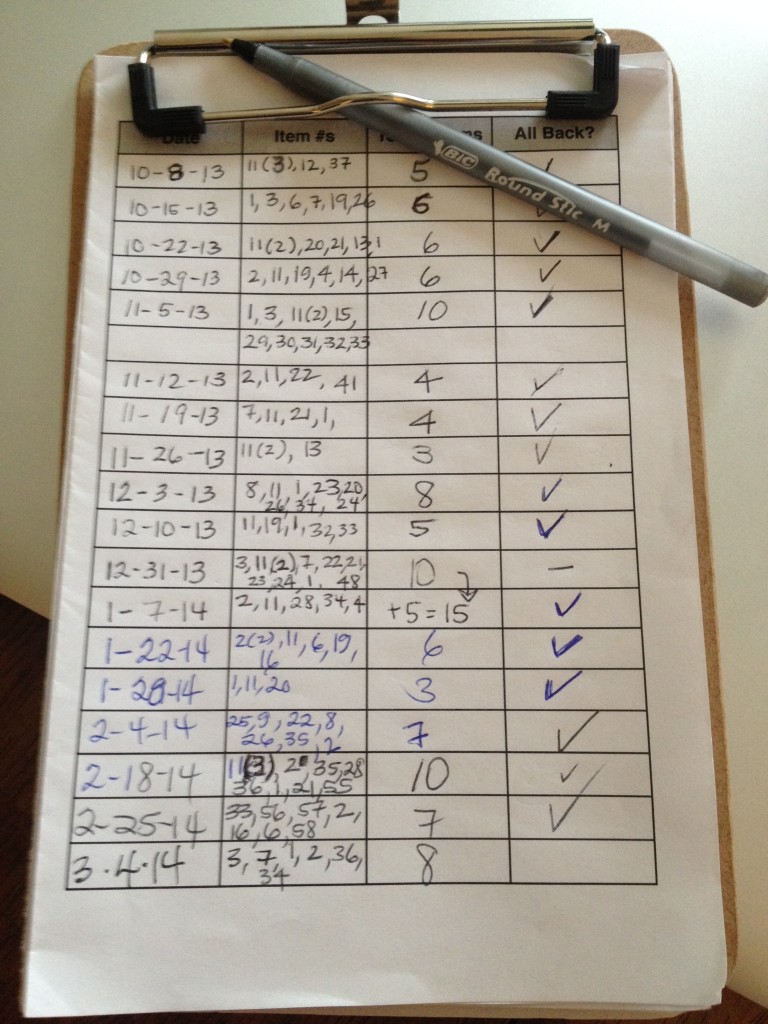 A well-pressed dress shirt looks really nice, and Lane wears dress shirts most days to work. Because I did a lot of ironing growing up, I could press his shirt and have it look good.
But there came a point in our family life when I was always getting behind on keeping his shirts pressed. There were piles of unironed shirts and not enough time to iron. He was willing to press them himself, but he always ran short on time as well, both of us having so many responsibilities with our growing family and work. So we starting taking his shirts to the cleaners. We also tried pickup and delivery dry cleaning services.
Using cleaners has been very helpful to us, but there have been a few times when the shirts we sent didn't all come back, or we got a shirt or two that didn't belong to us. It didn't happen often, but enough to make us ask at some of the other times, "Didn't I send this one shirt that isn't in the returned shirts?"
I decided to do something about it to increase our peace of mind. At first I tried a dry cleaning inventory phone app, but it seemed to take too long to input everything and keep it updated as compared with simply jotting it down on a piece of paper.
So I created a paper chart that listed all the clothing we might send to the cleaners. I also created a little chart to list the corresponding numbers of those shirts to know which ones I've sent out and which were returned. I keep the lists on a half-size clipboard hanging in our closet right about where we keep the dry cleaning bag and the things that are to be sent out.
So know we've got a simple system down: clothes needing cleaning hang on the hook with the bag. On the specified day, I mark the items on the list and send them off. When they return, I check the items on the hangers and check them off the list. It's fast and simple.
For some people, this chart could be unnecessarily complicating. For me, it's a helpful tool that takes very little time (once I put it together) to use. I thought I'd share it in case someone else could use it.
Now, if only I could solve the problem of the other huge piles of ironing that I can't afford to send to the cleaners… 🙂
Happy Tracking Your Cleaning,
Liz 🙂
P.S. Here are the pages. I print them, fold them in half, and stick them on a clipboard which hangs on a nail. The check out list stays on top, the other pages underneath. I keep a pen or pencil on the clipboard, too, unless it gets taken off, which is a lot of the time. 🙂
Dry Cleaning Check Out List PDF
---
---