3T: Essential oils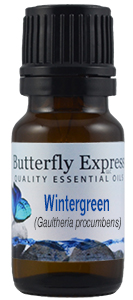 I don't advertise on my blog. But I do share some products that are helpful to our family.
I like essential oils. I use them periodically. I don't sell them; nor do I want to. I believe there is some value to them.
But they can be very expensive.
And I have no way to verify if one brand is better than another, or purer, or anything! To my untrained eye and nose, they look and smell the same.
There is one way I do choose between brands of oils, and that is by price. Butterfly Express (click on the image) carries many of the same oils that doTerra does, but at a lower price. I love using doTerra oils but don't have the budget for it!
And a foot soaking in Epsom salts with a drop of wintergreen and lavender in hot water…well, that is some good relaxing.
Happy Oiling,
Liz 🙂
(Seriously. Oiling? Oh well.)
---
---