3T: Getting ready for a trip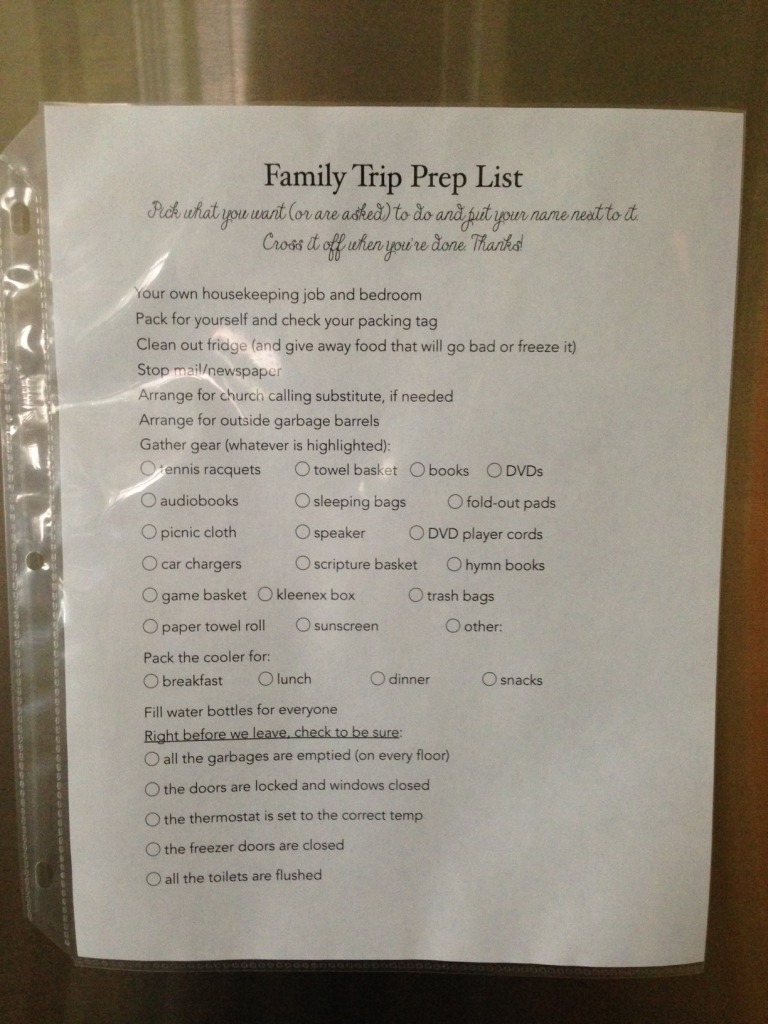 Are you leaving town soon to visit family for the holidays? If so, here's a trip prep list that we tape up on our fridge that allows the whole family to pitch in and help with trip preparations, like we used for our Thanksgiving trip to my sister's home last week. (We use a dry or wet erase marker on it so we can re-use it.)
It can be such a big job to prepare a family for a trip, especially if you are trying to save money by packing along food or if you need to do a little clean up before leaving. It really helps to have a regular routine of job assignments so that children are accustomed to helping out when asked. I am so grateful to my husband and children for being team players. Yes, we all complain at times (except for Lane, who honestly does not ever complain), but my children are helpful and willing to help. Thank you, guys!
That being said, we rarely leave on time for a trip. The few times that we have traveled by air have been pushing it. I asked Eliza, when we were coming home from Arizona from her oireachtas, what she remembers from her experiences with air travel. She said a few things, like "being hungry and wondering if we were going to make our flight." LOL. True, true. I think Lane and I have run to catch planes more than we have walked calmly to. We have had many a "made-it-by-the-skin-of-our-teeth" moment. Keeps life exciting.
Here's one thing I have learned: I am never as prepared to leave on a trip as I'd like to be. There is always something more to do. Another load of laundry that could have been folded instead of left in the dryer. A room that isn't very tidy. Food in the fridge that I should have given away. Mail that I forgot to have stopped and will need to do on our way or when we get there (thank goodness for stuff like that which you can do online!). Garbages we forgot to have arranged to be taken to the street for collection or put back. (Thank goodness for kind neighbors who have helped us out when we have forgotten to plan better!)
Hope this list helps you (and us!)!
Happy Family Traveling,
Liz 🙂
P.S. Go here to see what a packing tag is.
P.S. I should have included "Check in to flight" or "Print boarding passes," but since air travel is so much more rare for our large family than road trips are, I forgot to add it to the list! (But one thing that is great about air travel now is that you can get an email or text reminder to do those things, and you don't even have to print boarding passes at home, but simply have them on your smart phone. I do like technology…when it works!)
P.S. Last P.S. I promise. We usually keep a throw-up container of some kind in our car for road trips. You never know what might happen on the road. And we always have a first aid kit in the car. (It helps if we have Sarah along as an EMT as well….)
---
---