3T: One for the Money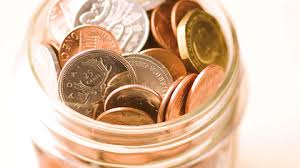 The year before Lane and I were married, the church published a pamphlet called "One for the Money."  It has great financial counsel in it, and I have read it over and over.
That said, I'm a perfect example of how knowledge doesn't equal behavior, since I'm still trying to learn how to better manage money!
But I'm grateful to have this information as a guide, so periodically when I come back to review it, I can assess where I could improve. And I HOPE that these are the principles that are coming through to our children as we try to teach them about money management. Here's what I know: money management is a great source of either peace or contention in a relationship, depending on how you do (or neglect to do) it, so we want our children to read and know these 12 principles:
PAY AN HONEST TITHING.
LEARN TO MANAGE MONEY BEFORE IT MANAGES YOU.
LEARN SELF-DISCIPLINE AND SELF-RESTRAINT IN MONEY MATTERS.
USE A BUDGET.
TEACH FAMILY MEMBERS EARLY THE IMPORTANCE OF WORKING AND EARNING.
TEACH CHILDREN TO MAKE MONEY DECISIONS IN KEEPING WITH THEIR CAPACITIES TO COMPREHEND.
TEACH EACH FAMILY MEMBER TO CONTRIBUTE TO THE TOTAL FAMILY WELFARE.
MAKE EDUCATION A CONTINUING PROCESS.
WORK TOWARD HOME OWNERSHIP.
APPROPRIATELY INVOLVE YOURSELF IN AN INSURANCE PROGRAM.
UNDERSTAND THE INFLUENCE OF EXTERNAL FORCES ON FAMILY FINANCES AND INVESTMENTS.
APPROPRIATELY INVOLVE YOURSELF IN A FOOD STORAGE AND EMERGENCY PREPAREDNESS PROGRAM.
I am absolutely going to have a sit-down discussion with each of my children and their fiancé (fiancée) and go over this with them, and ask what their plans are and how they've learned these principles already. Just a heads-up to any future fiancés out there. 🙂 (Sarah: just sayin'.)
We've had the chance to learn to try to do each of these things over that last 20 plus years, and we're still learning. Good things mistakes are allowed in life!
Happy Managing,
Liz 🙂
P.S. I had an interesting discussion with an 8-year old on Sunday. I told him about having a savings account. He asked me, "Does Peter have a savings account?" I told him yes, that I went to the bank each time after having a baby and set up one for each child. It reminded me of how financial decisions parents make set the tone for their children and teaching them about managing their finances. I'm grateful my parents set up a savings account for me, taught me to save, encouraged me to work from my youngest days, and set an example of hard work their whole lives.
---
---