3T: Personal history boxes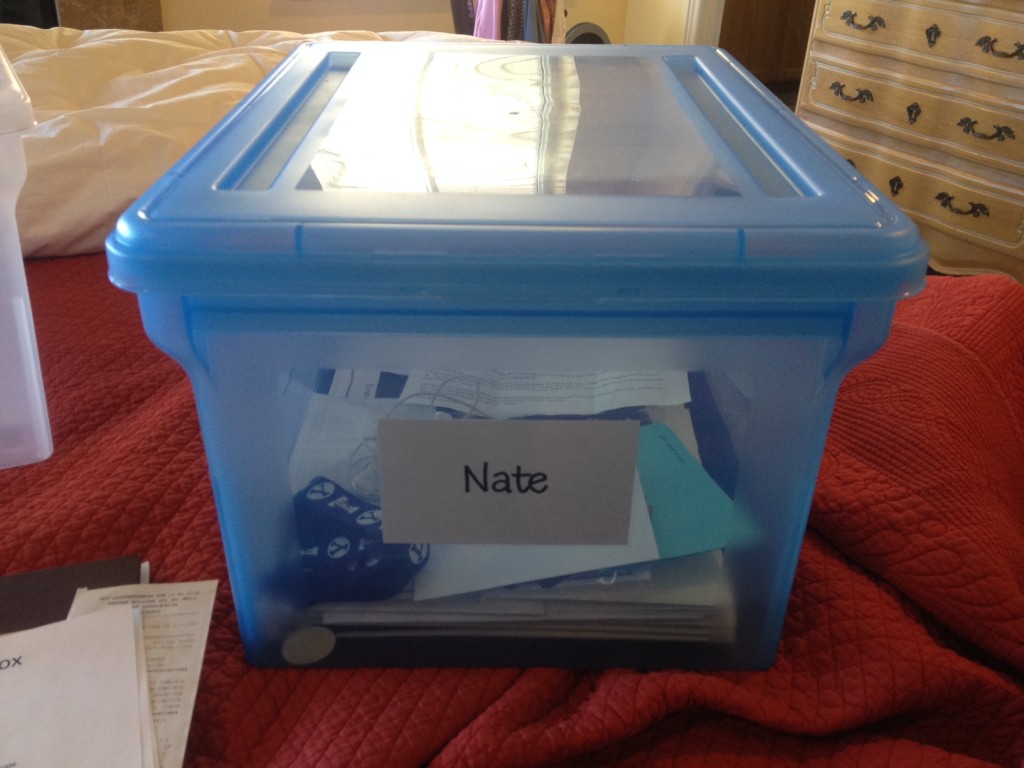 A long time ago, I read an article by President Boyd K. Packer in which he described how he and his wife started their family history.
He said they got a box.
I figured that if a mother and father of ten children who have incredibly full lives could start that way, it might work for me!
So I got each of my children a box. And then a small drawer. Then the drawers became too small, and soon were overflowing with scrapbook entries. And then I just kept one pile in a box and at the end of those years, moved a pile to another drawer. Now I have lots of piles in the office to go through!
So now that everyone is older, I am going back to individual boxes.
Before Nate left on his mission, I needed to gather documents again. I went to the several places: rooms, boxes, files where documents had been stored and began to gather them again to one central spot. I got him a new box.
I also got boxes from Costco for each child. (They came in packs of 2). They were about $4 a box, I think, and can support hanging files. I wanted the durability and protection of plastic over cardboard, although we started with cardboard originally.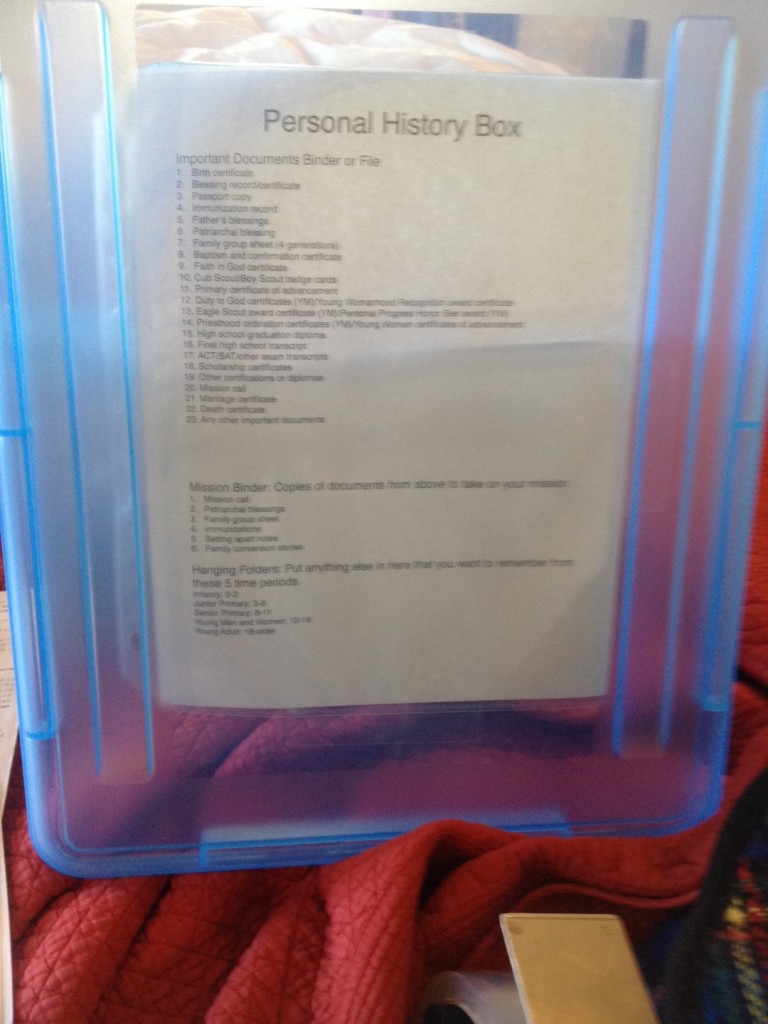 Then I typed up a list of documents and taped it to the inside top of the box.
Here is the list: Personal History Box and Important Documents Binder
Once I have the box, I begin to gather the documents and other stuff I have saved.
Once that is done, I can begin to sort them. I put the most important documents into plastic page protectors in a 1/2″ binder (thank you, Costco). The rest I can stick into files.
I have 5 files: Infancy (0-2 years), Junior Primary (3-7), Senior Primary (8-11), Young Men/Young Women (12-18), and Young Adult (18 and older). I have found that developmentally, these are significantly different times, and so they seemed like natural divisions for me to organize things.
I can keep sticking papers into the box periodically without organizing them. And then, where I take a moment, the child or I or both can go through and toss or keep what they think is most important and organize them into the binder or the files, depending on where each item goes.
I like the idea of having only one box, because space is always at a premium. And going through piles and piles of stuff after 18 years of a child's life can take a very long time. It's a lot easier to do it every couple of years, or whenever there is an opportunity that I choose to take.
We're starting to go through the piles in the office to put stuff into the binder and files in each child's box.
It is very helpful, the older children get, to have everything in one place for the various applications and documentation that they need.
One step at a time!
Happy Documenting History,
Liz 🙂
---
---