3T: Setting the table in the morning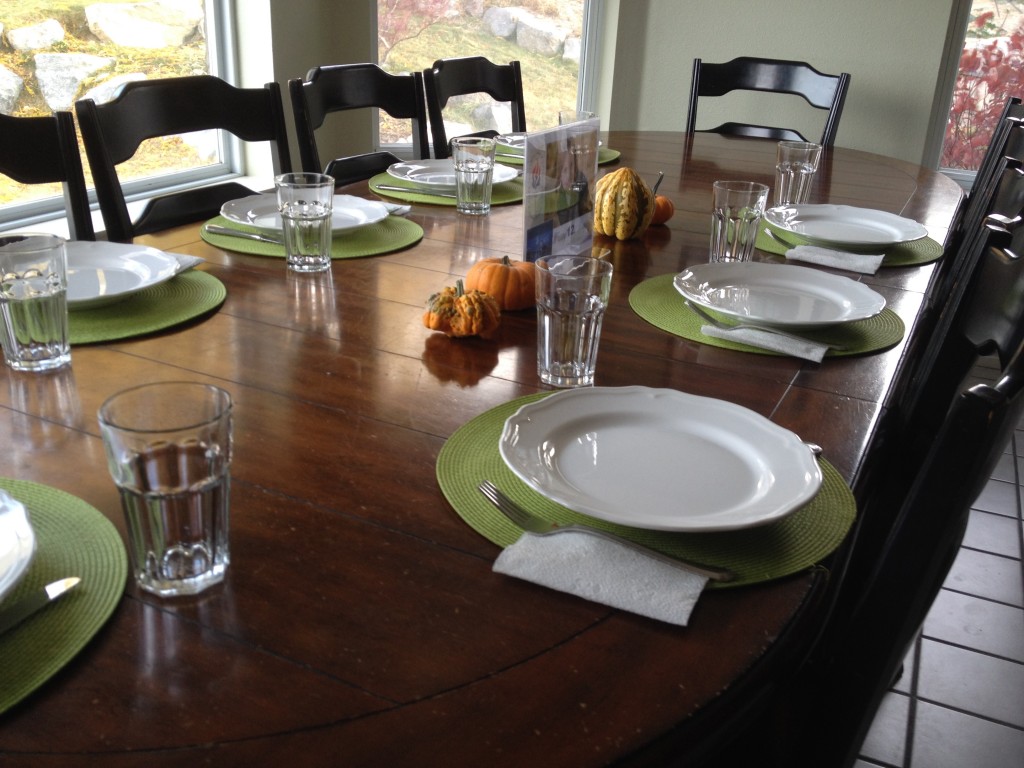 Years ago I read the daily schedule of a family with six children* that started at 5:00 am. At 5:00 the children awoke, made their beds, and got dressed. In ten minutes.
Miracle one.
At 5:10, they had family scriptures. Very impressive.
At 5:30, they started practicing and jobs. Incredible.
I was impressed. (I know that farming families did this for centuries, but the thought of getting my future family to do this seemed daunting.) In the description of what this family did at 5:30, I noticed that three children were in charge of "pre-breakfast" which included emptying the dishwasher, setting the table, cooking breakfast, and making school lunches.
Somehow, I got the idea in my head that they emptied the dishwasher and put the dishes straight back on the table for dinner. I don't know if this is accurate, because in returning to the book to look for that reference, it appears that they may have been setting the table for breakfast.
Well, about 16 years after reading that book, I realized that if we turned on the dishwasher every night (it is usually full after dinner), I could save myself work by putting the dishes straight back onto the table in the morning.
This has proven to be a double-gift. Late afternoon to evening is my hardest time of day, and to have the table looking inviting makes the dinner-prep process that much easier and less burdensome-feeling.
A friend of mine walked in the other day and saw my table set early in the day. She remarked, surprised, that in 30 years of homemaking, she had never thought of that.
Well, I didn't think of it, either. I got the idea from someone else. (Or at least I thought so!) And it simmered in my mind for almost 20 years, when I think the Spirit brought it to my remembrance to make my day a little easier.
I have to think that there are truly no new ideas under the sun, as the author of Ecclesiastes wrote. At least not to God. He's got all the good ideas ready to share. I was grateful He helped me with this one.
Happy Table-setting,
Liz 🙂
*This was the family of Hyrum and Gail Smith, as recorded in Shadowfall: Reflections on Nurturing Family Values by A. Gail Smith. Hyrum Smith was the founder of Franklin Quest (remember day planners?). Gail was a remarkable woman who has endured some particular family challenges. I admired her memoir (this book) then and now.
---
---