Sew fun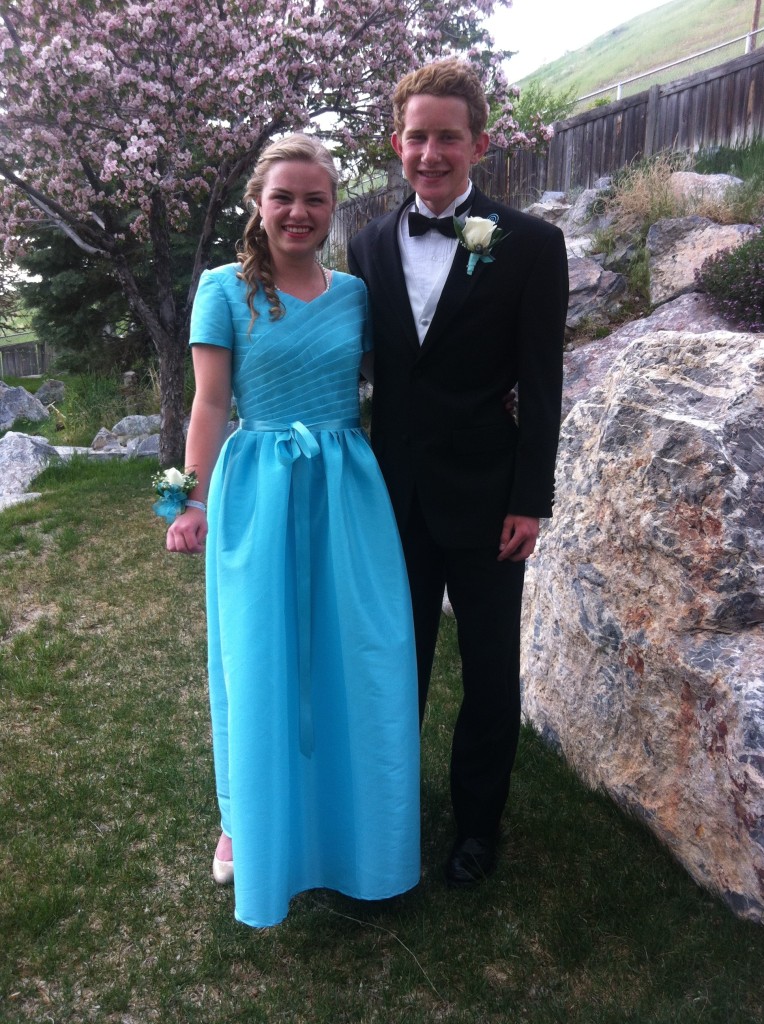 "Necessity is the mother (or father) of invention," they say.  It took us needing a prom dress for Julia to get me sewing again.
Weeks ago, we shopped for hours for a dress, but to no avail. There were some beautiful dresses, and even some that fit–but they weren't modest or easily altered to become so. So we searched online and found that many "modest" prom dresses were priced out of our budget. So we decided to order one, submitting her exact measurements, to a company overseas. The dress arrived quickly, but unfortunately was not sewn to the measurements we sent.
Ugh.
A very nice friend heard about her saga and invited her over to borrow any dress from her closet. What a gnereous offer! I love that friend! The dresses were beautiful and modest, but alas, were not quite the pick.
The clock was ticking. Feel the drama. We could make a reality TV show out of this! Say YES to a dress! PLEASE!
It was a week before, and the rain was pouring. We spent hours on Saturday  cleaning up from months of mess-creating-but-never-cleaning-completely-up in the office/sewing room. The girls put their heart into it. We made wonderful, invigorating progress.
For sewing purposes, I got everything back where it was supposed to be.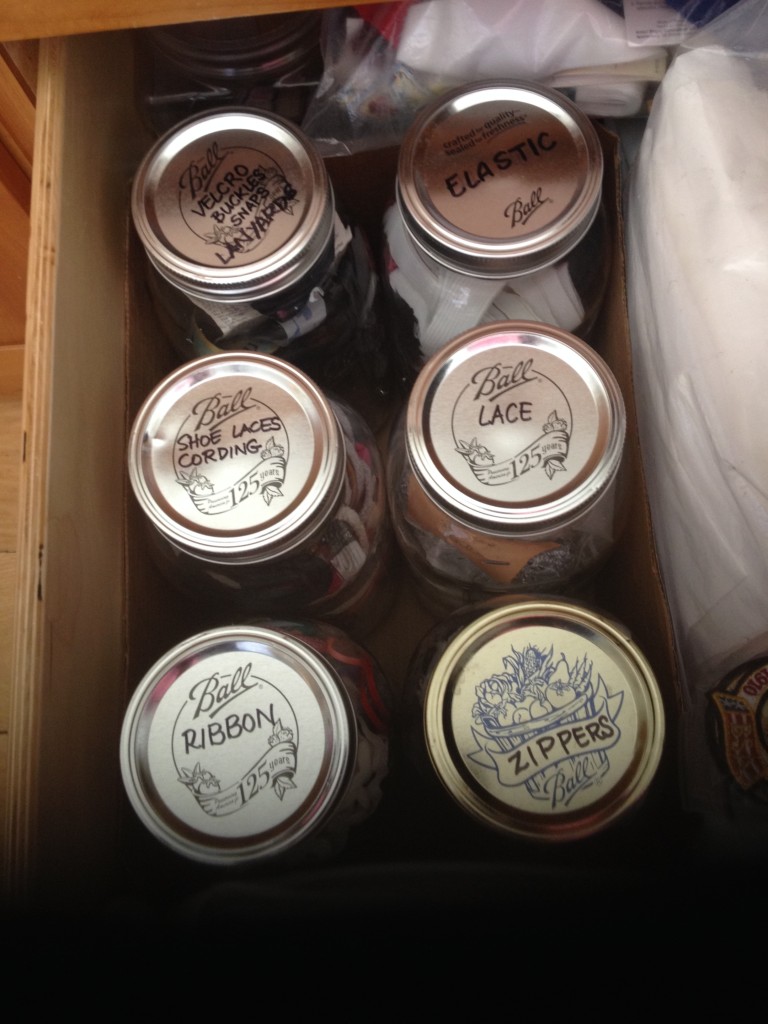 On Monday, when I went back into the office to continue the clean up, I saw the iron cord falling off the shelf where the iron was. I decided I'd really like a cord holder for the iron. So I made one out of some elastic: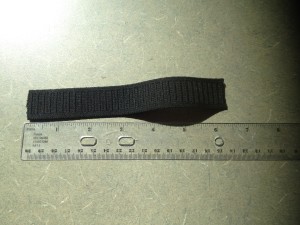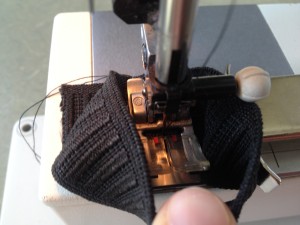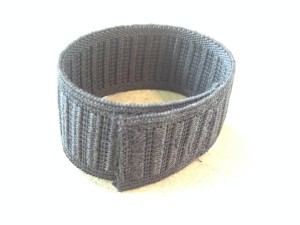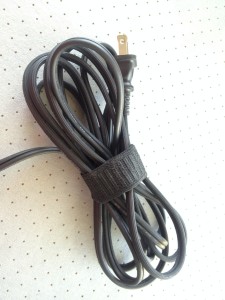 Then, because I had gone running that morning and my phone fell out of its case because of the rips in all four corners, I decided to sew a case out of some old jeans, a scrap of fuchsia organza, and an elastic cord leftover from a ripstop bag: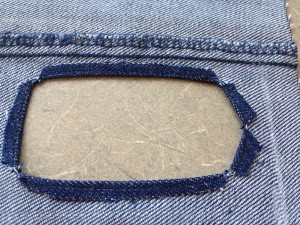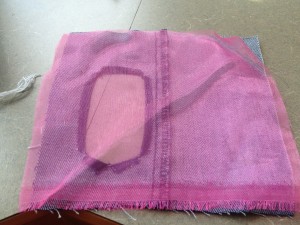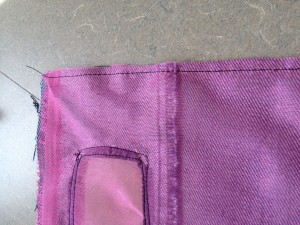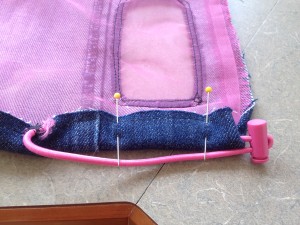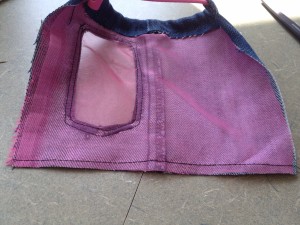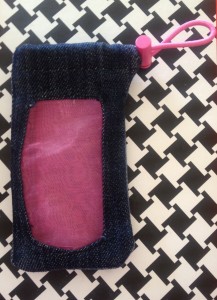 There was just enough thread left!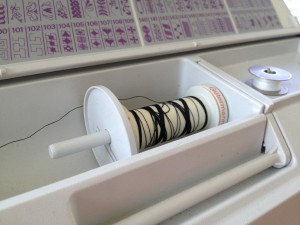 And then, when it was Wednesday morning before the Saturday prom, I decided it was time to sew a dress for Julia. I prayed VERY sincerely for help to find fabric and patterns that would work to replicate a dress we found on the Nordstrom website.
I found this gorgeous aquamarine taffeta that had nearly the texture of raw silk but with some stretch to it. I was sold.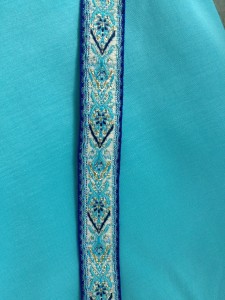 (The brocade ribbon was just a thought for the waist. We didn't use it.) Julia wasn't as convinced that this was the color for her, but she reticently agreed to move forward. I mean, we were down to brass tacks.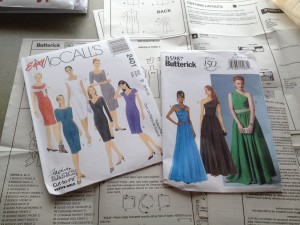 I combined two patterns–one for the bodice (I chopped a sheath dress pattern in half) and one for the skirt (took the skirt patterns from an evening gown pattern).  I cut out the pattern as Julia drove Eliza to dance. I was so focused on it, I forgot to pick up Eliza. (Thankfully, my friend was picking up her daughter and brought her back for me! I met her on the road on my way back from dropping off Julia's work training packet.)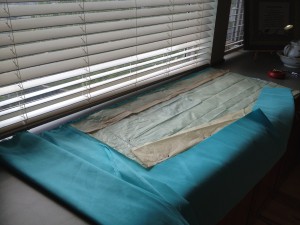 Wednesday night we had "Senior Honor Night," so I waited until Thursday morning to start work. I had to wait for Julia to be home so I could fit the pieces to her, so I worked on it after Rebecca's choir performance until midnight. Gratefully, Lane got home from his business trip early that night. Tendermercies.
My neighbor lent me her dress form, without which I could NOT have done the overlay work on the bodice. This took a while, but it was seriously fun. I mean, I did have plans at one time to be a clothing designer. I designed my junior prom dress after all, and my mom and I sewed it together. I worked slowly and carefully, knowing that since I had bought the end of the bolt of fabric, I had no room for errors that would mean more fabric. I prayed a lot while working!
Friday night we had a wedding dinner for my nephew's wedding, and I had music classes to teach during the day. I also ran to the fabric store in between classes to pick up some chiffon and tulle, because the taffeta was too heavyweight to do the twisting on the front that the Nordstrom dress had. Alas, the other fabrics weren't quite the right shade, and they were also too bulky. (The taffeta they used in the Nordstrom dress must have been very lightweight). Friday morning I had an idea for another bodice overlay: petals appliquéd, blooming up from the waistline.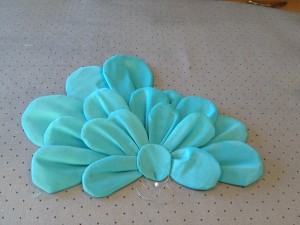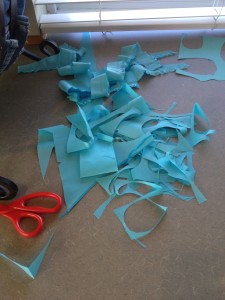 Nix. It was a no-go for Julia.
So we went with the diagonal pleat idea.
I finished the bodice at 1:10 am, after the dinner, with two dear friends visiting for Women's Conference and sweet Eliza chatting with me, keeping me company as I sewed. It was seriously fun.
Saturday morning I got up early and sewed until 9:10 am. We were supposed to leave at 9:25 am to drive to Salt Lake for the wedding. We left around 9:35 am and got there in time to jump out of the car and have Sarah go park it. We made it ON TIME. (This is SO my life. You don't even know! Not the on time part, but somehow-the-important-things-fitting-in part. "Grace shall be as your day.")
The wedding was beautiful!
Then we did the photos, ate lunch, and zipped back home. I napped on the ride home.
Now it was time to figure out the pleats on the skirt. I had gathered it earlier that morning, but the weight of the taffeta made it too poofy to have a gathered skirt. I pulled out the gathers and started pleating. I re-did the pleats 3 times, and thanks to my friend Melanie, we calculated (MATH MATTERS) how many pleats would fit in the front and marked them.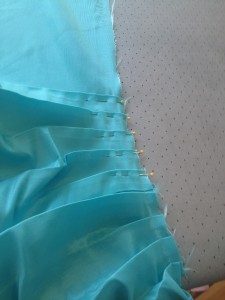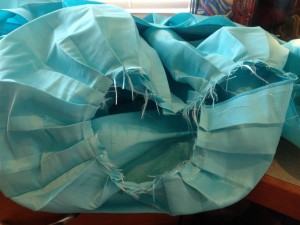 Melanie said how her mother would say, "Haste makes waste" to her when she was growing up and rushing through a project.  Sarah's EMT training saying goes: "Slow is smooth is fast."  Seriously true. Gotta do something slowly in order to save time and effort in the long run.
Once the pleats were done, I put the bodice and skirt together, hemmed the skirt, and put in the zipper.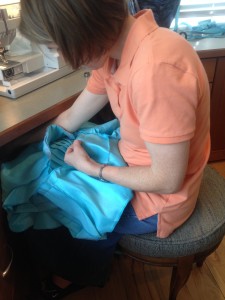 I was getting nervous by that point. I had planned to have it all done, NO PROBLEM, by 5 pm. (Her date was coming at 6:30 pm.) But we got home later than planned, and the pleats took longer, and you know: life happens! So it was all done except for the zipper. That's when we ran into a little snaffoo.
Long story short, I put the zipper in, then had to unpick one side, and put it back in. All while Julia's date waited in the family room.
It was history repeating itself: my Jr. Prom date all over again. Me waiting in my room for my mom to finish sewing my dress while my date waited in the family room.
LOL.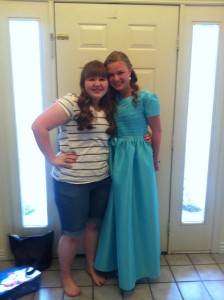 Well, in the end, Julia was pleased as punch 🙂 with her prom dress. After having her friend help do her hair and her dress finally finished, she was happy and had a wonderful night. And her date got the grilling interview all young men deserve to have when dating such a wonderful young woman like Julia. 🙂
(There's no pressure like being asked what your life's plans are when you are 16 by your date's father AND grandfather!)
As they walked outside for Lane to take some photos, I fell on the couch and sighed a HUGE SIGH of relief.
There was a big. smile. on my face.
Then I ran upstairs to change, and we jumped in the car and drove to the wedding reception.
Happy Sewing,
Liz 🙂
P.S. My favorite part of Elder Livingston's recent emails was today after our report on Julia's date. He enjoyed hearing about the "family room interview" but said, "I love that grandpa was there…but there wasn't any shotgun, so I am little disappointed." (We always joke about a shotgun needing to be hanging above the door, or being cleaned while a date is there to pick up a daughter….)
---
---