3T: Sister Livingston, check!
(Liza was searching for a commercial aimed at teens  when we came across this one.)
I've been driving children around town for 19 years now. I'm a big believer in wearing seat belts because 1) it's the law and 2) it can save lives.
As a child, it wasn't the law to wear seat belts. I was riding in the back seat of my family car next to the rear passenger door when my door opened and I rolled out onto the road. Thankfully, my mom was driving in the far right-hand lane, so I couldn't get run over falling next to the curb, and I had my blankie with me, and it rolled around me as I rolled out, apparently. Tendermercies!
I had an experience with seat belts as an adult that might not seem like a big deal to some but was a big deal to me. Our street had been blocked off from traffic for some road work for some time, and then the road block was removed. I had gotten accustomed to backing out without checking behind me to the left. As I recall, I backed out one morning when a car driving down our road, a little too fast through a neighborhood street, hit us. I had Sarah, Nate, and Julia all in the back buckled in car seats. I was also buckled in. No one was injured. I felt very grateful I had taken the time to buckle everyone, including myself, in.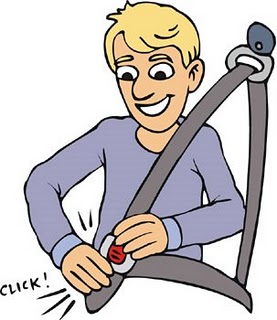 But getting 7 children buckled seemed to be a regular opportunity for contention. So one day I had an idea: we'd sound off by age, saying our name and "Check!" after we had gotten buckled. So I would get into the car and say, "Mommy, check!" Then the children would go down the ranks, sounding off: "Sarah, check! Nathan, check!" until everyone was accounted for. After that, it was more a question of arguing about who got to sit where than it ever was about buckling up.
When we started having carpools to drive or friends to take home, I decided to include them in our "game." I would say, "Sister Livingston, check!" because most of the children we have been around are Mormon, and we call each other "Sister" or "Brother" instead of "Mrs." or "Mr." in our church. (When I had friends who are not members of our church, I just used "Mrs. Livingston.")
Gratefully, the habit of buckling up has been established for each of our children. If ever I had a child who simply refused to buckle, I mostly would just tell them I would wait and didn't drive. Sometimes I'd have to get out and do it myself. But now they are all old enough and do it.
I was grateful they do when two of our children got in an accident the first day of summer last year. The car was wrecked, but they weren't.
Buckled seat belts may not always save lives, but I'm grateful I've had the chance to teach my children safety.
Happy Buckling,
Liz 🙂
P.S. The image above comes from a woman's website who creates music to teach children. She wrote a cute song about wearing seat belts. Music is such a GREAT way to teach children to do good things!
---
---