3T: Sliding into home base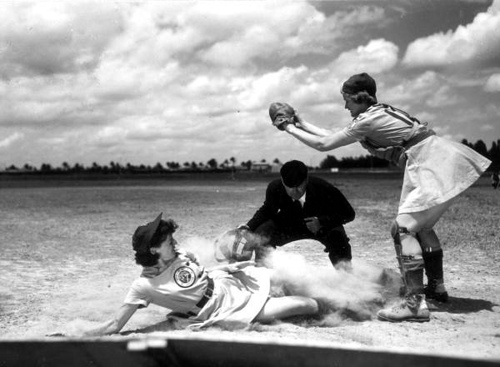 When looking for an image for this post, I came across a little piece of US history: a women's baseball league. What fascinates me about this picture is that they are wearing those skirts! Seriously? Sliding into home base in a skirt?
Truth is stranger than fiction!
This end period of the school year (from March to June) feels like a very long and very packed stretch from third base to home for me. There are always so many things happening: spring sports, recitals, end-of-year homework projects and celebrations, wrapping up school volunteer responsibilities. And this year I'm also counting the days until it is all over!
One of my personal weaknesses is handling the stress of the various events and commitments that come along with my family. I'm better at it than I used to be, but some days are better than others. One of my coping methods is to write. Another is to put something less pressing away for a while–like writing–and come back to it when some of the deadlines and events have passed.
So that is what I'm doing today. I love to write so much that I think about it all the time. No joke. I'm compose posts in the night when I can't sleep. It's a passion for me, and I'm still learning to bridle it. I could write for hours and let all responsibilities go by the wayside! So I decided that if I'm going to help Julia find that elusive prom dress (that fits in our budget and modestly fits and looks like she hopes), get Rebecca to all of her choir performances, help Eliza get to track and dance, keep Peter and Anna practicing their instruments, wrap up the music program and my kindergarten teaching and keep teaching Primary, be present at the family wedding AND sleep at night, something's gotta give.
And it can't be my sanity.
So I'm going to have to do what I've done before: push pause.
I'll have my little blogcation and then I'll be back. It ain't gonna be easy, trust me!
But then summer will be here. Ahhhhh.
Happy Sliding into Home Base,
Liz 🙂
P.S. I was just thinking right now: I'll just write one more tiny post, which made me think of this hilarious cookie jar my mom bought once for my step-dad. He had diabetes AND a fondness for food. Especially sweet food. So they had a policeman cookie jar that when you lifted the cap said something like, "Step away from the cookie jar." All of us had to lift the lid when we came over just to hear it say that. Makes me smile just remembering.
I'll compromise: When I get back, I want to write about spring break, prom dress shopping, white dress bridal shower, Linnets and Valerians, Longing for Home, Richard Peck books, choir, open spaces in my home, planting from seed, and curry. OK. Now I can go. 🙂
(I know. My husband's not holding his breath. I might just make it two weeks just to show him I can do it.)
P.S. One. Last. Thing. (I'm reminding myself of when I leave for any extended period of time and am giving 42 instructions to the children. Enough already!) Yesterday I listened to a very inspiring podcast about one amazing young woman, Natalie White, who is dealing with a major heart defect. I loved her perspective on true happiness: "True happiness is eating toast with my mom in the morning and getting to see my younger brother get baptized." (The quote as I remember it.)
---
---