Mmmm…: 7 years ago…
Seven years ago I was doing the same thing I am right now: sitting in my room, reveling in a chance to write without distraction while Lane rallies the children in making my birthday breakfast.
Heaven!
But a lot has changed in 7 years.
We aren't changing any diapers or wipes!
We're just about finished with car seats!
Everyone can read, write, sing, laugh together, and play a song on the piano!
We have a child in college and another getting ready to submit mission papers!
Everyone can shower themselves!
We almost have 3 more drivers, and our youngest just learned how to ride her bike without training wheels just this morning on my birthday ride!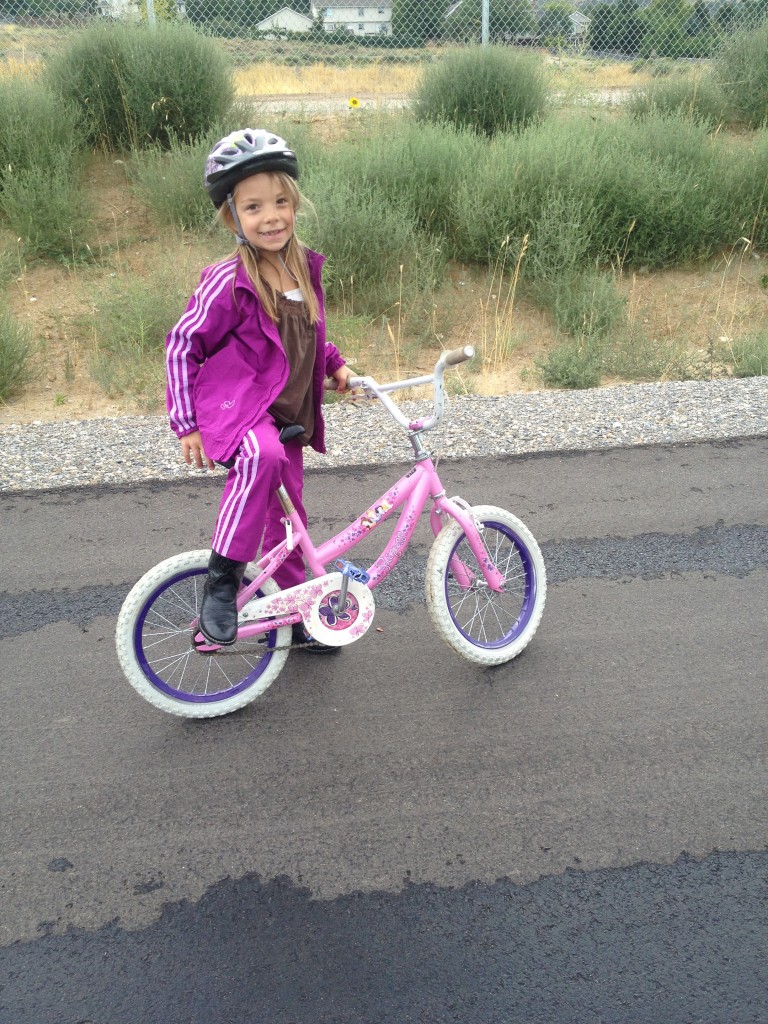 (Check out the cowboy boots!)
In the years since 2006, I can say that learning to be a mother is a lot like learning to ride a bike: it can be scary, but once you get the hang of it, you start to gain some confidence and realize, "I can do this!" And you recognize that you don't have to be in the Olympics or wear a sleek biking outfit to have fun riding, and that it's so nice to be out in the sunshine and feel the breeze on your face and have someone to ride with.
You want to share your experience with others!
Seven years ago on my birthday, one of my daughters burst upon my writing oasis, distraught from an argument she was having with a sister. I could see that this daughter was blaming the entire problem on her sister when, in fact, she had had a significant hand in creating the problem.
An idea came to mind.
I had her tell me what happened–what she did and what her sister did, as factually as she could manage–and I wrote it all down on a piece of paper. Then I crossed out everything her sister did and had her look at what she had done. It was then that she was able to see that she had helped create the problem. It was an epiphany, for both of us! She said sorry and went to say sorry to her sister. I was delighted! I wanted to share this victory with other moms!
That was the birth of this blog.
My husband bought this URL, and then 6 years later, I started blogging on it.
What happened in between September 2006 and September 2012 is another story.
How grateful I am for the gift that Lane gave me back then of believing in me enough to put some money on the line. He believed in me then, and he believes in me now, and that means a lot.
There are a lot of "mommy blogs" that have been born in recent years (about 3.9 million, according to one source). So I'm just a drop in the bucket. That's OK. I still love writing about motherhood, and I still have a desire to share and hopefully encourage another mother along the way, just like all those nice bikers who passed Anna and cheered her on as she wobbled along.
When it comes to motherhood, I'm still learning how "to ride."
And I'm still takes my breath away!
Happy Mothering,
Liz 🙂
P.S. The one thing I haven't figured out is how to get moms to comment. Any ideas?
---
---