A little bio and self-portrait
Hi, I'm Liz.
I am a beloved spirit daughter of God. I am a wife, a mother, a sister, an aunt, a writer, a teacher, a speaker, a life-long learner, a creator, a seamstress, a musician, and a cockeyed optimist.
I write this blog to share my love of nurturing others. I believe each of us has a great influence on those in our circles. I believe my mission on earth includes loving others, strengthening families (particularly women and children), and sharing the gospel of Jesus Christ.
Amazing nurturers
I find evidence of this in my own life by noticing the ways others have influenced me. To read more about these amazing nurturers, go here! I'm very excited to begin sharing more of what I learn from others on my "amazing nurturers" page.
I love to do SO many things. Art is one that I don't do very often, but I love to when I get to! Here's a bonus: a self-portrait. Ha! I drew this on an elementary classroom whiteboard in 2016 while teaching art as a parent volunteer. (It's great drawing on a whiteboard because erasing is so easy.)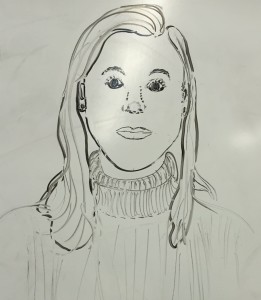 I took a photo of me after the class to compare photo to picture. Well, it's a likeness. And it was sure a fun challenge! (I don't have much of a smile in the drawing or the photo below because of the way we were teaching how to draw a mouth. Otherwise, I'm a smiler for sure.) I loved getting to teach the children how to draw a face. Even something as challenging as drawing faces is possible with small and simple step-by-step instructions. Sounds like motherhood!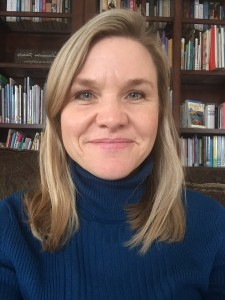 Want to know more?
I married my dearest friend Lane in 1993, and we had our first child, Sarah, a month before our first anniversary. We wanted 12 children, but heaven sent us 7 precious friends without whom our lives would be shallow and impoverished. We are so grateful that our lot was to have Sarah, Nathan, Julia, Rebecca, Eliza, Peter, and Anna join our family.
Really, I love too many things to describe here. (That's why I have a blog!) Some of my interests (next to nurturing my family and others) include music, French, art, sewing, exercise, nature, and quiet. I love to think and write. I work slowly, so I love not having deadlines and being able to work at my own pace.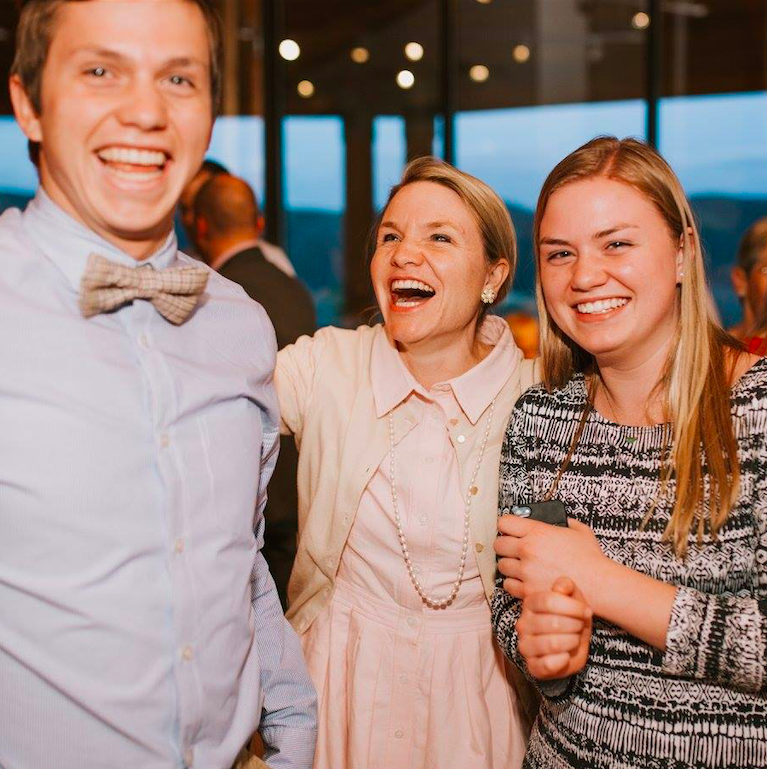 My favorite place to think and write is at home or on vacation with my husband, and my favorite place to be is with my husband and children. I also really, really love being in the temple. This is one of my favorite photos because it is candid and reflects how much I enjoy my family.
Large quiet blocks of time
And about those large quiet blocks: they rarely occurred in my life until all of my children were in school, and even now those blocks of time are often parceled up into various family-related support endeavors. All of this nurturing keeps me learning, organizing, editing, and appreciating the time I get both to be with others and to be alone.
I'm a Mormon! Being a member of the Church of Jesus Christ of Latter-day Saints is awesome! I love to try to follow Jesus Christ and to study his teachings. Without His grace, I'd totally fail. Flat on my face. With his help, I've had a wonderful life and made it through some things that were really hard for me, including a childhood in a broken home, depression, and a nervous breakdown.
Contact info
Please email me (liz [at symbol] raisingamazingchildren.com, but no spaces) if you have a question about my areas of interest. I would be astounded to get a question!
To read more about the purpose of my blog, go here.
---
---