After church happy hour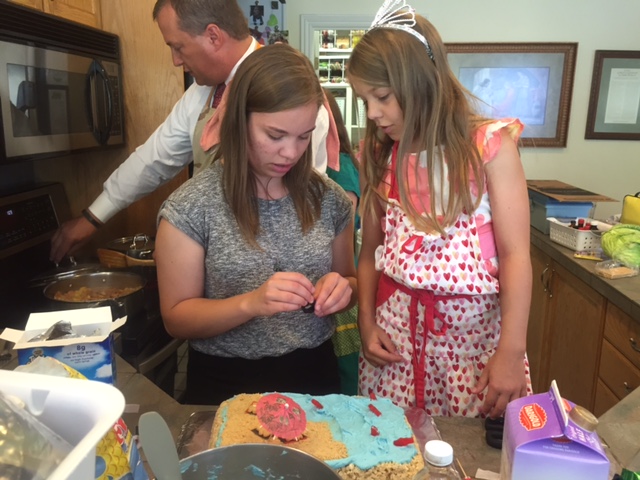 Most Sundays after church, our family will gather in the kitchen to make something to eat. It is a special, happy, funny time in our home, and when I step out of the preparation area, see the smiling faces and hear the goofy jokes, it makes me happy.
I love these daily experiences that fill my life with so much happiness. Home is the place for so many happy hours.
P.S. After posting this, I listened to a speech by Jennifer Nielson, professor of chemistry and biochemistry at BYU, with my family. In her talk, Dr. Nielson shared a story of her missionary companion from when she was young:
One of my favorite missionary companions in Brazil was a convert who had joined the Church at age sixteen. Sister Adriana had grown up in a family that owned a bar, and she had started drinking at an early age. She told me she was addicted and that giving up alcohol was the hardest thing she had ever done. When we taught investigators the Word of Wisdom, I could certainly share my witness of its truth, but she would share about craving alcohol and then testify that she would rather feel the Spirit, and she couldn't do both. She had felt redemption from the Savior's Atonement in this part of her life, and she could testify with power.
That is not to say that you have to have every experience in order to find truth and fulfill your potential. You don't have to experiment with things that draw you away from God. Thankfully, our own experiences are not the only ones we have to rely on. This is one of the reasons we have family and gospel stories and pass down wisdom from generation to generation. "If I have seen farther, it is by standing on the shoulders of giants," was the acknowledgment of Sir Isaac Newton. ("Experiment and Experience," March 3, 2015)
I was reminded of the power of having happy hours at home, to help our children learn that you don't have to drink or use other mind-altering (and future-altering) substances to be happy.
The reason I shared this speech with my children was to share the story about Rabbi Robbie Cahana's stroke and "locked-in" syndrome experience that Dr. Nielson recounts in her speech. It is an amazing story, not only of faith and humility and courage, but also of great family nurturance.
---
---