Answers to questions
I LOVE general conference! It is a time for peace for me and for my family. When the children were little, it took preparation and patience to watch all the sessions. But now the work has paid off. They all enjoy conference and are willing to listen, especially when they can draw, do LEGOs, knit or take notes while they listen. There are so many resources to help young moms prepare for general conference now! I hope you sit down and watch or listen wherever you are to drink in the peace and inspiration from heaven that general conference has to offer. 💗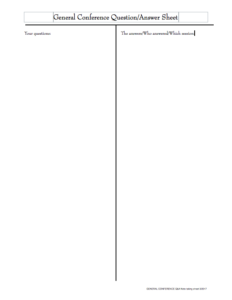 Write down your questions
When I was a missionary, my mission president's wife invited us to make a list on a piece of paper that had a vertical line drawn down the middle. On the left side, we were to ask our questions. On the right side, we were to take notes of who answered that question and during which session, so we could go back later and review it. I remember I had a question about how I could improve my memory. So I wrote down that question. During general conference, I heard a talk by Elder Neal A. Maxwell who gave an answer to that question. He said,
"While faith is not a perfect knowledge, it brings a deep trust in God, whose knowledge is perfect! Otherwise, one's small data base of personal experience permits so few useful generalizations! But by searching the holy scriptures, we access a vast, divine data bank, a reservoir of remembrance. In this way, the scriptures can, as the Book of Mormon says, enlarge the memory (See Alma 37:8.)" ("Lest Ye Be Wearied and Faint in Your Minds," April 1991 general conference).
I was delighted to hear the answer to my question! I have tried to study the scriptures–the Book of Mormon especially–every day.
I had more important questions than that that have been answered, for which I am so grateful.
What questions do you have for God that you would like answered?  Write them down and listen to general conference!
---
---