Aunt Sass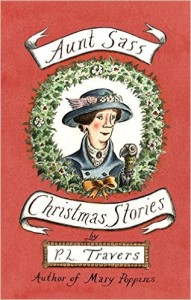 Sarah gave me an early Christmas present today! It's a book called Aunt Sass by P.L. Travers (author of Mary Poppins). Ms. Travers would, apparently, write stories for her friends at Christmastime, and this book is a collection of some of those. Aunt Sass is the aunt from whom Mary Poppins sprang.
She thought we would enjoy reading these stories together as a family during the Christmas break. I think that sounds like a fabulous idea!
(Note: We saw the movie "Saving Mr. Banks,"–the story about P.L. Travers and the history of the making of the Disney movie "Mary Poppins"–two years ago during the Christmas holiday as a family. It was more intense than I had anticipated (I hadn't check online beforehand), so I would recommend watching it before sharing it with your children. That said, we loved it. It is one of those movies that increases your empathy and desire to not judge others.
---
---