Back to School: From kindergarten to college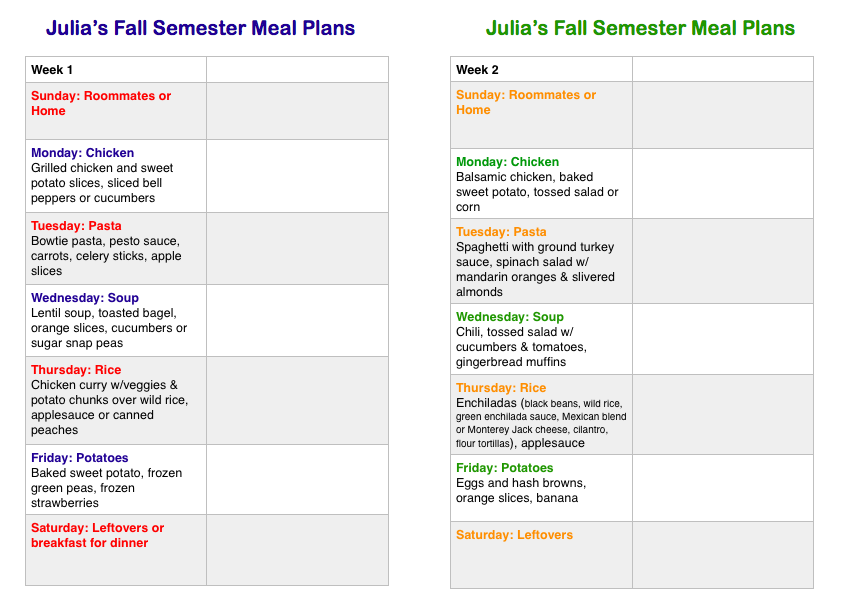 This week was Julia's first week at college. (We actually have TWO college freshman right now, but Nate started in May. More about him on another post.) She and I sat down last night for a few minutes to put together a menu plan of meals she can easily make and afford. (It helps that college is so close that you can run home to grab some wild rice or get your bike tires fixed.) As usual, I'll laminate these little menu plans. The blank column is for writing in something else she plans to make that day instead, when she sits down to plan before going grocery shopping. Now we understand that she won't follow the menu exactly every week, but she's like me: cooking isn't her passion, so it helps to have a framework in place ahead of time so she doesn't have to reinvent the wheel each week.
Watching her pack up reminded me of how exciting it was to move to college my freshman year. (I took WAY too much stuff!) I was proud of Julia for cleaning out her room and only leaving her 4 storage tubs behind (that was what I told each child they could have for home storage: 4 bins). And her sister was ready to move into her spot before the day had finished after her move!
We had a few special moments together before she left, including one night when I called all the girls into my room (the boys were on a father and sons trip) and they all climbed into my bed. I had a couple of my old journals on my lap and opened randomly to read snippets from our lives. Talk about time travel!
I turned to August 25, 2003, Monday. At that time, I was two months away from my due date with Peter, so that means that we had 5 children: Sarah (9), Nate (7 1/2), Julia (5 1/2), Rebecca (3 1/2), and Eliza (6 weeks shy of 2). It was fun to discover my account of Julia's kindergarten assessment (in which the kindergarten teacher tries to see where a child is in terms of basic letter recognize, reading skills, counting, etc.). Julia REALLY left an impression:
Lane asked Julia how her [assessment] interview went today. She said something like, "I told the teacher I didn't know anything, and she gave me a treat!" I didn't get to hear the assessment this year–the teacher sent me into the hall–but it was quite short….I admit to having prepped Julia just a little on the way to school by way of review: our address, phone number, spelling of last name, etc. 🙂 Oh, the pride of a mother!
We all cracked up hearing what Julia told the teacher, especially when a treat would be involved. Julia has been our biggest sweet tooth since day one. We love that about her! And speaking of eating dessert, isn't it just how it goes as a mom: you teach a child all kinds of things, but when you ask them to perform, they won't. It helps us moms eat humble pie now and again.
Here is another part of that entry:
Last night Rebecca was in bed when she had to get out to go potty or something. She said to Lane, "Save my spot." Oh, survival of the fittest in a large family!
I remember bedtimes well, when Lane and I would hold our children's hands on the side of their beds after kneeling in prayer with them and tucking them in. It can be tricky getting that many children to bed, but it's even harder to get them to bed now! Now they have curfews, and we are the ones in bed when they come in to report that they are home!
The part of this entry that made us all laugh the most was the Family Home Evening (FHE) story:
Well, tonight we had a family night on contention….I made a chart with a lamb and a heart on one side and a wolf on the other. We listed things we've been doing (to contend) under the wolf, and ways we can show love under the lamb side. The idea was good, but the children were having a hard time being quiet or taking it seriously. I started to cry, and then the little girls all came over and smothered me in hugs, kisses, and Kleenex wiping. I shared how I hated the contention in my home when I was growing up and I really didn't want it in our home, and how we have to work together as a team to make it work….
After the prayer….we had dessert and an interesting teaching moment came up again. Julia had asked for a gumball before FHE instead of having ice cream after with the rest of us. Well, when we started scooping, she declared that she'd spit out her gum since she wanted ice cream. Nathan and Sarah shouted, "No fair!" and wanted no such allowance, unless they could be equally compensated. Lane & I said this was a chance for us to think about what we'd just discussed, and we'd let the whole family vote. (Julia, of course, voted yes.) We said we were voting just to show love with no compensation of fairness to anyone else. Nathan held his ground and said no. I couldn't help it, and started crying again. Julia ran upstairs sobbing. Sarah asked Lane if she could give Julia her ice cream cone, to which he consented, and she ran up after Julia. Lane talked to Nathan, but I didn't hear much since I went to put away the ice cream and went to the bathroom. In the bathroom I saw a page showing our Fall schedule and remembered how Nathan, without having earned TV today, watched it after school, without permission. I had an idea to talk to him about justice and mercy. I went back to Nathan who wanted to apologize, and who came to sit by me. I did have a little conversation with him then about how we all will have to pay for all our mistakes and sins unless we repent and forgive others. I asked him about this afternoon, and what would happen in the case of justice. He said he'd have to be punished (and immediately started suggesting lenient punishments). We talked about what we'd rather have–justice or mercy. He agreed on mercy. I told him I wanted to forgive him and let him have another chance to do right. I asked him what he thought he'd want if he were in Julia's position with the ice cream…
Lane said Nathan prayed tonight to be more merciful and kind and to serve a mission…. He is such a good boy. 
Oh, I wish I had time to find a photo from the archives of them at these ages! They were such an adorable tribe! Now they are all grown up and saving China. (One of our favorite quotes from Mulan.) Sarah is starting her "Super" Senior year and Nate is continuing his freshman year. This little ice cream story reminds me of the time when Nate took Julia to get ice cream at the grocery store–I think he learned that sharing ice cream is a good idea. Love that they are all such good friends.
It's an awesome time for the whole family. We are so proud of each of them.
---
---