Balderdash! John Newbery and the Boisterous Birth of Children's Books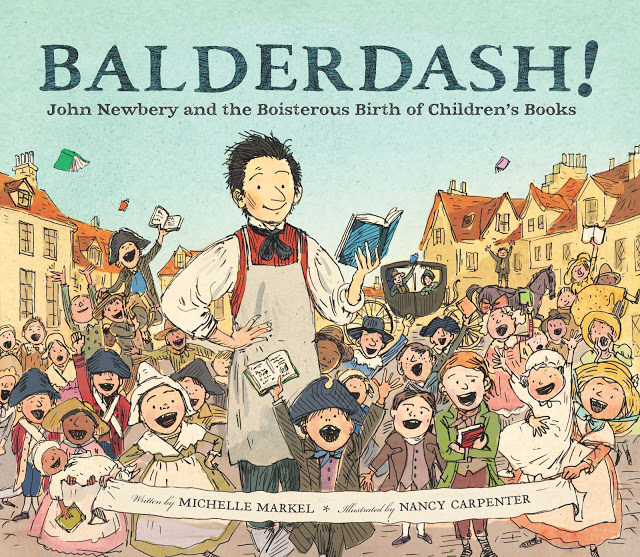 My favorite genre is biography, because I learn so much about how people become who they are! Simple as it sounds, it makes for a fascinating study.
I've noticed, in reading biographies, that–
you don't have to rich or surrounded by resources to become a person who makes a positive difference in people's lives;
people have just the resources they need (or are able to find or create them) and seem to be in just the right environment that helps them develop the qualities and talents they need to further their development, shaping them into who they are;
adversity works to help people who do good things in this world.
Lots to learn, even from a picture book biography!
John Newbery is an example of all three of these of these points. According to this delightful book (which I first found in Island Tales on Balboa Island)–
 John grew up on a farm and didn't want to become a farmer, so went to work for a printer.
Children's books weren't very plentiful or fun when he was printing books, so he started to write and print some. He moved to London to ply his trade.
He sold a toy along with his first book–ingenious! They sold like hotcakes.
You know what else? The phrase "good two-shoes" comes from a story he wrote!
This book is a keeper. Loved it! I didn't buy it that day (because I bought another book), but Lane was listening when I said I'd love this book for my birthday last month, and he ordered it for me.
He's also a keeper!
---
---