Bonus Elder Nate Update: FHE refreshments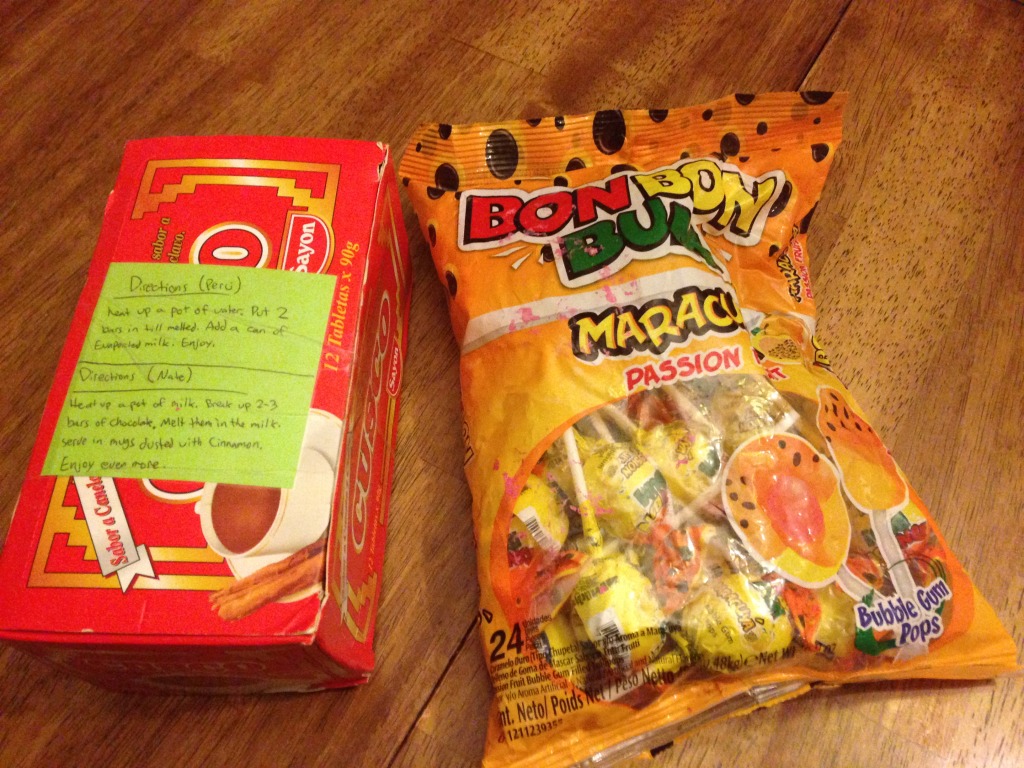 Friday I got an awesome text: Hi Liz. My name is [D. H.] I served in your son's mission in Peru. He sent me with a package to give to you guys. When would be a good time to drop it off at your house?
We were so excited! We told him to come over soon, and asked if he had time to answer some questions and tell us about the mission. He willingly obliged!
This kind young man had just gotten home 3 days before from his mission, and he had hand carried this package of hot chocolate and passionfruit lollipops, along with some FHE instructions and a letter from Elder Livi. I was so delighted! We spent over an hour asking him questions about the mission–about pensionistas, laundry, living conditions, weather, companions, the mission president, and anything else we could think of! He had been Elder Livi's zone leader and had enjoyed working with him. He was the missionary who, along with his companion, knocked on the door of the family that Elder Livi mentioned so joyfully in his last letter–his new pension that he sang about. This family was baptized over a year ago and were sealed in the temple this past December!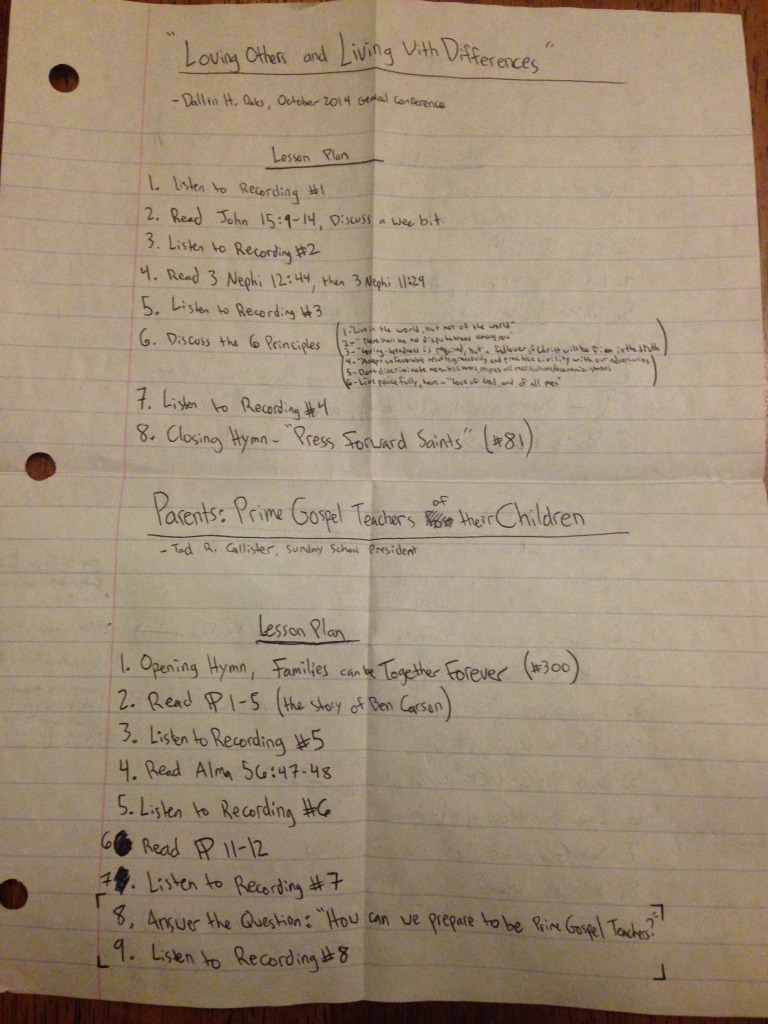 These are the FHE lesson plan notes that he sent for our family for his month. (He sent more than one, because he wanted to!) I can't wait to get the recordings that go with it! The package delivery couldn't have been timed better, since his lesson was supposed to be this coming Monday. We're so grateful to this kind friend who carried it all the way home and personally delivered it to us!! It will be SO fun to have our son and brother "here" with us for family night!
In the letter that Elder Livi sent along with the package, there was a letter to Eliza. I get to share some of that letter (with Eliza's permission):
"So yes, I have eggs, oil, butter, milk, flour, salt, sugar, baking powder and soda, all that stuff. What I lack is normal kitchen appliances and sepcial ingredients like ovens and microwaves and blenders and pumpkin and spices and stuff. Bulit I also lack time to cook. Plus there's no kitchen in my 'house.' (I don't have a house; I live in a little room big enough for bunk beds and two desks and a dresser.) Also, no one has fridges, and the water is unsanitary (non potable). You have to boil it. Or buy bottled water to use. I'm sure you can kinda get the feel for why we eat what we do (rice, potatoes, boiled chicken, eggs…more potatoes, rice) when you imagine the kitchen. Just a little propane stove, that's it. Half the time there isn't even a sink! Rough stuff.
"But it doesn't matter what the kitchen is like. (I've found ways to cook up some mean grub.) What really matters is Loving Others and Living with Differences (see Family Night talk). It's OK not to have real food for two years. There's something much more important that I'm doing than just cooking for people. I'm [teaching principles that will help change] people's lives. It's ok that [things are they way they are]; they are children of God who need the gospel, and I'm supposed to give it to them….So it all works out."
He also writes,
"So here's a funny story. My companion really wants to learn English so we set a goal to only speak English in the room (no Spanish). He really doesn't know anything (he's learning a lot), so he always says funny stuff….He asked me, 'Can I cook you for soup?' (If I wanted soup that day). He asked me, 'Can I boil the toilet?' (Toilet is 'inodoro' in Spanish, but here they sometimes say 'the water' instead. He got confused on the translation).
"We are having so much fun learning English! He just laughs the whole time. I do, too."
I just love hearing that he is having such a good time and that he is learning what really matters. And that he wanted to be a part of our FHEs this year!!!
---
---