Broccoli shrimp pesto linguine and beet salad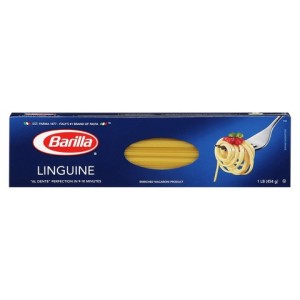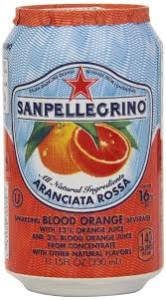 For Rebecca's birthday dinner earlier this week, we had an Italian dinner. She chose linguine with pesto sauce, shrimp and broccoli (well, actually, I made two kinds: white pasta with just pesto and shrimp and whole grain pasta with pesto, shrimp, and linguine.) She also wanted a beet salad her Grandpa M. had made for her when he came to visit and teach Eliza how to make ravioli. She also wanted bruschetta and some blood orange San Pellegrino to accompany it all.
The linguine dish was as easy as they come: Put some water on to boil. As the water for the pasta is cooking, prep the broccoli (rinse, cut the head into little florets, set aside) and have the shrimp (cooked, tail off, about 4 shrimp per person) ready. When the pasta is cooked, lift it from the pot without dumping out the water. Put the broccoli in to cook for a couple of minutes–only until it is barely al dente (tender crisp). Remove it without dumping the water and put it in with the pasta. Put the shrimp into the boiling water and cook only until heated through. NOW you can dump out the water! Add the shrimp to the bowl of pasta and broccoli, spoon in some pesto sauce, stir, and serve!
The beet salad recipe was delicious. We just took two large beets (raw, rinsed), peeled them, and sliced them into thin rounds. Then we sliced those rounds into Julienne strips. We rinsed some Italian parsley and trimmed the stems off, dicing just slightly so that mostly the leaves are whole. The lemon-orange-olive oil vinaigrette goes on and then you let the salad sit. That it, unless you are making it at the last second before dinner, like we did! If we had tasted this recently, we would have omitted the red onion, which proved to be too strong for our taste. We also passed around the goat cheese separately so that those who wanted it could put it on top of their salad. (Helpful for lactose-free folks.) I loved the crispy, fresh textures in this salad, not to mention the color!
Bruschetta is also super simple: take baguette rounds, brush them with olive oil, and toast. Flip them over after they have toasted, spread this mixture on top: chopped tomatoes/chopped fresh basil/garlic/salt/pepper/olive oil. Sprinkle with fresh Parmesan. Put them back under the broiler until the cheese is melty and golden. Yum!
Photos to come (in the millennium, or maybe after the New Year?)…
---
---