Chicken Fiesta (crock pot dinner for busy nights)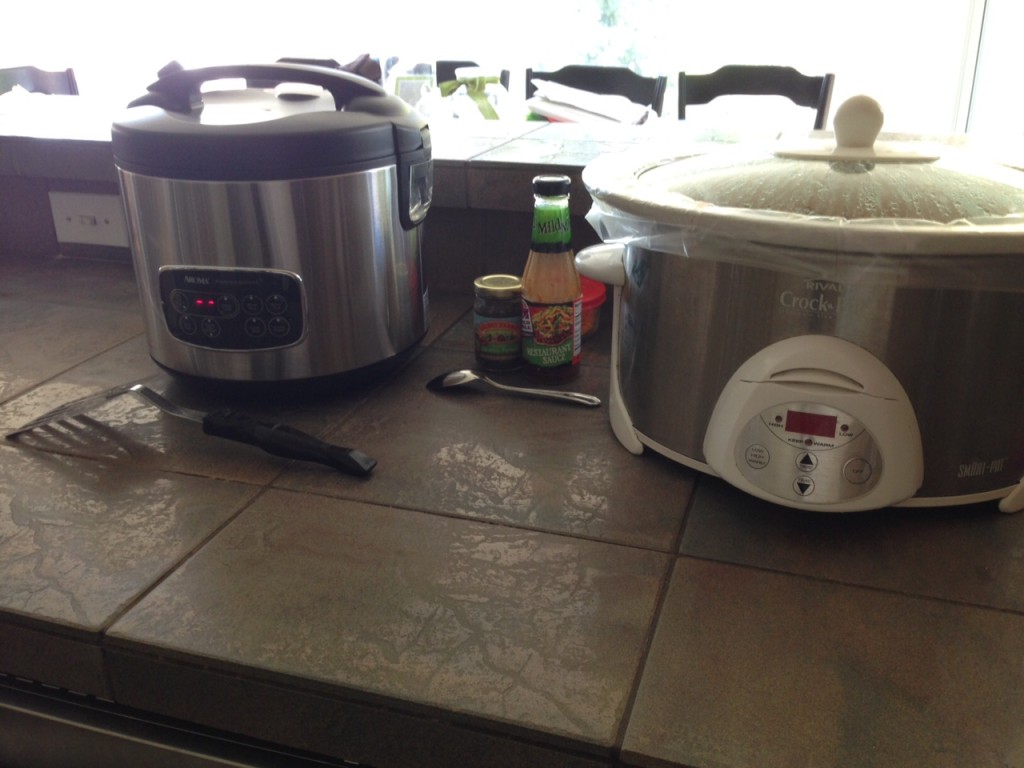 I tried something new today: I was making dinner ahead for a crazy night when I thought that perhaps I could steam the tortillas in the rice cooker so that they would be soft when we were coming in from a carpool to eat. And it worked!
I made Chicken Fiesta–a crock pot taco filling–and put it on "Keep Warm" at about noon. When I got back from taking a child to a doctor's appointment, it was 3:45 pm, and the taco filling was done! I decided to try the steamer setting of the rice cooker. I had rolled up the whole wheat tortillas and put them in the veggie steaming tray and then put the corn tortillas on top (my family likes both flour and corn tortillas). I put about 3/4 cup water in the rice pot. I turned the cooker onto "Steam" and in a few minutes the steam starting coming out and the 5 minute timer started counting down. After about 2 minutes, I checked on the tortillas: perfect! Soft, hot, and ready to eat!
We put some filling into the tortilla, added a little taco sauce and some lactose-free sour cream, and ate. They were GOOD!
It's kind of nice eating dinner in the late afternoon instead of snacks! I have more energy to finish out my day running children places, helping with homework, and doing dishes.
I'm excited about this rice cooker steamer thing, because this way on nights when we don't get to eat all together because of a crazy schedule, each person can still have a nice, warm, soft tortilla for their taco.
Here's the recipe for Chicken Fiesta:
1. Cut up some raw chicken (or you can use canned/pre-cooked shredded chicken) and put it in the crock pot.
2. Add a can of (drained/rinsed) black beans, a can of (drained) corn (or leftover corn cut off the cob), a can of diced tomatoes (not drained), one onion, diced (or about 1/4 cup of dried diced onions), one green bell pepper (diced), and any other vegetables you may want to toss into the mix. This is a great time to use some of those garden veggies: zucchini, peppers, tomatoes. Also, add some leftover brown rice (a cup) to increase volume and nutrition! (To spice up this recipe, you can add diced  jalapeño peppers or your favorite salsa.)
3. Add some Mexican seasoning: taco or Southwest seasoning or cumin, salt, pepper, and minced garlic (about a teaspoon).
4. Stir it all up. Add a little water (1/4 -1/2 cup) as needed for moisture. Cover and cook for a couple of hours on low. (If the chicken is already cooked, you only need to cook it long enough for all the ingredients to be heated through.
Serve with some fresh melon and you have a great, fast, healthy meal!
Here's another post with a photo of Chicken Fiesta.
---
---