Don't just think about it…ask, seek, and find!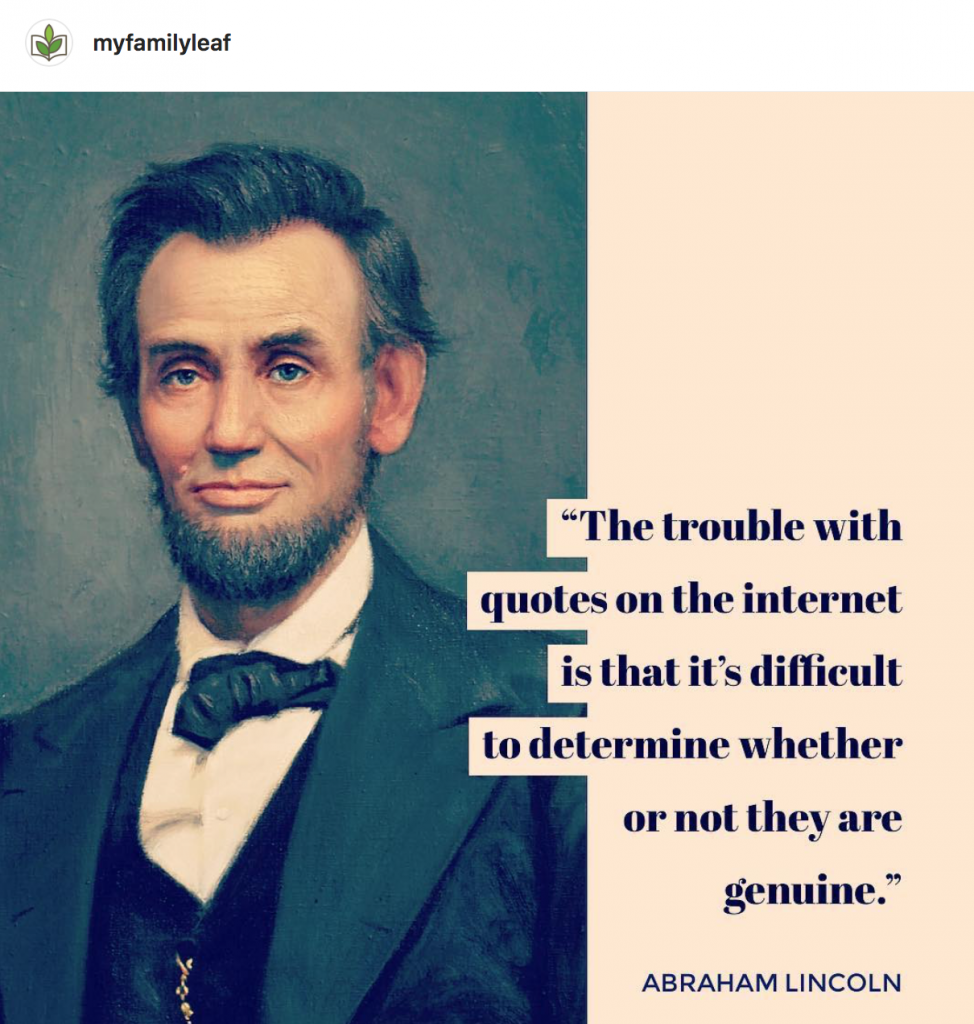 (Saw this ↑ today, after writing this post. Had to laugh after seeing quotes misquoted in memes before! Perfect for this topic!)
How do you know what is true (accurate) and what is false?
We live in a world with "fake news," social media, and articles printed and posted by people who have more of an opinion that knowledge on a topic.  Sometimes fact versus fiction feels harder than ever to determine.
Lane and I were talking about this a few nights ago after hearing some news on the radio. Reflecting on this topic, I've thought today on some things we hope we have taught or can continue to teach our children:
God is the source of ALL truth. This includes EVERY facet of life: all things physical, scientific, economic, interpersonal, political, medical.
God hasn't revealed everything to us as his children yet. He is allowing us to discover knowledge a piece at a time. This kind of knowledge is something we have to work to discover, and more than not, we are building upon the research and study of many who have gone before us. "And as all have not faith, seek ye diligently and teach one another words of wisdom; yea, seek ye out of the best books words of wisdom; seek learning, even by study and also by faith" (D&C 88:118). I think the scientific method–including the faith part–is described in the scriptures in Alma 32, and it is our job to work diligently to discover truth.
Science and religion are partners in discovering all the truth we yearn to learn. "Study and faith."
We need to determine what reliable sources of knowledge and research are. You can't just go to any blog or even any news article to find out truth or reliably researched knowledge. Older generations are great sources of wisdom and insight, for sure–particularly when they have been educated, active, faithful, Christlike, industrious people their whole lives. We have learned by sad experience that not every news article tells the truth and that erroneously-reported news can, in fact, hugely alter someone's life in terrible ways. We have also learned by experience that it can be easy to get carried away with scams, trends, and conspiracy theories. When presented by someone with something that sounds "fishy," we have tried to ask our children (and ourselves) the following:

Where did this idea come from? Is this logical? Does it follow sound reasoning? Is the source reliable?
Does it align with what the Standard Works (scriptures) and living prophets have taught?
What does the reliable scientific and medical community (such as major universities) have to say?
What do good, trustworthy, educated people think about this?
Have you researched "both sides" of the story?
Does it "sit right" in your mind and heart? If yes, why? If no, why?
Don't be afraid to stand up for truth, regardless of whether or not it is popular.

James 1:5-6 teaches us, "If any of you lack wisdom, let him ask of God, that giveth to all

men

liberally, and upbraideth not; and it shall be given him./But let him ask in faith, nothing wavering. For he that wavereth is like a wave of the sea driven with the wind and tossed." We have taught our children to study, work, search and pray. We hope that they will be careful not to act impulsively on poor information sources and the limited intellectual trends of their generation.
We try to keep a scholarly or reputable (not "slick") magazine or two in circulation in our home. We encourage our children to read nonfiction as well as fiction. Most of the conversations we've had with our children about this topic have been during family scripture study, around the dinner table when discussing the day's events or during Family Home Evening (FHE). That's one of the reasons why family scripture study, FHE, and eating dinner together are so important: it's when a lot of important conversations take place!
Loved finding this video today. Oh, the things you can do when you're home with the flu…
Other quotes that are great:
"Draw near unto me and I will draw near unto you; seek me diligently and ye shall find me; ask, and ye shall receive; knock, and it shall be opened unto you." (D&C 88:63)
"Sometimes, the truth may just seem too straightforward, too plain, and too simple for us to fully appreciate its great value. So we set aside what we have experienced and know to be true in pursuit of more mysterious or complicated information. Hopefully we will learn that when we chase after shadows, we are pursuing matters that have little substance and value." (President Dieter F. Uchtdorf, "It Works Wonderfully!" October 2015)
"An official Church statement, issued one year ago, states: 'We urge Church members to be cautious about participating in any group that promises—in exchange for money—miraculous healings or that claims to have special methods for accessing healing power outside of properly ordained priesthood holders.'11
"The Church Handbook counsels: 'Members should not use medical or health practices that are ethically or legally questionable. Local leaders should advise members who have health problems to consult with competent professional practitioners who are licensed in the countries where they practice.'" (Elder M. Russell Ballard, "The Trek Continues!" October 2017)
"For there are many yet on the earth among all sects, parties, and denominations, who are blinded by the subtle craftiness of men, whereby they lie in wait to deceive, and who are only kept from the truth because they know not where to find it—
"Therefore, that we should waste and wear out our lives in bringing to light all the hidden things of darkness, wherein we know them; and they are truly manifest from heaven—
"These should then be attended to with great earnestness." (D&C 123:12-14)
"You belong to a church that teaches the importance of education. You have a mandate from the Lord to educate your minds and your hearts and your hands. The Lord has said, 'Teach ye diligently … of things both in heaven and in the earth, and under the earth; things which have been, things which are, things which must shortly come to pass; things which are at home, things which are abroad; the wars and the perplexities of the nations, and the judgments which are on the land; and a knowledge also of countries and of kingdoms—that ye may be prepared in all things' (D&C 88:78–80).4
"…Get all of the education that you can." (President Gordon B. Hinckley, Chapter 17: Continue in the Great Process of Learning," Teachings of  Presidents of the Church: Gordon B. Hinckley)
---
---