Elder Livi update: Halloween Preparation Day

I love that Elder Livingston writes his own updates these days! I still need to catch up and post all the ones I have missed. Here is the one we received today. (Because he works in the office, and their schedule depends upon how they are needed to serve that day, he will sometimes send his weekly email on a day different from his P-day.)
Hey!
Well, hope y'all had a great Halloween, I definitely did. Actually,
this whole week was just great! And we took a LOT of pictures.
To start, we went to Pozuzo to get a birth certificate so that someone
could get married and baptized. Here in our mission, we have lots
of…space. Lots of areas that people don't go to, lots of little
tiny towns where there are no missionaries, and barely even roads to
get there. Pozuzo is a small town in the jungle famous for being
settled by German refugees back in the day. Legend tells of a colony
of all white people who live an idyllic life in the middle of the
jungle. Missionaries aren't allowed to go there, because the long
drive is dangerous, and it's super far away from other areas, and not
accessible easily. But the Lord needs valiant servants, and someone
wanted to keep the commandments, so we were permitted. It was
basically the coolest trip ever!! We went with the expectations of
seeing German people and having Elder White translate (he took high
school German), but there were 4 Caucasian people, (Elder W., Elder G.,
me, and some lady we saw who still only spoke Spanish) and there was
maybe one sign in German. Tourism had taken over. except that the only
tourists were Peruvians, so they all wanted to take pictures of us….
Anyways, we had some great moments on the trip, including getting a
flat tire (and an oil leak) on the way back. I couldn't wait to change
the tire and stuff. I just love that. But it was a lot of traveling,
hence the yawn pic. Other pictures to follow.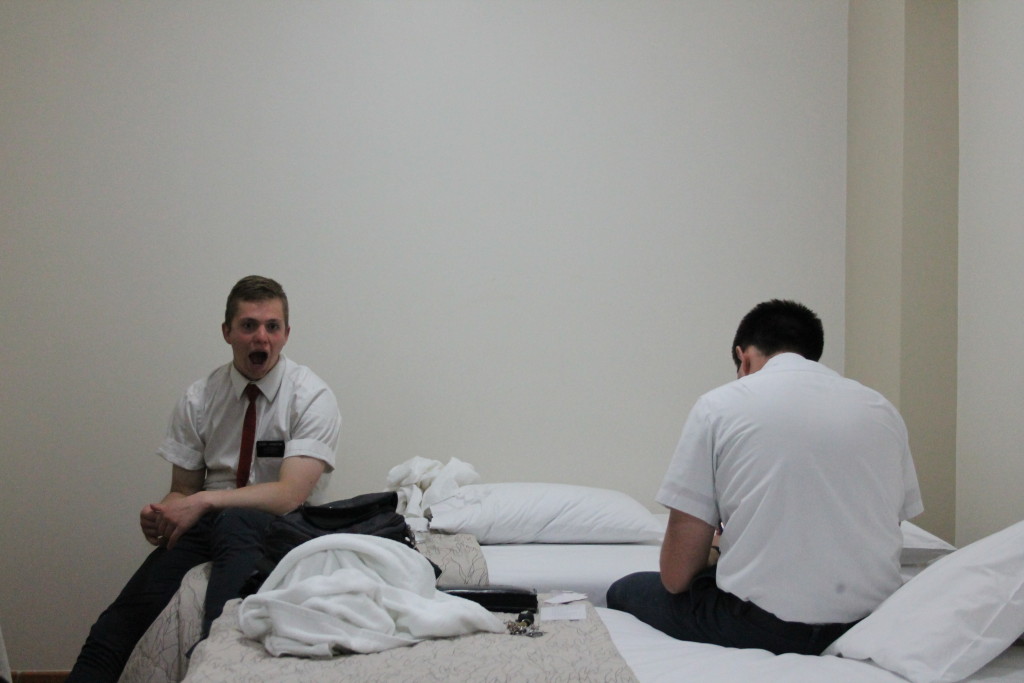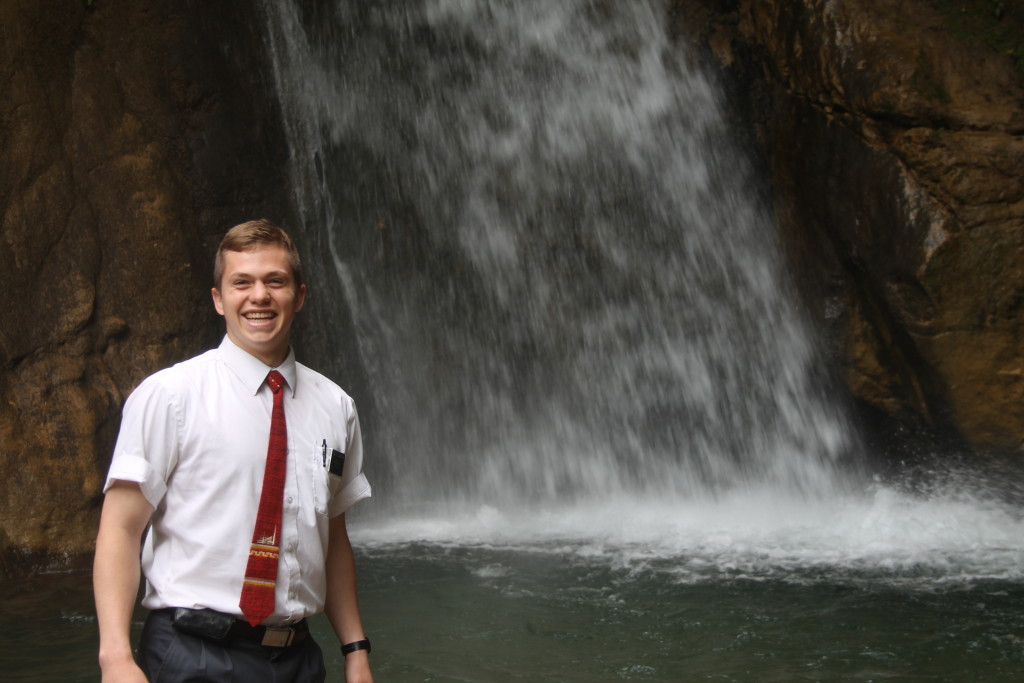 Beyond the selva, we had a great P-Day/Halloween! Plaza Vea sold a few
small pumpkins, so we bought a couple and carved them! Mine is the one
with the mission logo. Then we had a BBQ at our house because we
discovered that under a bunch of garbage and soot there was a grill!
It was so good.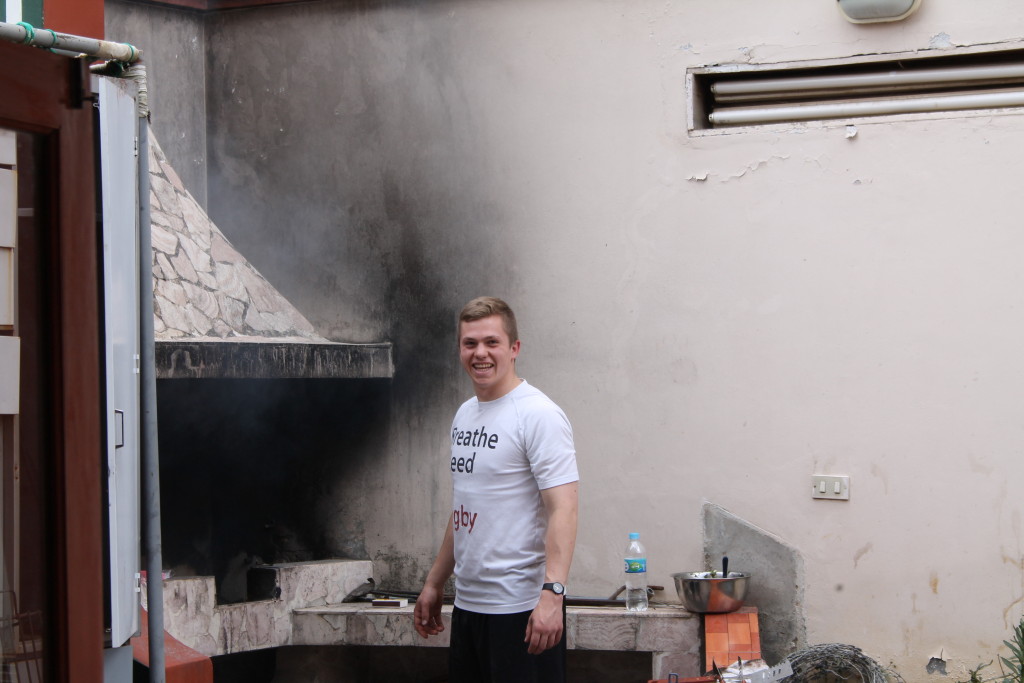 Anyways, it's too bad the Church didn't put out any new videos this
week. BUT there is one video that I love, and although is a little
old, it never gets old for me. Its called On The Way Home, and it's my
favorite church movie. We watched it this week, and man, you can feel
the Spirit so powerfully. In the few lessons taught over the past
couple weeks, we've had the privilege of sharing the message of the
Plan of Salvation and The Family with many. How wonderful is His plan
for us. Life is tough, people aren't perfect, trials are often many
and blessings seem few and far between. But God has a plan for each of
us, and if we follow His commandments, we will be blessed, and we will
inherit eternal life, which is the greatest of all the gifts of God.
"Happiness in family life is most likely to be achieved when founded
upon the teaching of the Lord Jesus Christ." We can be happy, in this
life and the next, if we live the principles of the Gospel as a
family, and strive to do what's right. It may not be easy, but it IS
right. And that's what the movie is all about. Watch it if you get the
chance.
I love y'all. Thank you for your support and love. Hope to hear from you soon!
Elder Livi also wrote an email to me. I had been able to send him a tiny loaf of pulla, or Finnish sweet bread, a few weeks earlier via a woman who was sending packages via plane the next day, so it made it to him in about 4 days. It was a little miracle and tendermercy. I asked him if it was any good by the time it got there. He replied, "So the pulla was cash!! I loved it. There was so little. And really there is almost no good bread here, so it was nice to eat."  I'm so happy that he will be home in LESS THAN FOUR MONTHS! You can bet we will be making a great big loaf of pulla upon is return!
Go here to read previous posts about Elder Livi's mission. If I can today, I will try to post more of his letters from the last two months. I have really gotten behind!
---
---