Elder Livi update: The Skype call and Christmas in May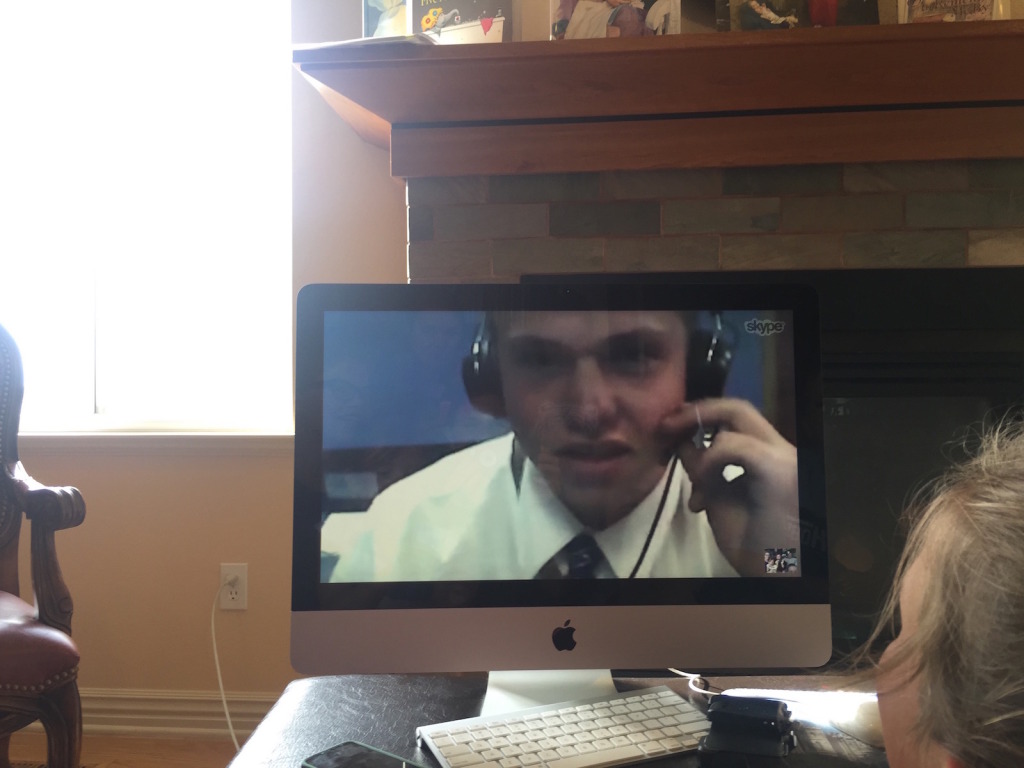 We got to Skype with Elder Livi the day after Mother's Day (a week ago). It was AWESOME! I thought it would be easy and fun, like Christmas Day, but this time we had a lot of fun until the end, when none of us wanted the call to end. And then Elder Livi said something to each family member, so that by the time he got to me, I couldn't talk, and by the time he got to Lane, Nate couldn't talk. So we were all melted into tears. But it was great. We love that boy so much! He's doing well. A little sick (hacking away from a cough during the call), but doing well.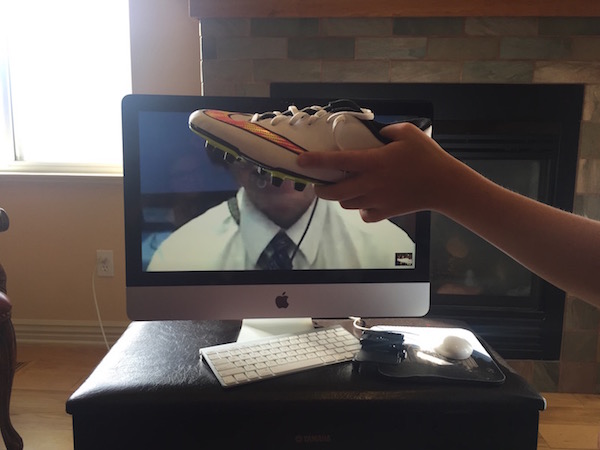 It was so fun to share with Nate because he wanted updates on every one. He wanted to see Peter's new cleats. He was telling me something nice and then in the middle of his serious story telling, he asked, "Mom, what's that on your wrist?" He cracks me up. He is still so funny. I love his sense of humor! Keeps us all laughing. I think the thing he was most excited to share was the news of one of his friends who is preparing to serve a mission. That made us all feel like celebrating. Almost all of his best friends are serving now! He has been blessed with the best friends.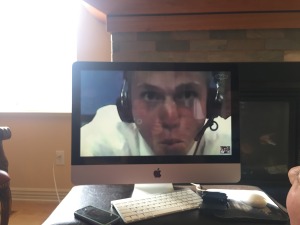 And the news for this week, as transcribed from his voice recording: "Quick run down of the week:" "The week wasn't that eventful." They had a multi-zone conference, which was both good and hard. It was good because he loved seeing and hearing from his mission president and wife. "Amazing, excellent words from President and Hermana Henderson….President Henderson just talked about being obedient. He just always talks about obedience, but you know what? I'm fine with that, because it's needed in the mission, and I just love hearing about it. I try so hard to be obedient." "I always feel the Spirit so much when I listen to Hermana Henderson talk. She always just gives the best talks ever. I just love them….Wonderful stories, full of the Spirit." "They talked about studying Spanish better. I've never studied Spanish my whole mission. I have, but mostly I just…helped my companion study English [they are encouraged to do this]…Just like simple vocabulary. I tried to learn what the perfect subjunctive tense, and stuff like that….I tried to remember what the Gettysburg Address is. I can't. I can't remember anything." [Note: Peter learned it this year, and Nate learned it in fifth grade, too, and usually can remember it, but he's forgetting a lot of English right now while he's using Spanish all the time.] "I really feel the Spirit when I think about [the Gettysburg Address]. I really think about the words, and I just think that really, that's God: God-inspired words."
He also enjoyed getting to see an elder who was a good friend in his first area, who wasn't his companion. "I had a really hard training," he explains. "But Elder I….was there, and he was probably just like one of my best friends…and just helped me a lot." Elder Livi's first area was a challenge for him as a new missionary adjusting to mission life (new culture, new language, new food, companion, etc.). This elder was kind to help and buoyed him up.
He said that going to the conference was hard because he wanted to be in his area teaching! "Time is precious as a missionary, 'cause, you know, it's the difference between another lesson with another investigator who really needs help or not." He was sad that his investigator who committed to baptism didn't keep his commitment.  "Why do people do that?" he asked out loud. "He prayed really hard to get a job, and he got a job, and he recognized it, and he knows it's from God, and all this other stuff,…and then [he just said], 'I can't do it.'" He felt frustrated. "If you know the gospel's true," he pled, "act if you really have a testimony!" Big sigh.
He also said that he doesn't love P-day because they don't have a car to wash or clothes to launder or meals to clean up from, because in their mission they ride in taxis and have people who wash their clothes and prepare their meals. So he feels like it's not the best use of their time just hanging out. "We did clean hard core our room this week, so it looks really good."
He praised the missionaries in his apartment: his companion and the other two elders who work hard, are obedient, and have fun. He really enjoys working with those missionaries!
They had a satellite broadcast from the Area Presidency (?) that was really good, but his head really hurt from being sick, and he fell asleep during part of it. "I was trying to listen, but I just kept falling asleep."
He hoped his siblings and cousins would write him a little now and again. He offers to help however he can. "I want you all to know the gospel is true. I hope you can, at least for me, try a little bit harder in callings and assignments in church. If you want to have a more happy life, serve more. If you want to experience more joy, help others experience more joy. Key to having a happy life is having a life full of service and hard work. There's no better example of that than Dad….Keep doing what's right, 'cause it's always right….Just because you're not doing the wrong doesn't mean you're doing the right. Be sure you not only don't say mean things but you also say nice things. Just things like that….Hope everything is going well for you all. Have a great week!"
AND he broke his glasses again. LOL. He wrote in a short email: "Also…… I feel really bad, but I broke two things this week. The first, I was walking in the door (terrible door, super hazardous) and my sweater caught on it (it's also Peruvian sized AKA small) and ripped pretty bad in the back. Dang it. I could still wear it, but it has a solid hole in it. I also took out my contacts in the night, and as I was looking for my glasses I think I knocked them off the bed….. and accidentally stepped on them and broke them. I can probably still use the lenses (not broken) but the frame is broken… I'm so sorry, Mom. I didn't mean to, I feel really bad for always breaking stuff. I'm so sorry, Mom."
AND it snowed! He was so excited! "It snowed all night!…Here, it's an inch of stuff that's turning to slush…Super, super fun. Everything's a party! I just love the snow so much. It's just cold…just great." He said it made him feel so happy! "We've been having a little Christmas right now, just 'cause of the snow….We were doing our P90X, and we had the door open…We drank hot chocolate for breakfast. We were putting on some Christmas music….I really wanted to cook myself up some scrambled eggs and biscuits….Also, could you send me the chocolate chip recipe—it has to be Sarah's/Jenny's cookie recipe." He also told about how much he enjoyed the ingredients that I mailed to him to make a pie (meant for Christmas, but it arrived in January). "It's always so fun when you send me stuff to cook, Mom….Like the pumpkin pie, literally, that pumpkin can was the best thing I ever got from you. Not gonna lie, to have the pumpkin, that's something you can never buy here. And as I'm about to get hit by a snowball, I probably should stop the recording so I can join the fight."
Christmas in May. "Good stuff all around."
For more posts about Nate's mission, go here.
---
---