It's Fast Sunday today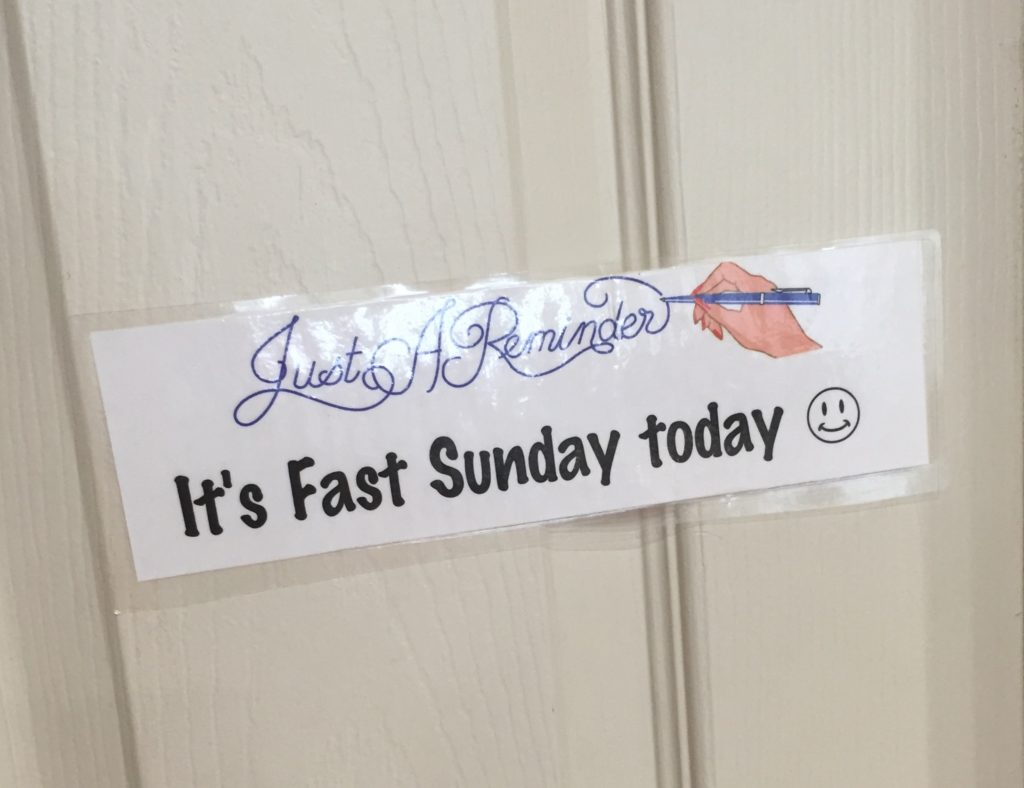 It's Fast Sunday for us today. I hung this little reminder last night, like I have done almost every month for years. I put it up on Saturday night or early Sunday morning to help our family remember to not eat (or drink) when they get up and come to the kitchen.
What is Fast Sunday?
Fast Sunday is the first Sunday of the month when we don't eat or drink anything for 2 meals or 24 hours. (Today isn't the first Sunday, but it was changed in our stake for this month.) Typically, we skip breakfast and lunch. We pray and study scriptures and focus on spiritual needs. We try to fast and pray with a purpose: fasting praying for a sick neighbor or family member, to gain the spiritual strength we need to face a certain temptation or addiction, to give thanks for so many blessings. We invite our children 8 years and older to fast, but those who are younger or pregnant women or those with special health needs are advised not to fast. No one is forced to fast!
I forgot
Last month I forgot Fast Sunday. I think it might have been the first time I have forgotten for as long as I can remember. Surely there have been other times, but it's just one of those habits that we have established. So when my oldest daughter came over on Sunday and asked why we were eating instead of fasting, my jaw dropped.
It's pretty normal to forget, especially when you are growing up. Even with me mentioning it to our family or signs going up, children forget. Just life.
It's a gift
I can't say how grateful I am for the habit and blessing of fasting. I believe fasting has helps me stay closer to my Heavenly Father, has helped me find answers to questions, concerns, and problems, has helped me be healthier, and has helped me maintain my weight.
I love this verse that I read this morning that tells about some of the blessings of fasting: "Nevertheless they did fast and pray oft, and did wax stronger and stronger in their humility, and firmer and firmer in the faith of Christ, unto the filling their souls with joy and consolation, yea, even to the purifying and the sanctification of their hearts, which sanctification cometh because of their yielding their hearts unto God" (Helaman 3:35). 
Testimony meeting at home today
We have some very slippery conditions outside today, so our stake president canceled all meetings today to help keep the members safe. Usually on Fast Sunday, we have a "fast and testimony" meeting during sacrament meeting in which any member who feels so inspired can go to the podium and share their testimony with the congregation, from 8-year-old children to the elderly. Today we will have that meeting at home. I'm excited! It will be a great opportunity to strengthen our faith and feel the Spirit at home.
I love that!
Happy Fast Sunday!
---
---