Feeling that downward cycle…and working to change directions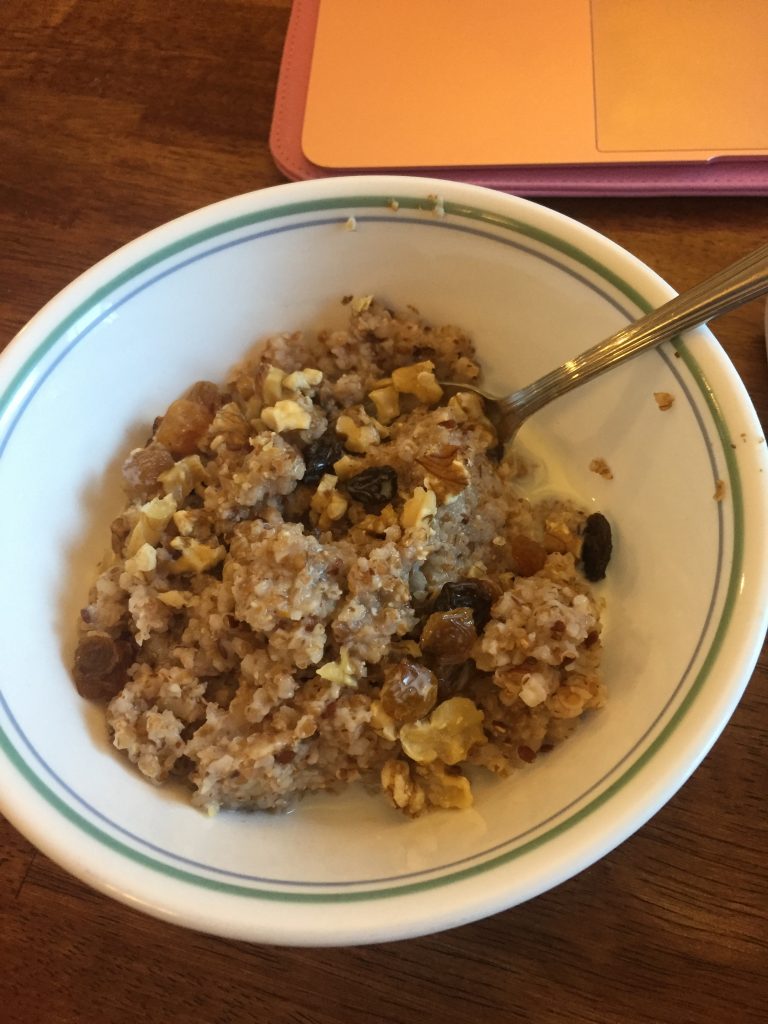 Sometime the pull of oncoming depression seems to understandably appear: it is connected to hormonal cycles, when I feel exhausted and negative no matter how well I've been sleeping or eating or exercising. Other times it comes  after a long string of days with hardly any routine to them. Or there are times when it seems to be related to too many nights that were late and not well-slept and not enough exercise on the following days.
But some days it seems to be just there. I wake up, feeling like I wish I could just keep sleeping and sleeping and sleeping and not have to do what I do everyday.
Acting on the Spirit's suggestion
Today I woke up feeling happy and got out of bed tired but grateful. After my prayers, I went to family scripture study, we had a nice study, but I could feel the pull of that downward depressive feeling that I had been feeling for a couple of days, and I knew that if I stayed to do my personal scripture study, I might not make it back up again for a while.
So I I decided to act on the thought I had recently to make breakfast for my family–to simplify breakfast–to set a routine that would make it simple. I made hot cereal. And I went to work cleaning up from yesterday's birthday celebrations. As my body went through the motions of preparing and cleaning up, my brain worked on ideas for the day. I noticed my body felt OK. I made progress, felt hopeful, and felt more in control emotionally.
I especially felt happy being able to feed my family a healthy breakfast. I worked to keep my thoughts positive as I worked.
It is work
And it is work. (Overcoming negative thoughts can feel SO very hard. Writing about it and then reading it after makes it sound so easy. But it is not. It is simple, but simple doesn't equate easy. Sometimes it is the hardest battle of that day.)
A good start to the day (simplify a healthy breakfast)
Now I am eating my breakfast as I sit down to write and study. I feel it's important to document my experience, as a sort of scientific approach, as it were, to my life experience. I want to share my trial and error. I want to share how I cope with this challenge, and how God helps me. I felt like the idea to simplify breakfast and to get back to preparing breakfast for my family was an inspired thought, and so I wanted to exercise my faith in acting upon it.
My hypothesis is that the line from the song, "Choose the Right Way" actually describes the way we can change the direction of downward cycles: "Choose the right way, and be happy." Here's what I mean by that:
My hypothesis: Choose the Right Way
I think that when we recognize that our thoughts are taking a downward turn, we have a choice we can make to change the direction of those thoughts. I think we can choose to think other thoughts: any thoughts about ourselves and others, about the present and the future, that are gentle, positive, loving, kind, invigorating, cheerful, grateful, hopeful, and full of faith.
As I work to yield to the Spirit encouraging me to choose uplifting thoughts, my mood will change, and I can feel better physically, mentally, emotionally and spiritually.
Recognizing what I am thinking is the first step. This is made easier when my body, mind and heart feel the weight of a downward pull: it's a warning flag.
By changing my thoughts
Then I have to act to change my thoughts. And I need to act on the inspiration that comes, as small or simple as it might be.
This has an effect on my mind-body-spirit that is tangible. I find that I don't have to stay in that downward pull. I can change direction and have my thoughts turn back upward, or "right." Mentally, I envision my "upward" positive thoughts forming the neuropathways I need to overcome the pull of depression that my old negative through pathways or perhaps genetically-predisposed pathways have forged previously. Someday, I hope that these pathways become so "well-worn" or established in my brain that someday it will be impossible for my mind to get depressed!
Put off the natural man by yielding to a better choice
Lane shared Mosiah 3:19 on Sunday at family scripture study:
For the natural man is an enemy to God, and has been from the fall of Adam, and will be, forever and ever, unless he yields to the enticings of the Holy Spirit, and putteth off the natural man and becometh a saint through the atonement of Christ the Lord, and becometh as a child, submissive, meek, humble, patient, full of love, willing to submit to all things which the Lord seeth fit to inflict upon him, even as a child doth submit to his father.
This reminded me of that space between choice and action: before we do something, we make a choice, no matter how fast we make that choice. So if we want to become someone different than we are, we have to make new or better choices. When the Spirit prompts (i.e. encourages or suggests) a better choice, we can yield to that good thought and act. Elder Bednar explains it this way:
In the grand division of all of God's creations, there are things to act and things to be acted upon (see 2 Nephi 2:13–14). As sons and daughters of our Heavenly Father, we have been blessed with the gift of moral agency, the capacity for independent action and choice. Endowed with agency, you and I are agents, and we primarily are to act and not just be acted upon. To believe that someone or something can make us feel offended, angry, hurt, or bitter diminishes our moral agency and transforms us into objects to be acted upon. As agents, however, you and I have the power to act and to choose how we will respond to an offensive or hurtful situation. ("And Nothing Shall Offend Them")
Ways and neuropathways
And the past few days I have thought of Proverbs 3:5-6:
Trust in the LORD with all thine heart; and lean not unto thine own understanding.
In all thy ways acknowledge him, and he shall direct thy paths.
I like to think that "ways" includes neuropathways.
Time for me to go. More later!
---
---