Date dances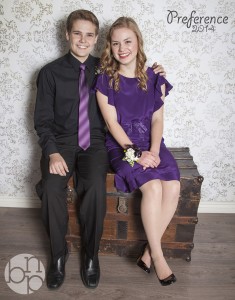 I think Mormon-style date dances can be the BEST, because my children have had such a fun time dating–which is exactly what a date should be!
Of course, there's always the stress of how to ask (has to be something creative!) and then the waiting…and waiting…for the answer (which has to be creative!). But once that's over (PHEW!), they have something fun to look forward to.
They always have a "day date" in which they can do something casual and active, such as "Skiddle Bowling," which apparently means that you pick a Skiddle out of a bowl, and the color indicates some special way you have to bowl.
Then they have the dinner, which means we get to host sometimes. Since this was a girls' choice dance, the girls made the dinner: fettucine alfredo, green salad, homemade parmesan bread sticks, apple juice. They did a great job!
Then there's the giggly meet-the-parents moment and the awkward/funny pinning on of boutonnieres (guys have it MUCH easier with the wrist corsages!)
And of course there has to be some entertainment.
Anna stepped up to the challenge.
She said she'd sing along with "Do You Want to Build a Snowman?" from Frozen, if she could do it from the kitchen ("anonymously") and if she could hold my hand.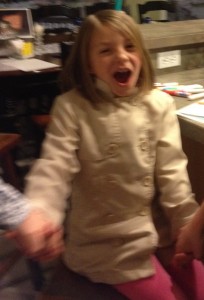 Done.
P.S. The beautiful dress Julia is wearing was first Sarah's. When we were looking for a dress for a date dance for Sarah, we found this lovely dress that was just a little too short. It did have a sash made of the same fabric. I think  we added the sash to the bottom of the dress to make it long enough and bought some satin ribbon for a sash in its place. Thank goodness for tendermercies and for recycling nice dresses through daughters. Grateful Sarah was willing to lend her dress to Julia!
---
---