Happy Birthday!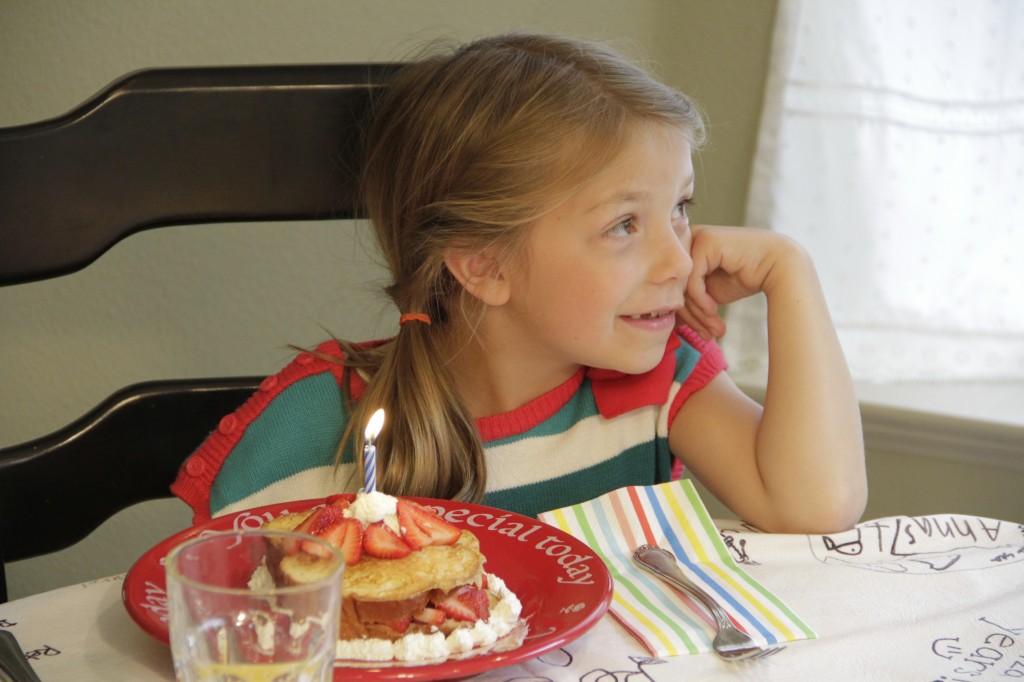 (Anna contemplating her birthday wish when she turned 8.)
Birthdays are a big deal at our home. Each child is such a gift to our family, and we want them to feel it not only by the way we treat them every day, but also by how we honor them on the day we celebrate their birth.
We begin with a birthday breakfast of their choosing. We have a special red plate that says, "You are special today" around the rim, and we put a candle in their breakfast. We sing our special birthday song as we bring the dish to the table, and then we begin the celebration. The birthday child signs their name and writes their age on our homemade vinyl birthday tablecloth. We made it years ago, and it is SO fun to see how the handwriting changes over the years.
We like to take the child to have lunch with Mom or Dad on their birthday, if possible. For dinner, we prepare a meal of their choice with dessert. Again it is served on the "You Are Special Today" red plate, but with a fancy setting with nice dishes and placemats. During or at the end of the dinner, we say "TLs," or "tender loves"–a tradition we got from the Bennions. A "TL" is something you say that you love about the birthday person. Mom writes them down in a family journal as we say them.
We either give gifts at breakfast or at dinner. Gifts are given in fabric bags that I sewed years ago to make birthday prep easier on myself. (One less thing to do; gifts are wrapped in a second.) I got the idea while watching a birthday party at my brother-in-law's home, in which they used pillowcases to wrap their gifts.
We have a saying that someone else who is holding a gift over the birthday person's head recites:
Heavy, heavy hangover thy poor head/What do you wish with a bonk on the head?
And then the person holding the gift gently (yeah, right!) bonks them on their head with the gift. The birthday person then wishes the giver a special wish.
There are some special gifts we give at certain ages:
Birth: a savings account  (to begin saving for their college, mission, marriage), personal history box, special baby blanket, a singing telegram in the hospital room (Tom Chapin's "Happy Birthday" sung by our family)
8: A set of paperback scriptures and a scripture bag (to go along with being baptized and marking the beginning of beginning to study on their own when they choose)
12: A set of nice leather-bound scriptures and a temple cosmetic bag (for their recommend, hairbrush, chapstick, etc.), for going to do baptisms at the temple
13:  A little make-up, for girls (mascara, lip gloss, blush)
14: A simple ring for the girls and ears pierced, if they want. My dad gave me a special ring when I was 14, and I wanted to carry on that tradition
16: A key to the car (although they can't drive without asking!) and a key chain (depending on the child)
18: A passport
We also don't have a friend party every year, because it gets to be too much for me to do! We try to rotate, so some of the children have parties one year and the others have it the next. We also try not to have friend parties on the year of their 8th birthday. Anna squeezed in on that one. Last child privileges?
After gifts, wishes, TLs, and wonderful meals, we all feel like we have really celebrated and clean up!
Happy Celebrating,
Liz 🙂

Happy Birthday, Happy Birthday, we love you!
Happy Birthday, and may all your dreams come true!
When you blow out the candles, one light stays aglow–
It's the lovelight in your eyes, where'er you go. (From Tom Chapin's album "Moonboat")
---
---