FF: The Book Thief stole our hearts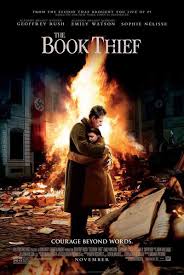 WRITE.
Sometimes you watch a movie or read a book or hear some music that speaks to you so much that you have to write about it.
At least I do.
This is the story of a young girl, bereft of her natural family, who is abruptly adopted by a childless couple in Hitler's Germany. She comes not knowing how to read, but that changes, and she falls in love with words.
The words and the people who love her change her life. And she changes theirs.
It's a wonderful movie, one that made us weep together tonight as we watched it way past our bedtimes. We were "going to watch just a little bit." (My famous last words.)
You know, if you've ever had a little tragedy in your life, perhaps especially as a child, then you know how precious family and hearts softening can be. And when you see it portrayed in film–kindness, sacrifice, goodness, family, friendship, fidelity–it simply resonates with you. And you know the world is a better place because of movies like this.
My mom said I would love it. She said the prose was lovely. She was right.
(Peter said it was his favorite movie now. I add it to my list of favorites, too.)
I want to write like that someday: to tell stories in a way that sing upon the ear, that stir a heart to understand or inspire a mind to think loftier thoughts or lift eyes upward. Someday I might write like that.
Until then, I'll keep blogging.
I hope you love it when you watch it.
Happy Softening,
Liz 🙂
P.S. I don't typically recommend a PG-13 movie. I suppose the ratings are for the WWII stuff, which is always heavy. I wouldn't watch it with young children. Perhaps you'll want to watch it before to know if it's right for your children.
---
---