FF: The Giver (movie)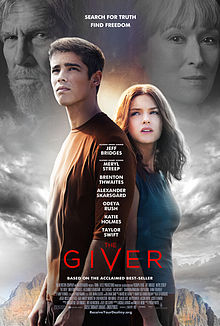 Sarah and one of my children's teachers recommended this movie to me, so for a date night recently, I asked Lane if he wanted to go see it. (I don't often ask to go to a movie in the theaters, so I think he was a little surprised.) He asked me if I had seen the trailer. I hadn't, so I got online and watched.
Ugh. After watching the trailer, I wasn't super excited to go.
But I kept thinking about those recommendations, and I went with my gut feel.
We loved it. (Phew!)
There are so many timely messages from this movie. One: Do we consider how important agency is in our everyday lives and in the way our communities and country are run? What are we doing to protect free exercise of moral agency, life and liberty?
Two: How important is history? How are we doing at passing on the lessons learned from the past?
This week I re-read The Giver, and I really enjoyed it. The movie is surprisingly close to the book. I recommend the book for teen readers and older. There are a few places with topics that are good points for discussion with parents, and I'm looking forward to having that discussion with my children who read the book at our family book club soon! I also wouldn't recommend the movie for anyone younger than teens.*

Watching and re-reading The Giver reminded me that there is so MUCH I take for granted every day! Color, for example! Can you imagine not being able to have color in our lives?
I appreciate Lois Lowry and Jeff Bridges getting this book into film. Definitely worth seeing, in my opinion.
Happy Watching (and Reading),
Liz 🙂
*When we watched this later at home with our children, we didn't let them watch the violent war scene or the baby releasing scene part.
P.S. Here's a quote from the book that I wanted to remember: "[Jonas] lay on the bed, aching. 'Why do you and I have to hold these memories?'
" 'It gives us wisdom,' The Giver replied." (p.111)
"Jonas did not want to go back. He didn't want the memories, didn't want the honor, didn't want the wisdom, didn't want the pain. He wanted his childhood again, his scraped knees and ball games. He sat in his dwelling alone, watching through the window, seeing children at play, citizens bicycling home from uneventful days at work, ordinary lives free of anguish because he had been selected, as others before him had, to bear their burden.
"But the choice was not his. He returned each day to the Annex room.
"The Giver was gentle with him for many days following the terrible shared memory of war.
" 'There are so many good memories,' The Giver reminded Jonas. And it was true. By now Jonas had experienced countless bits of happiness, things he had never known before.
"He had seen a birthday party, with one child singled out and celebrated on his day, so that now he understood the joy of being an individual, special and unique and proud.
" He had visited museums and seen paintings filled with all the colors he could now recognize and name.
"In one ecstatic memory he had ridden a gleaming brown horse across a field…
"He had walked through woods, and sat at night beside a campfire. Although he had through the memories learned about the pain of loss and loneliness, now he gained, too, an understanding of solitude and its joy." (pp.121-122)
" 'But he lied to me!' Jonas wept….'What about you? Do you lie to me, too?' Jonas almost spat the question at The Giver.
" 'I am empowered to lie. But I have never lied to you.' " (p.153)
---
---