FF: You've got to give a little more than you take
This morning Anna and I were chatting over toast and cereal when she was telling me how last night at the Wax Museum (that Peter was in), someone was serving little bites of cinnamon bread as part of their presentation on the person who started the bakery Kneaders. "She said to take as many as you wanted," Anna continued, "but I only took one."
I was really proud of her because I have been trying to teach my children to limit themselves when they are somewhere were food is being served. If someone says to take as many as you like, that doesn't mean you should, I told them. I was thrilled that Anna remembered that! VICTORY MOMENT!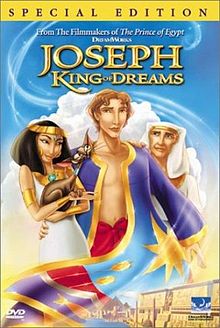 It reminded me of a song I love from the movie "Joseph, King of Dreams" that we have enjoyed for so many years. While the cartoon may not be 100% doctrinally correct, it offers lots of great insights into that incredible story of our ancestor.
In the film, when Joseph is watching the construction of the wheat storage he is directing in preparation for the seven lean years that will come. He sings, "You've got to give a little more than you take."
While I don't know that it is possible to give more than you take (or perhaps I should say, give more than you have been given),* it is the essence of what we want our children to understand: our whole lives we need to give and serve and bless others around us! I love that theme! I want to live that myself!
Maybe we'll watch that movie today…
Happy Watching and Teaching,
Liz 🙂
P.S. These verses from Mosiah 2 come to mind:
20 I say unto you, my brethren, that if you should render all theathanks and bpraise which your whole soul has power to possess, to that God who has created you, and has kept and cpreserved you, and has caused that ye should drejoice, and has granted that ye should live in peace one with another—
 21 I say unto you that if ye should aserve him who has created you from the beginning, and is bpreserving you from day to day, by lending you cbreath, that ye may live and move and do according to your own dwill, and even supporting you from one moment to another—I say, if ye should serve him with all your ewhole souls yet ye would be funprofitable servants.
 22 And behold, all that he arequires of you is to bkeep his commandments; and he has cpromised you that if ye would keep his commandments ye should prosper in the land; and he never doth dvary from that which he hath said; therefore, if ye do ekeephis fcommandments he doth bless you and prosper you.
 23 And now, in the first place, he hath created you, and granted unto you your lives, for which ye are indebted unto him.
 24 And secondly, he doth arequire that ye should do as he hath commanded you; for which if ye do, he doth immediately bblessyou; and therefore he hath paid you. And ye are still indebted unto him, and are, and will be, forever and ever; therefore, of what have ye to boast?
---
---