FH: Mary Elizabeth Rollins painted in "Growing Light"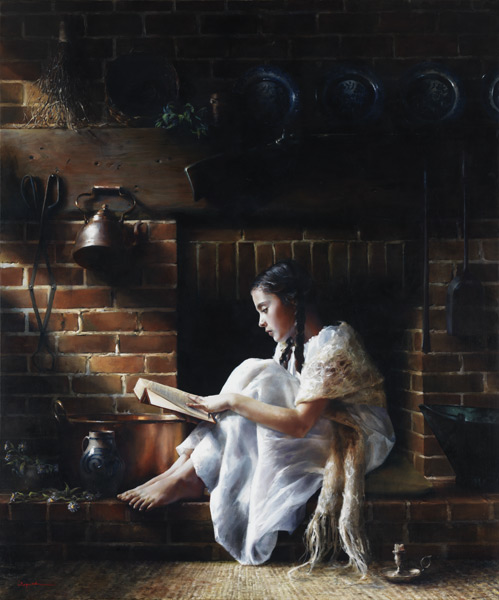 I just saw this beautiful painting on the inside back cover of the May 2014 Ensign. To my delight, it is a scene from my family history! Isaac Morley (Sr.), my third great-grandfather, lent his copy of the Book of Mormon to Mary Elizabeth Rollins, a young girl who lived in Kirtland, Ohio, and was already a member of the young Church of Jesus Christ of Latter-Day Saints. Copies of the newly-printed book were rare in those days. She saw that Isaac Morley had one and asked to borrow it. He wasn't going to, because he was going to use it that evening, but saw her expression and said she could keep it for one night and return it before breakfast in the morning.
She kept her word and did so, even having read a chapter and memorized the first verse in it before returning it to Isaac. When he asked her about how much she had read and if she could recall any of what she read, and she quoted the verse she memorized, he said she could keep it longer and read it.
The Friend magazine printed her story last year. It says a lot about young Mary and what she was like, even as a child. Mary and her sister knew the value of the scriptures and acted very courageously in the face of great danger to save the Doctrine and Covenants.  That story was printed here.
I like to think my love of truth found in great books and my desire to share them started with my great, great, great grandfather!
Happy Sharing,
Liz 🙂
P.S. Many thanks to Elspeth Young who painted this. I love beautiful art, and this is a new addition to my list of favorites! (Click on the painting to go to the website to learn more about the painting or purchase it.)
---
---