FINISHED! My experience training for and racing in an Olympic distance triathlon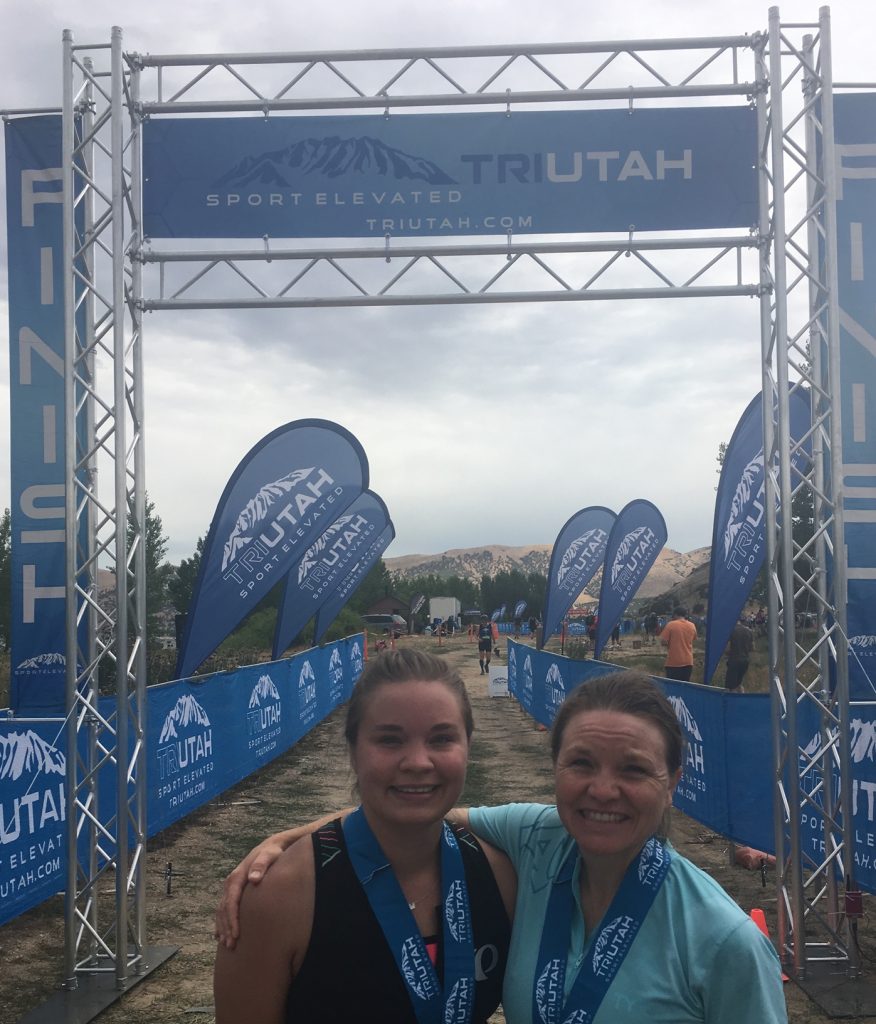 Sarah and I finished our first Olympic distance triathlon on July 14, 2018. It was a major milestone for us both and came as an answer to lots of hardwork, a little bit of pain, and many sincere prayers.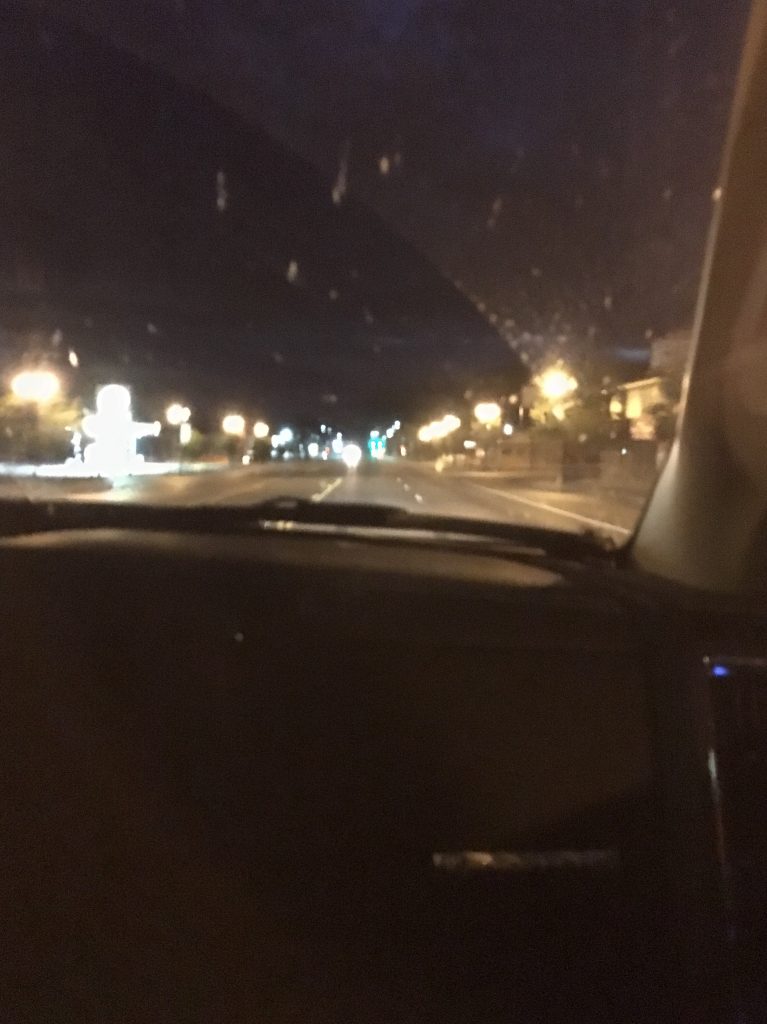 I had a very emotional night the evening before. Hadn't planned on that. Just happened. I got to bed later than I had wanted (9:45 pm) and woke up at 2:25 am. I really wanted to go back to sleep, but couldn't. I got up at 4 am and ate. We had our tri bags packed the night before so that we could get up, get dressed, and drive the 90 minutes to Coalville, Utah.
That morning, the weather was perfect for a race. It was overcast, and the water temperature was measured right before the race began: 72 degrees F. A miracle! (Sarah and I had gone swimming there two weeks previously, and the water was in the mid-sixties: FREEZING! That day we swam for a total of 6 minutes 44 seconds.) For our race, it was forecast to be between 65-67℉. Talk about an answer to prayer! That really sounded encouraging.
First OPS (open water swim) tri
I went to the bathroom 4 times before literally running down to the reservoir's edge to begin my swim. Sarah and I both took our time. I swam nearly the entire open water portion doing breast stroke, and I was not fast. 57 minutes later I emerged, having held onto kayaks 3 or 4 times to catch my breath. Swimming in open water was a major hurdle for me. I wasn't dead last–nearly, though–and all of the sprint athletes were just about to jump into the water to begin their race. I was a little embarrassed to have everyone there watching, but that's a race. I slapped the hands of the sprint racers as I exited the water and headed to the transition area.
T1
I had brought a banana, gummy blocks, and Salt Stick capsules to take with water as I changed into my biking shoes. I took one bite of the banana and spit it out! I decided I'd eat a gummy on my ride instead and took a capsule with some water. I wasn't trying to hurry as much as I was wanting to just be steady and focused on getting everything in place. I was concerned that the transition area ground was so rough and prayed that I didn't get a flat on my ride. I didn't!
The ride
Coming out of transition went better than I had thought, and even though I was at the very tail end of the riders, I felt good on my ride. I rode next to a woman who also swam slowly. We had finished at basically the same time, and she was so friendly and nice that I felt so encouraged, even though I was so far behind all the others. I was so grateful she was there!
Perfect weather
My bike time was good: I nearly rode a PR! That was very exciting to me! The final hill up to the dam, which had been hard to ride two weeks before, I ascended steadily. I really felt blessed. The ride back to the transition area was swift and smooth for me. The cloud cover held and the weather was amazing. I could hardly believe how blessed I felt that the weather wasn't so hot like it would normally be!
Seeing Sarah
I was especially happy to get to see Sarah as she passed me heading back on her ride, as well as when she was heading out on her run. Being able to wave and cheer each other on was encouraging to both of us, and again, an answer to prayer.
T2
I got back to the transition area excited to be at the last third of the race! This transition is always faster–just have to change shoes and hang up the bike.
The run
I started running and, having exercised at this point about 2 hours 40 minutes, felt tired. My heart rate was high. I ran for a bit, then walked, and as I kept racing decided that I was fine with doing that. On the last half of my run, once I hit 4 miles, I traded off running and walking every 1/10 of a mile. Once I could see the final stretch to the finish line, I had to sprint to the end. That's what my mission president taught me.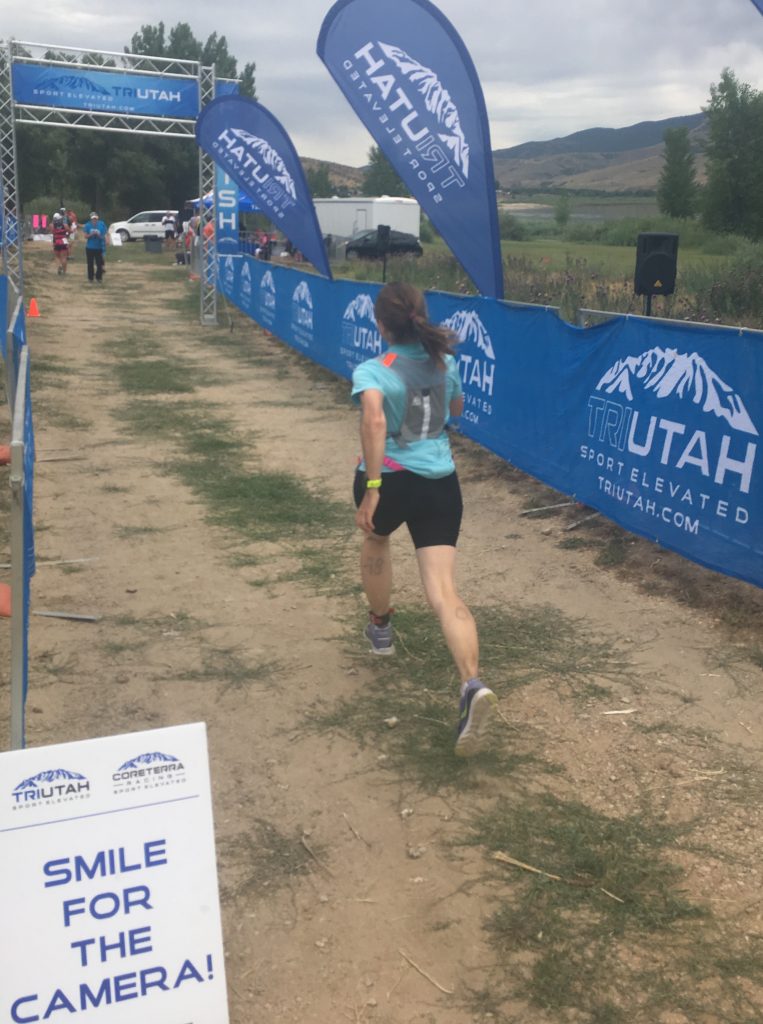 After crossing the finish line, I fell into the arms of Lane and Sarah. That was one welcome and wonderful embrace!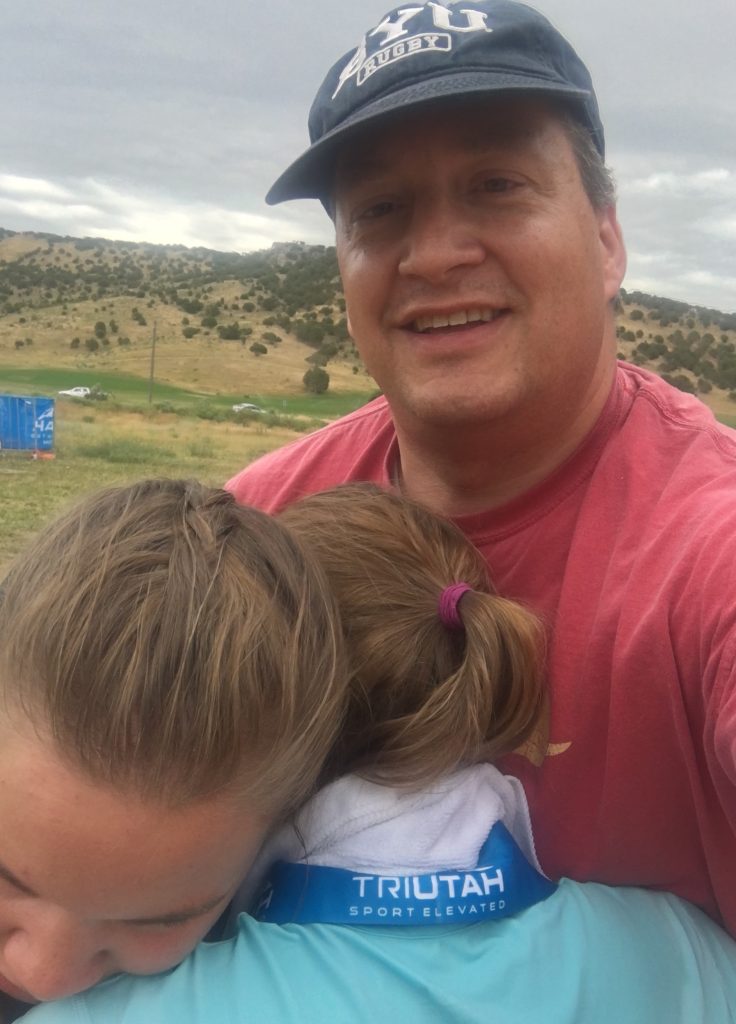 I felt exhausted and triumphant! I knew Heaven had helped me to finish! I drank water, loved the cold, wet towel they gave me for my neck, and ate some watermelon. There was music playing as we headed back to the transition area to get our stuff, and I had to dance for a minute. I felt SO happy to have finished!!!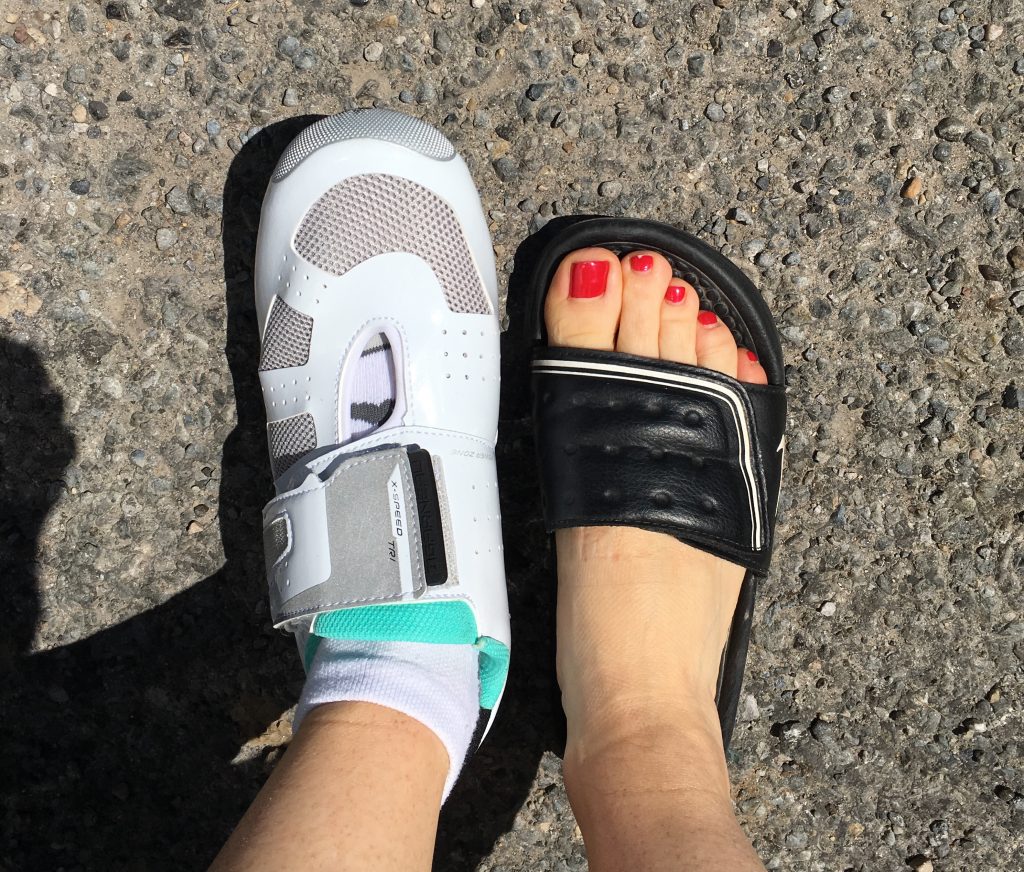 Takeaways
I have never trained so much for anything in my life. I didn't really do sports growing up. I learned to swim when I was little (not laps!), play a little tennis and took ballet, but otherwise I was much more arts/music/drama/academics oriented. So the last ten years of learning to exercise and, more specifically, the past 8 months have been a great learning experience for me.
Aside from the finisher's medal that I received, I have a few lessons I learned that I hope I remember:
1. Slow and steady
I wanted to be careful in my training for this race so that I wouldn't end up with an injury like I did with the half-marathon and back injury last year. I went to a new gym where the group training was smaller and led by a trainer who corrected, etc. And then I paid for a group tritahlon training coach. So I invested quite a bit of money compared to what I normally pay for going to the gym in my off-season months!
I learned that even with trainers and a coach, I can still injure myself. I did hurt my right arm and got tendonitis rather soon after starting to focus on training in February. I did too much, too fast. I had wanted to know what 1500 meters of swimming felt like. I decided it wasn't too much once I did it the first time to keep trying to do. But my arm taught me differently. I should had worked up to 1500 meters slowly, having faith that I would get there if I paced myself slowly enough.
2. Doing too much too fast = injury
So I stopped swimming because my arm was hurting so much that it would wake me up at night. And I already wake up enough during the night without any extra help! I eventually went to the doctor (a sports medicine doc) who suggested that I get a coritsone shot a week or two before the race and do physically therapy. I decided to skip the shot (I was afraid that it might not work and would only cost a lot of money) and wait to do the physical therapy after the race–I was already spending so much time on other aspects of training that I frankly didn't have time.
Because I stopped swimming, I didn't get strong at doing freestyle or breathing. I felt panicked when I did get back in the water because of my fear and lack of skill development–especially when Sarah and I went to swim in open water several times before the race. So I opted for doing breast stroke, because I knew I could do it. I knew it would take a long time and a lot of energy, but I would be able to complete the swim. And I did. I faced my fears of swimming in cold, open water. That alone felt victorious.
(New goal for next time!)
Now that I have had that experience, I want to learn how to swim freestyle and breathe! I want to be able to race again in open water swimming freestyle and going faster. 🤪 Just not this year!
2. Learn all you can
I got triathlon training and racing tips from lots of different sources: my coach,  friends and family who have raced, specialty sports store staff, and podcasts, online blogs and videos. As a member of USAT (USA Triathlon), I was able to read blog articles on triathlon training. I also watched videos from Global Triathlon Network. And I downloaded a program from SwimSmooth.com that lets you see correct swimming from lots of different angles. I tried to learn all I could, and those tips helped! Sarah was a great source for cycling tips, since she has more knowledge and experience than I do. And I asked Lane for several priesthood blessings over the course of the 8 months that I really focused on training. Relying on the promises I heared during those blessings is what really allowed me to finish, even when I got into that open water for the first and second times and wondered what in the world I was doing!
3. "If ye are prepared, ye shall not fear."
This is a scripture that has proven true for years, and it was true in this case. Even though I hadn't been able to to train as thoroughly as I had planned, I felt like I had really given it my best–at least my best for where I am in life. So I felt like I could rely on the Lord to help me with the parts that I couldn't control. And He did! He totally came through for me!
Next time I focus on training for a tri (I might to do another Olympic distance next year–we'll see), I'm going to start working up to the distance and over time hope to over-train, so that it is not such a stretch, and the recovery isn't so long and challenging…which leads me to my last lesson…
4. Recovery
So the recovery for this race has been much longer than I anticipated. My friend told me not to plan to do anything else that day. We ate after the race, and then came home and I soaked in a bath and slept. We went out to eat for dinner and then came home and watched a show before going to sleep.
I also took it very easy on Sunday and Monday, and even when I headed out for Young Women camp on Tuesday, I was still tired! Then with all of the late/short nights during camp (I did miraculously get one night at home in which I slept 7 continuous hours through the night!), and company that arrived the Friday we got home, and a special breakfast and funeral and trip up and back to Idaho for a mission homecoming, I was exhausted! So I am still recovering!
NEXT TIME I will try to train better, stretch more each day after, and hopefully get a massage! Maybe that will help my recovery be better.
5. Great support
I have to express gratitude to Lane, who was a phenomenal support during these months of training. He was so kind to listen to my moaning about my arm and other challenges. He noticed the budget being spent on triathlon-related items grow, and he trusted me to be wise. He rubbed on Deep Blue lotion and essential oils on my elbow, arm and shoulder. He prayed for me all the time. And he came to my races and cheered me on. I really rely on his support! I am SO grateful to have his help!
6. Set a goal
Because I had set a goal to complete an Olympic distance triathlon for my Personal Progress as a Young Women leader, and because Sarah had the same goal and we were doing it together, when I wanted to quit I didn't.
Goal setting is a powerful tool for accomplish what you want to in life!
7. So much to learn
I've learned that there is so much to learn about training my body! I am still a novice and have far to go. But this past season of training has been such a fit! I ran 3 races (a sprint distance tri, a 10K run, and the Olympic distance tri).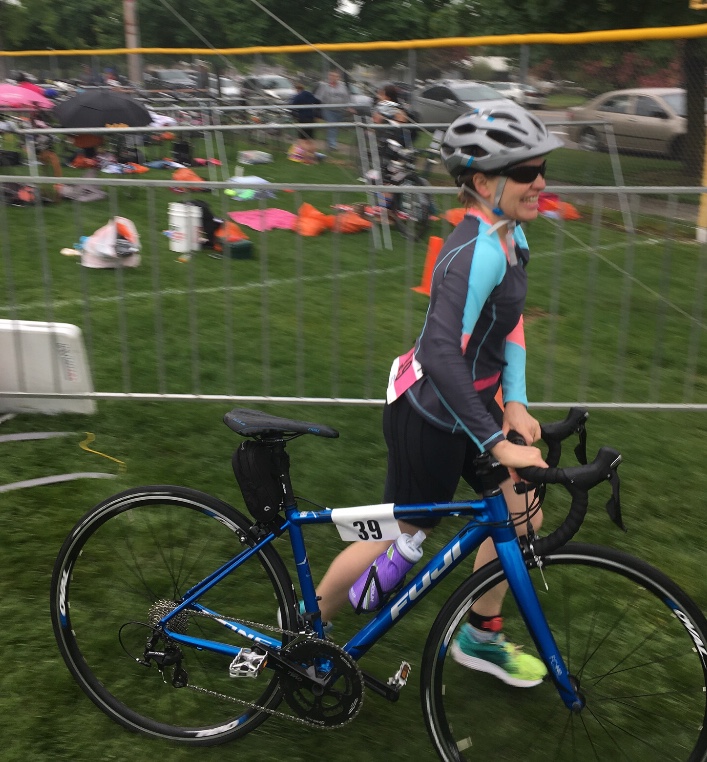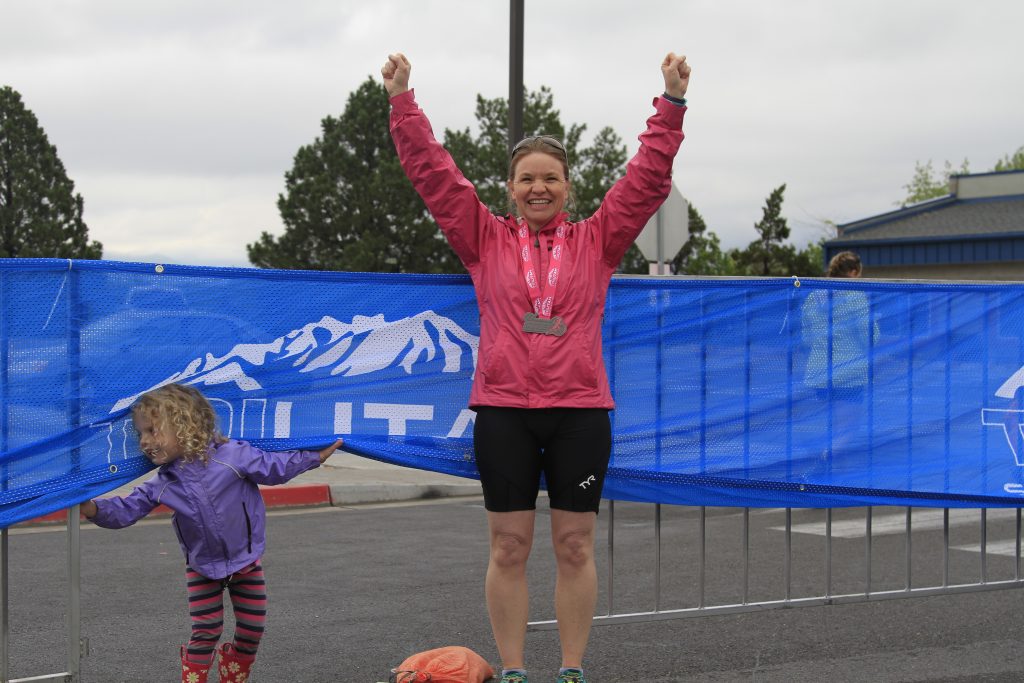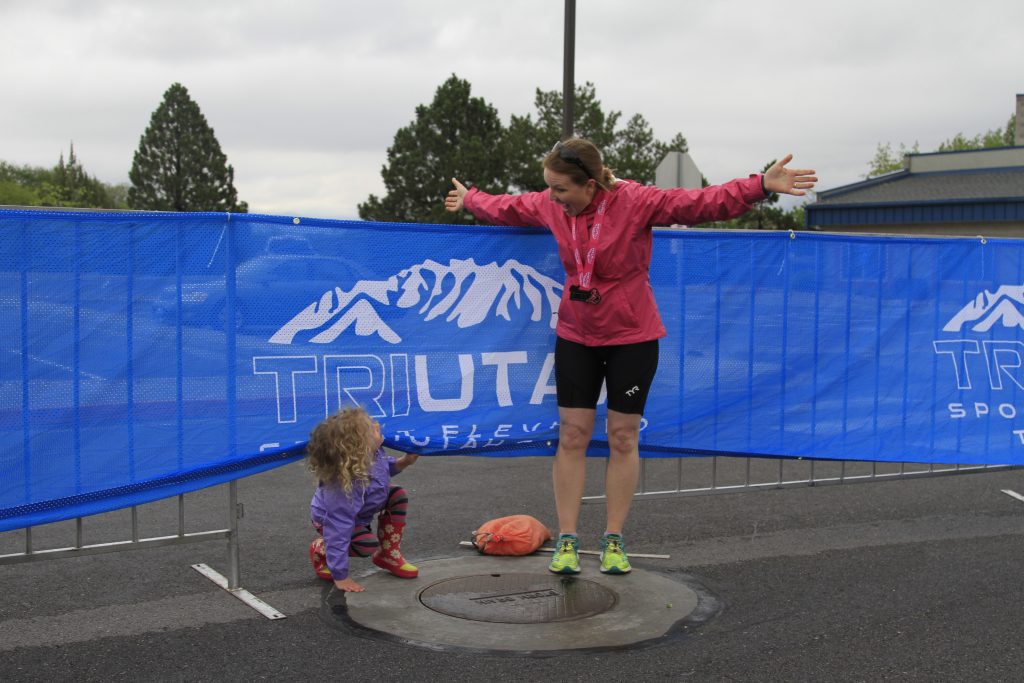 (This cute little girl isn't related to me; she was just cheering on her mother at this sprint triathlon that I raced this past May.)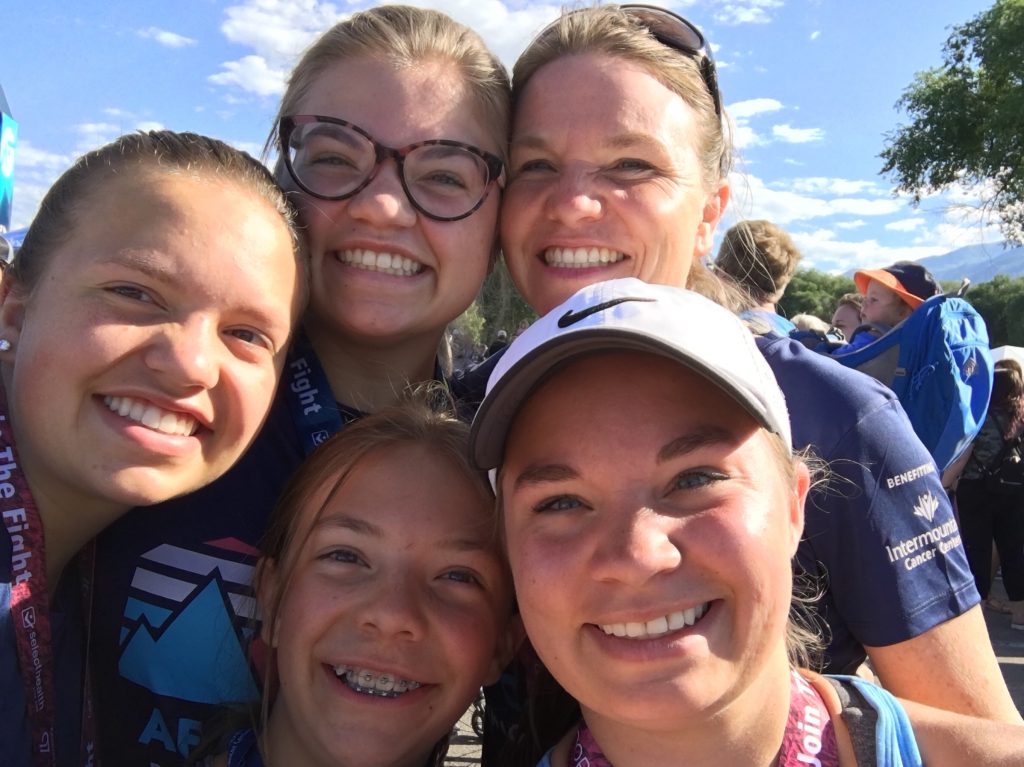 (We had a great time at a 10K/5K/Kids' Run race this summer racing all together. Lane and Pete were on their way home from Scouting High Adventure, so they couldn't be there with us.)
I like to exercise now, even though it's hard, and I feel great when I work towards a goal. It really inspires me, and I hope it inspires my children to keep working to be physically fit their whole lives.
---
---