From back when it all began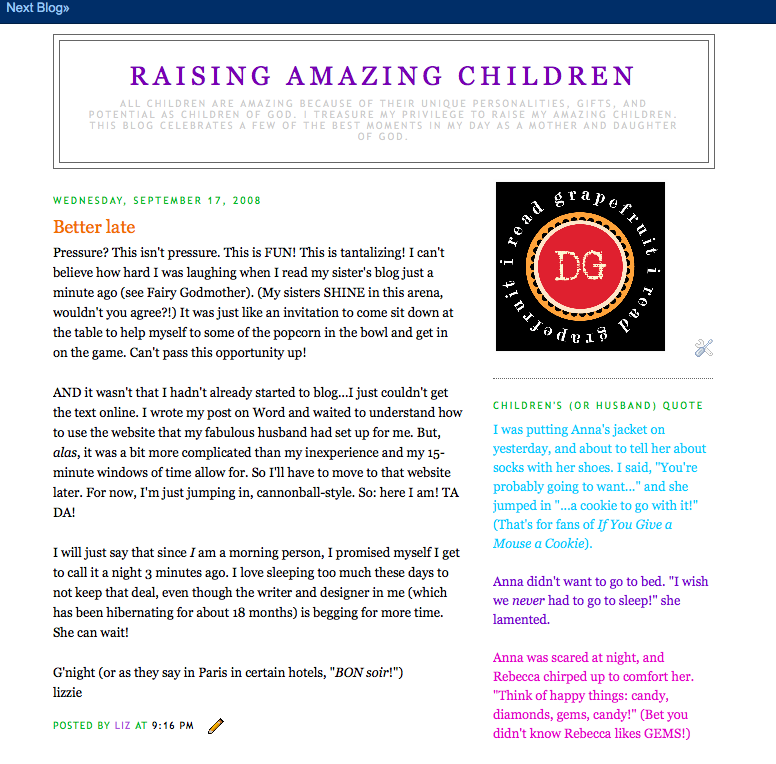 On my birthday in 2006–I think that was the year–, I had an idea for a website: one in which moms could share ideas that would help them with raising their children. The idea came on the coat tails of an experience I had with a child. She came into my room upset at her sibling. I asked her to tell me what happened. I wrote it down as she told me: what she did, what the sibling did, and so on. After I wrote it all down, I think I asked her what part she was responsible for. I crossed out all of her sibling's behavior and showed her to look at what she did. Was there anything there that wasn't Christlike? That was the part for which she was responsible. If there was something there that wasn't kind, she needed to go apologize for it and try not to do it again.
I really felt Heaven's help during that conversation, and I could see that understanding dawned on her in the process. I was so grateful!
That was when I thought how wonderful it would be if mothers could share online about their parenting experiences. The name "Raising Amazing Children" came to mind and I asked my husband if he could see if the URL was taken. It wasn't. We bought it. (I think it was less than $15, if I remember correctly. I could be totally off on that!)
Happy Birthday to Me!
Within a few months, I became sick and faced a health crisis. I had absolutely zero desire to try to write or share anything.
So the website waited.
Healing happened over time. Finally, the day came when I felt like I could start writing, a little. I didn't know how to create a website, but my sister had started blogging and showed me Stephanie Nielsen's blog. With my sister's encouragement and help, I started raisingamazingchildren.blogspot.com. That was 2011. I wrote my last post on my blogspot blog in October 2011: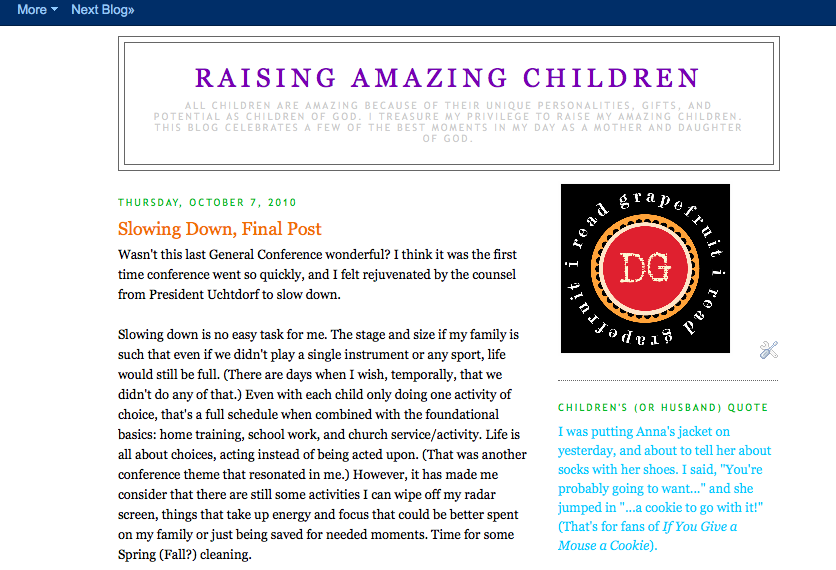 Now it's 2016. My mantra is to simplify. To clean up and make room for change. I decided that this includes my digital storage.  Since the blog posts aren't something I want to get rid of (too much wonderful family history), I'm just going to move them over to my website: my idea come true (thanks to my husband's help!).
So enjoy a journey back in time…
---
---