Go far together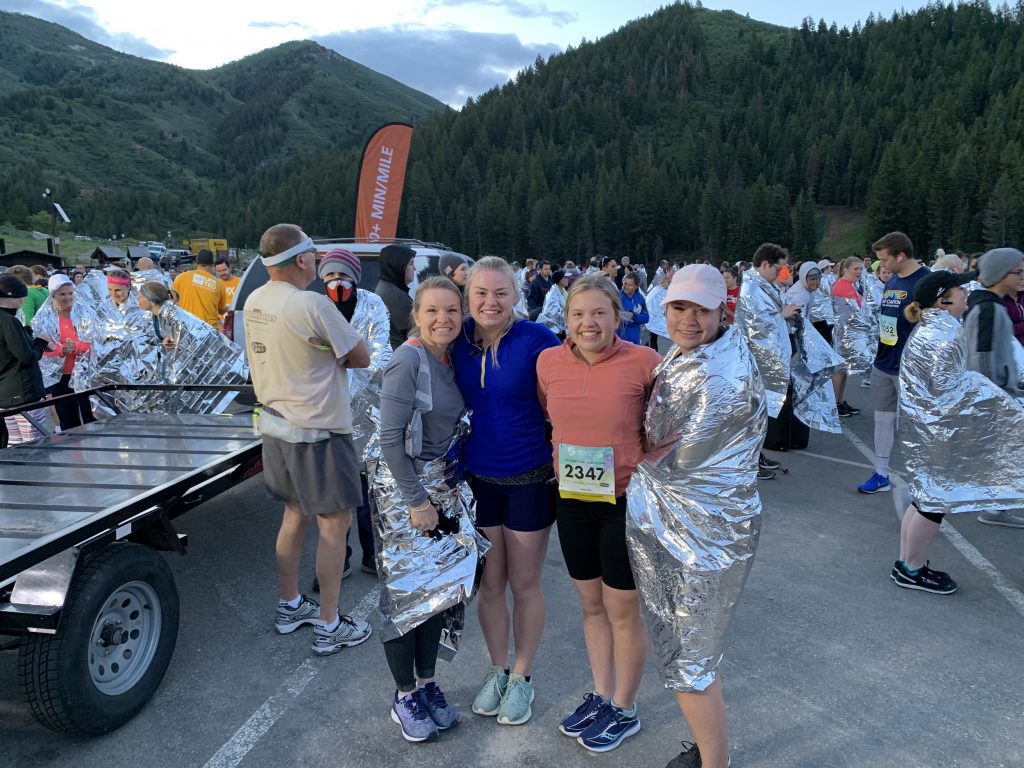 2:30 am came fast yesterday morning. I was hoping I'd make it until 3 am, since I needed to wake up at 3:15, but I didn't. So I listened to Alma as I lay in bed trying to go back to sleep…which didn't work but spoke peace to my mind.
I think an early rise was inevitable. Once I committed (again) Friday to running the half marathon, the possibility of actually being able to run it made me so excited. I could feel that nervous energy begin to grow within me, the adrenaline kicking in. I was excited and terrified!
Maybe I should rewind a little. Last year, Sarah, Rebecca, Eliza and I all ran in the American Fork Canyon Run Against Cancer together. We loved it! We loved the cause. We loved the feeling of it. We loved running next to survivors, current cancer warriors, and loved ones of those who had passed away from it. We loved knowing we could help the fight just by being a part. We decided we would run again.
Little did I know that my dad would pass away from brain cancer before the next AFCRAC.
In the fall, I started with my focus on swimming. I have really come to enjoy lap swimming even though I still struggle to get my breathing to a place where it feels easy. Someday! I had a hard time with sleep and our swim schedule, so I didn't get in as much swimming as I had hoped. I only ran periodically–hardly ever!
Then January came and my dad was diagnosed with brain cancer. We also had Julia returning from her mission and Rebecca leaving. I had the flu that lasted for a couple weeks and really wiped me out for what felt like a month after that. I also got sick with a virus that left me feeling nearly unable to exercise for almost a month right when my dad passed and had his funeral. Lane's dad also not doing well! Between trips to visit my dad, illness, our missionary prep, and what felt like an inability to catch back up to my normal energy and stamina levels, I got very discouraged about exercise. Add to that some extra waves of depression and anxiety, I really struggled to keep up a consistent schedule of rigorous workouts, let alone stick to a training schedule.
I was really excited when we decided in January (before this all began) to do the half marathon at the AFRAC, considering I would get my groove back from the fall once I got over the flu.
But life happens!
I was encouraged when I was able to get into some training for the race (after getting back from Europe from picking up Julia from her mission), but as the weeks passed, my energy levels started to drop. And depression and anxiety levels rose.
Considering that I had only run about 18 miles first 2 1/2 weeks of June, I felt utterly unprepared. I'd been off my training schedule for over a month! I started having little panic attacks when I be in my first mile of a run. One run broke the camel's back for me. I only ran 1.22 miles at a 12:35/mi pace, and I just turned around, went home. I was crying on my run and cried when I got home. I decided that I was just going to forget my goal and focus on doing what would make for peace and calm in my heart and not generate so much anxiety. I told Lane and our daughters about my decision, and they were completely loving, understanding, and supportive.
As the race approached, I simply decided that I would run the 5K or the 10K. I went to the temple yesterday morning and then was going to head to the race site to pick up our race packets. I left the temple remembering something I had been told in a blessing that Lane had given me in the recent weeks. It made me wonder about which race to run.
When I was picking up the packets, I asked if I could change races. I had emailed the race headquarters back around June 8 to ask about it but hadn't seen a reply. The woman who checked on it said I could, but they were sold out of both races and wouldn't be able to give me a medal for the one I chose.
I had a few minutes to consider which race I wanted to run. I wanted to run the half marathon. I wanted to run with my daughers. Would I be able to finish based on the little training I had done? I left the packet pickup with the thought that I had from the temple and a desire to go for it, even if it wasn't pretty.
I went to eat lunch with a friend and told her my plans. She thought for sure I could do it, and since this friend is a runner and has been such a great cheerleader from the start of my last few years of exercise goals/race endeavors, I took that for something.
Then I told Lane, and he said he was sure I could do it.
I told Sarah, Julia, and Eliza, who all said to go for it.
Lane and I went out to eat, and I ordered pasta. I mean, classic carbo load, right? Twisted breadstick (YUM), whole wheat linguini, marinara sauce.
And three small chocolate chip cookies when we got home from our date (Jenny's recipe, of course, made by Sarah, of course!)
Right before we were going to sleep, I started to feel fearful about my decision. Was I crazy? Was this even wise? Was I going to come out with an injury? I asked Lane for a priesthood blessing after I knelt down to pray about it.
The blessing was very reassuring. Afterwards, I felt certain that God would support me in my efforts and that things would turn out in such a way that I would feel very happy. I just needed to listen for His help as I ran.
So that four hours of sleep from 10:30 pm-2:30 am went fast! I got up around 3:20 am, and we all climbed into the car. We listened to three great songs to get ourselves pumped up: "Extraordinary Magic" (Ben Rector); "Don't Miss the Bus" (Tom Chapin)–we were trying to get on the 4:15 am bus so we could get entered into the raffle; and "Life is a Highway" (Rascal Flatts). We got parked by 4:08 am, and then discovered we had to walk to the bus, which took longer than 4:15 am. Oh well!
Our dark drive up the canyon included the smell of freshly sprayed skunk, and I hoped no runner would get a replay on that!
Climbing out into the parking lot at the top of canyon, even in the dark we could see how beautiful our mountain vista beginning spot was. It was so cold, and we followed suit with the rest of the runners, putting the foil emergency blankets on. I had brought a down coat and was swearing sweats over my running leggings, had a hat and gloves, so I was pretty warm. We listened to the MC and joined in the pre-race yoga stretching. I liked that! And then it was time to put our stuff into our bags: jackets, water bottles, sweats, and put our bags into the trailer before the starting gun fired off. Eliza and Julia took off in a wave ahead of me and Sarah, who started back with the 2:30 (as in 2 hours and 30 minutes goal time) wave.
It was a gorgeous run down the canyon, with the sun just beginning to rise a few minutes before our race began. It was the perfect temperature for a run, and I didn't take my gloves off for a couple of miles. I didn't toss them (they were the $1 kind) until mile 6, I think. I had worn a lightweight running shirt on top of my running jersey, and soon it was too warm for that. Sarah stuck it into the back of my running vest. We ran in tandem, side by side, for the first 6 miles. Then I felt like I should push ahead a little, taking advantage of the downhill momentum, so that I could use the bathroom and not lose too much time. We both got ahead of the next pacer (2:20) before stopping after mile 9 (I think) to use the porta potties. Then we headed into the flatter portion of the run, and things started feeling a little harder for me: not bad, just more effort than a downhill run!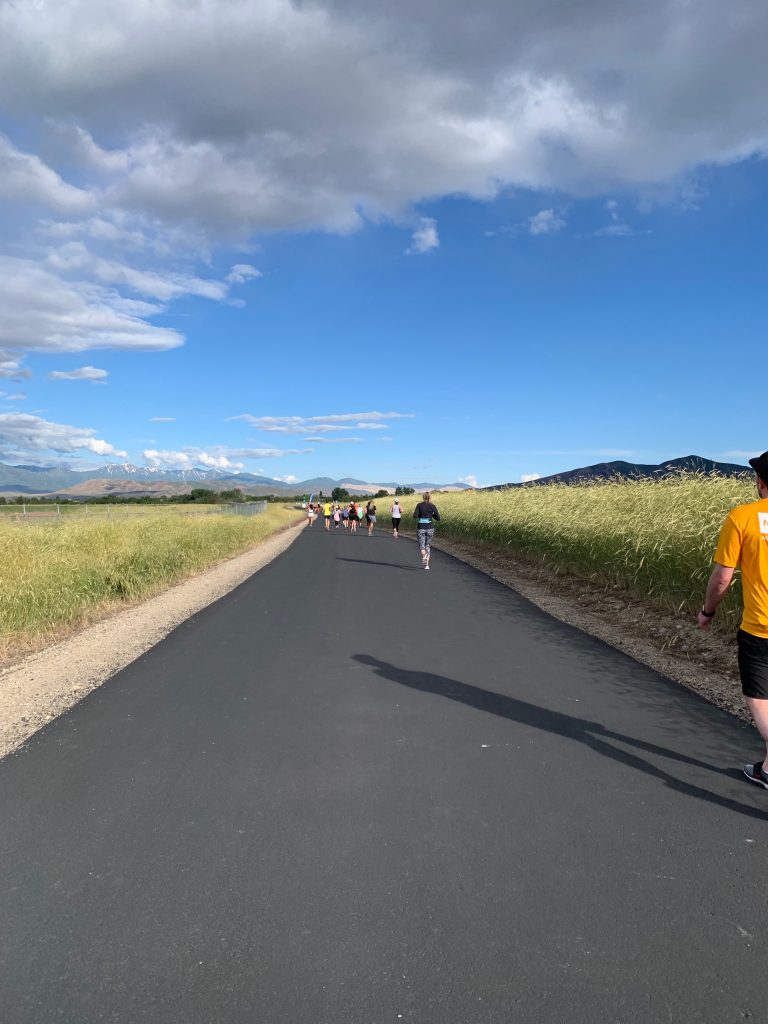 I felt super blessed that I didn't start really feeling like it was really getting harder until mile 11. I knew I just needed to go one more mile and then pick up the pace a little until the last half mile sprint.
I had to walk here and there when we had little uphill rises in our race path, because I didn't want my heart rate to get ahead of me. I knew from my triathlon last summer, that if I could keep my heart rate steady enough, I would be able to sprint at the end.
And I did!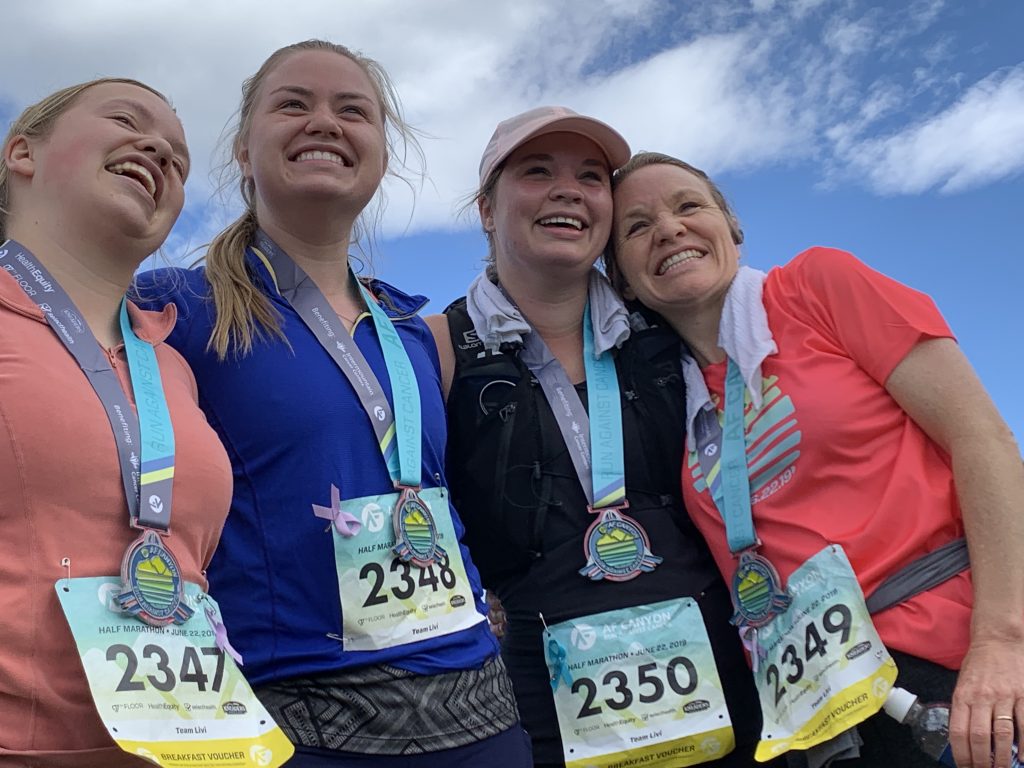 I can't even describe how triumphant I felt sprinting through the finish line!
The last maybe 50 yards were the hardest, but Lane, Peter, Eliza, Julia, and Anna were all there on the sidelines cheering me on! Sarah had crossed in the minute before me–I told her after mile 11 to just go at whatever pace she wanted. I really wanted to cross with her since we did in our first half marathon two years ago, but she had also trained better than I, and I wanted her to be able to finish however she wanted. So I felt blessed just to be able to run so close to her at the end!
And she was right there to embrace me again, just like last year's triathlon. It was AWESOME!
Words don't really describe the elation I felt–not only having had such heavenly support and being able to run so comfortably and smoothly, but to have Eliza and Julia run so well, and to have been able to run right there the whole time so joyfully with Sarah! I can't describe it!
I learned from that race that God really cares about our goals. It meant something to Him to help me. He filled in all the gaps when I had truly given my best and my best just wasn't even close to enough. Talk about grace!
When we got home, I read the rest of an article I had started the night before in the June 2019 Ensign magazine, called "Go Together." Neill F. Marriott, the author, finishes her article with a quote from an African mural in Johannesburg: "If you want to go fast, go alone. If you want to go far, go together." This race day experience really helped me feel the joy of doing something hand in hand with family and the Lord's help. I couldn't have done it otherwise, literally. If my family and friends had discouraged me or not believed in me, I wouldn't have run it. If I hadn't known that God would help me in my race, I wouldn't have run it. I wouldn't have believe I could do it. But they were all supportive and helped me.
What a gift!
Go far together.
---
---